Best Tourist Attractions-Singapore Info Guide for Travellers 
Singapore has been called the playground of the rich, and there's no doubt that the city boasts a certain kind of wealth.
However, Singapore offers more than simply fine dining, luxury Hotels and shopping malls.
There are diverse ethnic quarters, a colourful history, and numerous public spaces and family attractions that help make a trip to Singapore a memorable one.
Attractions-Singapore #1 – Pulau Ubin (Granite Island)
For a peek at life in Singapore before it took skyscrapers and glamour to a new level, pay a visit to the small island known as Pulau Ubin.
It's a community of fewer than 100 people that live in a simple way just like it was the 1960's. The name of the island translates to "granite island", referencing its previous life as a quarry town.
Today, this rustic and peaceful place allows tourists to revel in diverse wildlife and unspoiled forests. It isn't difficult at all to reach the island by boat, with a 10-minute ride departing from Changi Point Ferry Terminal.
Attractions-Singapore #2 – Universal Studios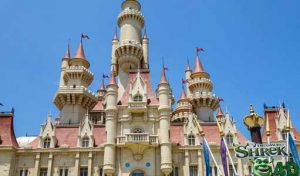 Universal Studios Singapore is arranged in themes, with one area dedicated to film, another to TV, and another to location.
Of course, while movie-themed rides remain popular, on-demand movies have ensured that, like anywhere else, going to the movie theater is a pastime in Singapore that simply isn't as popular as it once was.
That's quite an ironic fact considering that the quintessential cinema snack is popcorn and that popcorn is perhaps the region's most popular sweet treat.
Popcorn has begun to be regarded as something of a healthy snack of late, as it's being pointed out that it's a whole grain. Of course, we knew that, but let's face it:
It's the toppings and flavours that draw us in. Right now, people are choosing to stay in and munch on their popcorn of choice while catching the latest movies on Netflix rather than go to the movie theater.
In Singapore, there are even delivery services that deliver gourmet popcorn straight to your home, from popcorn chicken to popcorn ice cream.
Attractions-Singapore #3 – Raffles Hotel Singapore
Raffles Hotel, Singapore" (CC BY 2.0) by Alantankenghoe
The colonial venue is regarded as one of the last grand 19th-century hotels in the world. Previous guests include Hollywood legend Charlie Chaplin, as well as such literary luminaries as Joseph Conrad and Rudyard Kipling.
The property, which was constructed in 1887, has been a landmark in the city for more than a century. Even now it lives up to a wonderful reputation in food and service.
The tropical gardens and classical architecture provide a distinguished setting and act as another aspect of Singapore's rich and varied background.
The hotel is situated in Singapore's Colonial District, home to a number of other historic attractions, such as the Raffles Landing Site, and is a great choice to stay at.
Singapore's first-rate system of transport makes it easy to find your way around. Once you've understood the metropolis map, you'll be fine hopping from one attraction to the next.
English is a common language and even the signs are in English. Singapore is, in fact, one of the most comfortable and easiest regions to navigate in Southeast Asia.
Look up The Best Hotels Deal Here With Hotel Combined