Koh Rong Island Beach Party is an impressively fun place for young backpacker travelers to have the best fun, especially gap year travel. Koh Rong Samloem Island, Koh Rong is the best place to relax and the party because Koh Rong is the stunning beauty of nature in Cambodia. The Island is home to great charming beaches, from luxurious to backpacker resorts. Also, full of activities and things to do on the Island after the party. Well, pack your bags with your favorite beachwear, find a partner, and getting ready for your Island escape. By the way, not to worry about a partner. There are many sexy single ladies, and handsome boys are on the Island you to hang around and to get a casual hook up on fine white sand Beach just easy.
Best Time To Visit Koh Rong Cambodia
Koh Rong Island or any tropical Island can be visited any day. Well, there a small issue like the wet season, high winds, and cyclone. So, the best Time I would say from Early December to Mid March. Although the weather is terrible in the afternoon during offseason, the weather is the beautiful and sunny middle of the day in most cases. But water can be full of trash during the offseason.
Recommended Travel Type to Koh Rong
What I have seen on the Island, I would recommend Koh Rong Island, is a romantic place. So, The Island is the place for Honeymooners, young couples, backpackers single, relaxation, and party animals.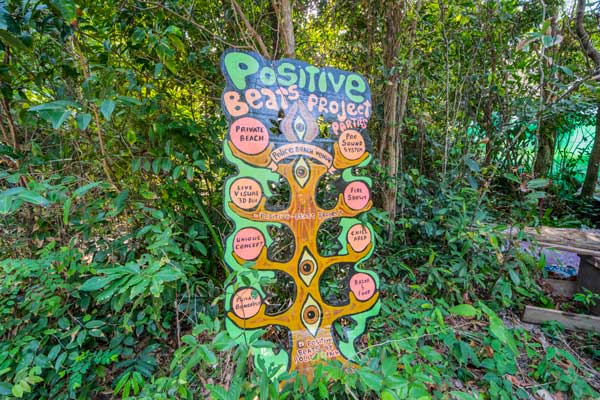 Koh Rong Beach Party Guide
Koh Rong is unlikely Koh Rong Samloem Island like I said that earlier, but still you can enjoy the great party on the Beach.
Positive Beats Project Beach Party Vibes On Police Beach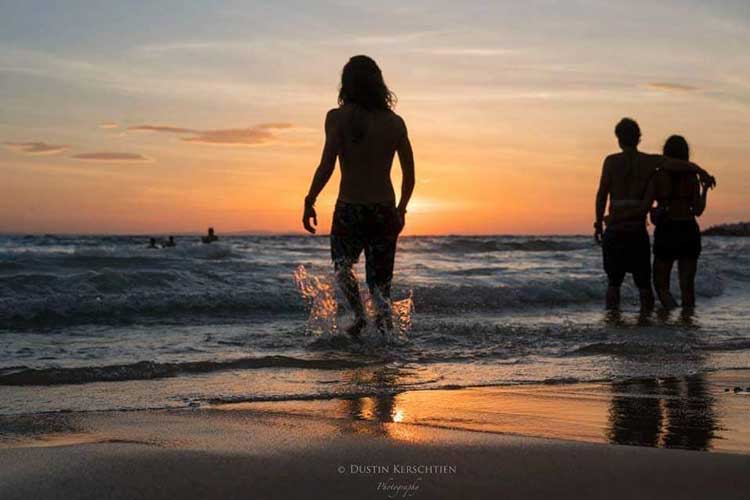 Young travelers are having the best time of my life here! The caring crew with an elegant party atmosphere is merely unique. Well, thee police beach on Koh Rong, is a white sand strip. Also, well clean. Police beach Positive Beats Project has a great crew of parties experienced DJs and hypnotic visuals with their new video mapping artists. Here became the best party place over Cambodia in a couple of months.
Are There Accommodation Near By??
Yes. Notably, The bungalows type accommodation is charming, a thoughtful design, especially the interior paintings. I did not miss warm water showering because the temperatures were ideal. One of the things I like most was the intense parties every Saturday and Wednesday. Especially the fire shows, and the laser lighting flashed me out. I love the chilled mentality of this place. After all, I would say the site is one of the best for Party animals with all you need.
Check out more info on the Facebook page.
Reef On The Beach Party Every day (By Reef Resort)
Young Travel Party culture. If your traveling with a tight budget and still looking for a great party, relaxation, and living on an Island Paradise? Reef On The Beach on Koh Rong is another excellent place to have a party and meet new people. The resorts located on a fantastic white sand beach. Also with beautiful beachfront. Staffs are local and backpacker travels, and they do great jobs because they are just because happy to live on the Island. Party almost everyday night, all travelers are coming down to the common area, music is running, pool table also available.
Koh Rong Island Best Accommodations
Please note New Travellers – When you book your hotels and ferry, make sure to pay close attention to the name of the Island. Koh Rong and Koh Rong Samloem are completely different Islands. Therefore, around 30 minutes of boat ride between each other.
Koh Rong is offering many hotels, resorts to hostels style accommodation to your wishes.
Naroth Beach Bungalow
The beach resort is located on the beachfront of Koh Rong. Surprisingly, around 200m from the famous Palm beach. The property is home to the tennis court—one of the most romantic and the best location you to have the best time of the Island.
Coconut Beach Bungalows on Koh Rong
Coconut Beach Bungalows located romantic, tranquil Beach. Beach naturally peaceful with spectacular views. The resort offers.
Private Beach
24-hour front desk
Wardrobe
Mosquito net,
An ocean view balcony with seating area and attached bathroom
Individual tents are sat near the Beach and offer access to shared bathroom facilities.
High Land Beach Bungalow
Charming rooms flourishing a balcony with sea views are featured at High Land Beach Bungalow and located on Koh Rong Island. By the way, the property is just 200 m from the Island's pier and up the hill. Also, High Land Beach Bungalow is accessible via a boat transfer from Sihanouk Boat jetty in Sihanoukville to Koh Rong Island Pier. The property is 100 m from the white sand beach.
Reef On The Beach (By Reef Resort)
One of the bestsellers in Koh Rong Island on Booking.com
Best resorts for young and party animals. The beach resort is located right on 4K on Longest Beach. Reef On The Beach offers stunningly beauty beachfront accommodation in Koh Rong Island. Accessible by Island ferry services, Reef On The Beach is a 30-minute walk. The resort popular among young people. Also, I would suggest beach front tents are the best young people to have cheap Island life with party mode a few days spend on the Island.
Ultimate Koh Rong Beach Guide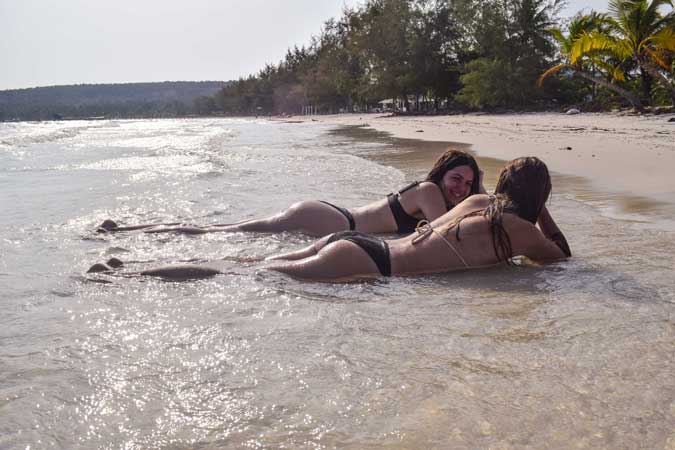 Koh Rong Island is home to some of the most beautiful beaches. Also, fine white sand is so pale it looks like snow. So, I walked around on the Island for almost over five days. Therefore, I have listed some of the best beaches on Koh Rong below. By the way, It doesn't matter where you are on the Island; you will be on a beautiful stretch of beaches.
Lonely Beach
4K Beach
White Beach Famous on Koh Rong
Sok San Beach
Police Beach
Palm Beach famous on Koh Rong
Things To Do In Koh Rong Island
Well, as on Island, visitors can do many water sports as usual. Also, as we know, this Island is well big and covered with rain forest. So, Koh Rong offers many recreational activities to people on the Island. I have written some of the highlighted things to do below.
Scuba Diving and Snorkeling
Plankton
Sunsets
Island Tours
Jet Skiing
Paddle Boarding
Paddle Boarding
Mountain Cycling
How to Get to Koh Rong
Many travelers are coming from Phnom Penh capital of Cambodia. I like to make it easy and given you get there direction from Phnom Penh. So, Please, catch a tourist bus from Phnom Penh to Sihanoukville. You can get a ferry to the Island from Sihanoukville.
Notable
Few bus companies are running service from Phnom Penh to Sihanoukville. I want to recommend the Giant Ibis Transport service because they are well planned and employed English speaking staff. The trip one way around five hours. Well, itis your choice either flight or taxi service also available from Capital to Sihanoukville.
Ferry service is leaving the mainland to the Island almost every hour. Also, a large ferry and speed service available.