First of all, Phnom Penh Girls Bars or Sex Bars are very similar sat up like Bangkok GO-GO bars. So, My purpose in giving you the best possible trusted travel info on this blog, and hopefully, I able to cover a range of Phnom Penh girls with finding sex. Firstly, no many single men are coming to Phnom Penh to see temples or nature. According to statistics, 95% of single men here to look up nightlife-related such as Phnom Penh girls bars or sex bars, happy ending massage, and ladyboys. What I mean, Most of them are here to sleep with young attractive Khmer girls for sex. Well, nothing wrong with it. Sex is a natural phenomenon, as we all know.
I hope you will be enjoying and explore more opportunities to have fun in Phnom Penh girls bars or sex bars.
Overall Views of Phnom Penh Girls Bars or Sex Bars
Sex-related tourism located in the capital of Phnom Penh. Aso, almost all Girls Bars or Sex Bars located in the City around redlight districts. I have been here for a few days and love the City because of unlikely Bangkok; Phnom Penh still a place for growing sex tourism Destination and a little cheaper than Bangkok. But it is not as affordable as you think, after all. In all ways, it would cost money.
Phnom Penh Girls Bars or Sex Bars Locations and the best areas to meet girls for pleasure.
Well, all goods Phnom Penh Girls Bars or Sex Bars and happy ending massage are around the river. Phnom Penh is a great place to have fun economically as your single man to the new world. The City itself offers a fabulous nightlife party: specialty, Phnom Penh girls bars. Unlikely Bangkok, you may not fin redlight districts like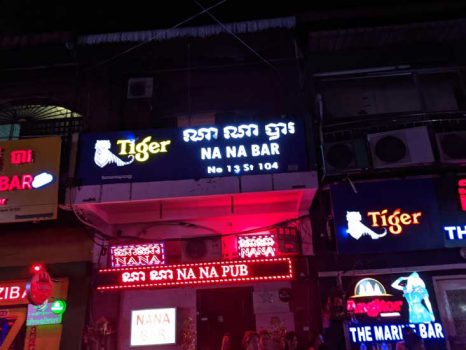 All Redlight Districts are Located on a Few Little Streets Phnom Penh Below.
Golden Sorya Mall Street 51 – this isn't big at all.
104 Street ( All streets 104, 130, 118, 136 are nearby the river
130 Street
118 Street
136 Street
Highway 172 and 204 – 172 holding popularity as best dining street
Important Points
Best time to find girls after 6 pm to 9.pm, don't be late or don't go early. If you the late all good one is taken, If your early fewer selections in the Bar.
All night clubs full of hookers and little expensive than girls bars
Golden Sorya Mall Street 51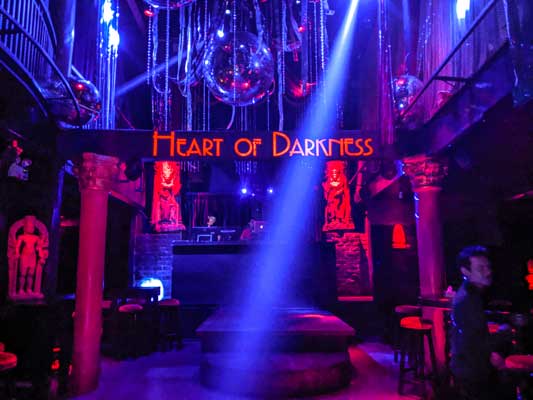 This place isn't prominent and used to be very unfriendly districts. Somehow, street 51 has changed to tourists friendly redlight districts in the City. By the way, the road and surround are home to a few great girls' bars and nightclubs. Some of the best are
Heart of Darkness Girls Bar or Sex Bar
Heart of Darkness located just a few meters from the Centrana Hotel. Also, another high little bar calls plan B next to each other. Would you like to have a nightly party place nowadays and pick up a lady for a night or a short time? Well, this fabulous place open at 8:00 pm until 4:00 am during Sundays up to Thursdays while they usually close at around 5:00 am every Friday and Saturday. Heart of Darkness bar offers an excellent selection of ladies to have relaxed time as well as an extensive range of drinks with great music.
Plan B Girls Bar on Street of 51
The Bar is little nad family own business. Very trusted and paid attention to customer business in City. I would personally be recommended you to step up and have a few drinks. Also, have a chat with the lady working in the Bar ( Manager). She would help you out anything you need. Well, Trust my word.
Pontoon Club
Pontoon is a more club-style place. Also, it shares similarities as Phnom Penh Girls Bars. Many hookers are waiting for foreigners to get hook overnight or shot time. By the way, the place offers a great atmosphere—also, music and a large selection of beverages. The club opens from 10 pm to late morning. Exact location walked down the end of Golden Sorya Mall; you will see the clubs with red globes. located at Located in Golden Sorya Mall. Address: 80 Jayavarman 7 St. (172), Phnom Penh City.
Golden Sorya Mall Redlight District
The big nightlife entertainment center is located on 51 street. So, You could get many little bar spaces under one roof. Many bar girls are working here, and 99% of them Hookers. The place is a very open space. You could work at any bars and site down the way you like. No security check at all. Great place to have a beer outside tables.
Phnom Penh Girls Bars on Street, 104, 130, 118, 136 Redlight Districts
All the above streets are located next to the river. All roads are full of girls' bars and very similar to redlight districts in Bangkok. Of course, redlight areas in Phnom Penh. Earlier, I said that many bars are available on those lanes. Yes, but some bars have no many girls. So, I will write down the best Phnom Penh Girls Bars or sex bars for your convenience.
Pick Up Girls Bars or Sex Bars Below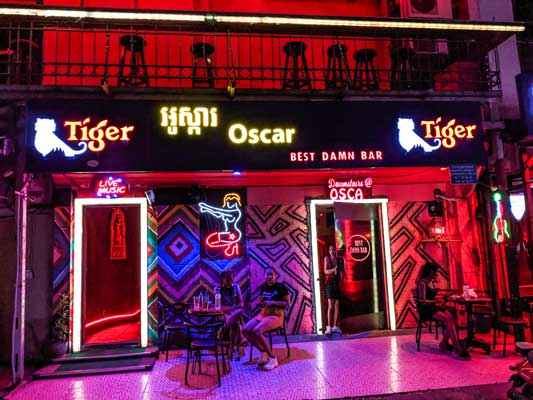 Rose Bar
All staffs are CATS only – a great place to have fun. Well, most ladies are the age of 18-28 age range. They all have a sexy dress. Also, the Bar has a magnificent setting inside, very comfortable chares. Also, a large selection of beers with another type of drink.
Moreover, the Bar located street 104. well, it isn't far from lane 36 or others. I would say that you should be trying at less once. Also, the place opens around 3 pm to late every day.
Honeypot
Honey pot holding popularity as one of the best Phnom Penh Girls Bars. I was there for two days and a large selection of ladies in the Bar. Prices are great and great menus for alcohol. Some of the ladies look like a beauty queen. Well, stunning. Well, they are located at Khemarak Phoumin Street 130.
Island Bar
The place is now a known hostess bar in the City where you can surely find sex in Phnom Penh, and even though some of the Island Bar girls don't speak English that much, you can still find several foreigners going to this place to find some girls to bring with them at their hotel. The Bar has its comfy sofas inside, and the place is also air-conditioned; hence you can have a relaxing time in the area. You may also use their pool tables if you wanted to have a bit of fun with some friends. Island Bar can be found on Street 118 of the City, and they are open every day from 4:00 pm and closes at 4:00 am.
Oscar Girls Bar
Oscar bar is another great place to hang around. It is a western Asian mixed style bar—live music with an excellent selection of drinks. Ample space is available. And a two-story establishment. By the way, it also belongs to the girls' bar or sex bar categories—address: Phnom, #31 Seng Thuon (St. 104), Penh 12201. And open around 5 pm.
Sharky Bar
Sharky Bar is more like a between a restaurant and a pub in Phnom Penh rather than a girl bar, but what made me include this one in the list is the fact that they have their live music available from time to time. They also have their beers, many sexy cocktails, spirits, and much more if you wish to have a glass or two. You may also found their own four pool tables, and for those who love sports, they also have their giant T.V. screen T.V. for you. You will discover Sharky Bar at Street 130 by the way, and their operating hours are from 6:00 up until late at night.
Dragonfly Bar Phnom Penh Girls Bars
I was here for a few hours to have a look before wite my blog. Before that, I did look up google reviews; Reviews are formed diverse countries and good comments comparison to other places. Well, the Bar also located on 130; the actual address is Khemarak Phoumin Ave (130), Phnom Penh. So, I would say great drinks and great selections of pussy cat here for you.
D.R. Bar
D R Is a bigger bar. As soon as you get inside the place, it is more likely a nightclub. The place location is at Street 214, and they also have their D.J.s, which are known in Phnom Penh as well. The girl bar is open every day from 7:30 pm until 4:00 am, and when it comes to their music, D.J.s of the clubs usually play funk, rap, hip hop, and R&B. The Bar gives young musical brand to opportunities to grow up. So, one of the popular one among Phnom Penh Girls Bars to pick a girl.
Pussy Cat Bar
The Bar little and some great cocktails are on the menu. What I have seen for sure. Well, the place more focuses on pussy cat deals. What I have seen hot ladies are in the Bar. of course, they are friendly ladies. Location on 136, but it is in the corner of the next street. So, enjoy Happy Hour: 6 am– 6 pm Fun, lively hostess bar with lots of friendly Khmer girls, it is on Street 136.
Catch 22
Catch 22 can be found at Street 136 in Phnom Penh Girls bar to pick up the one you like. What I like in the place are their friendly hostesses, who would make your life in Bars Catch 22 an easier one. They also have their pool tables upstairs for those who wanted to use one, and when it comes to their drinks. I think that for sure, drunks are cheaper than in other places. But much. By the way, it is open from 4:30 pm and closes early in the morning.
69 Bar
Bar 69 is one of that small one but a pack of ladies. Most ladies are hotties. Phnom Penh bars that can be found on Street 136. Well, even the place is little, a large selection of girls is in the Bar. Also, girls behave well. They aren't coming and distract you from getting into your pants.
More Phnom Penh Girls Bars You to choose
As we know, may sex bars or girls bar type place here over 100. So, I have selected sites looking good, crowded, good drinks, good reviews on google, and easy accesses. But your choices.
Alaska Bar
Tokyo Bar at Street 136 – most extensive selection of ladies here
Wild Orchard Bar
I Get You Bar
Shangari-Lar Bar
Intocxica Bar
The Marine Bar
NANA Bar ( Or it calls pub)
Phnom Penh Nightclubs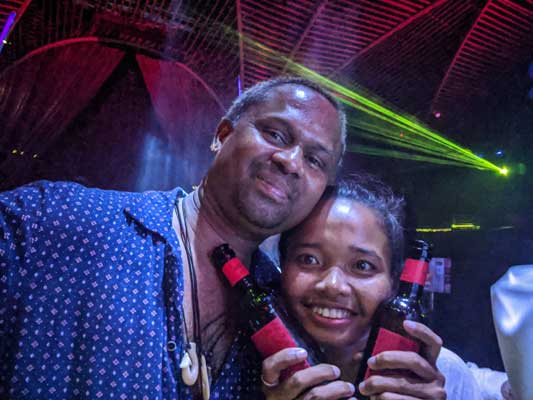 I have listed a few night clubs. You could find many more, But the list here the most famous and accessible to hunt a girl for the night. As we know, Nightclubs are bigger than Phnom Penh Girls bars or sex bars. Well, I would say that those clubs offer more excellent service and security—also, a large selection of girls. But prices are in general higher than Phnom Penh girls bars.
Love club – Love club at street 278
Poonton Club – 80 Jayavarman 7 St. (172), Phnom Penh
Sound Club – National Assembly Street, Phnom Penh
Vito Club – Samdach Chakrei Ponn St. (208), Phnom Penh
Very Local Bar in Phnom Penh
Hub Street Cocktails
Hub Street Cocktails on Abdul Carime St. (21), Phnom Penh. The Bar is a trendy cocktail bar among locals, but of course, many tourists also sneaky around here. Well, I have seen many hot local ladies here. I don't think more comfortable getting hook because of they all with a bunch of people.
BattBong Bar
BattBong bar located at 132 Z13, 51 St 55, Phnom Penh. One of the famous streets with a great hostel, a few other restaurants, bars here. Bustling place and make a sure booking first.
I have found this Little Bar calls Blue chili. Well, this is a very local place but also famous among foreigners—a best known original gay bar in Phnom Penh. Blue Chilli stands proud as the best-known and the longest-running gay bar in Cambodia. Also, the Bar offers you a fantastic ladyboy dance every night around 11 pm.
Nightlife Tour Phnom Penh
Littel powerful soul here in the City. Lina, the guide, is happy to show you around during the night also the city tour. The tour duration around 4 hours and she will be showing you some local bars and places as you wish. Most importantly, the guide will be yu trusted companion to hang around. I have found that she is an excellent assessment here during the night—especially your first night to see around otherwise your own.
Girls & Prices at Phnom Penh Girls Bars, Redlight Street Hookers and in Clubs
I assume 98% of hostess are hookers in Phnom Penh Girls Bars. Well, it is a very open truth. On the Other hand, most comen mistakes have done by the traveler, they are thinking Phnom Penh Girls Bars only te place to get pick up ladies. Well, no, many hookers are available around redlight districts, also in bars or even night cafe-style little restaurants.
Lady Drinks and Bar Fines in Cambodia
Lady drinks around USD$ 2.5 to 4.5, it depends on the outlets, Prices in Gris bars USD$ 2.5 to 3.00 max. Girls will earn around 25 to 45% out of the drinks in general. Basic salary of a girl around USD200 or 250 a month. Even though the month, a girl may sleep with few customers.
Well. After all, A girl would earn around USD$ 750 to 1000.00 a month. So, this type of business has no fixed income; it all depends on her beauty. Mean how many she would have slept with the end of the month.
Bar Fines in Cambodia
I have check all in Phnom Penh Girls bars charge around USD 10.00. Well, it may be little as USD$15 in some nightclubs.
The hostess bars or girls bars are not the only types of entertainment venues in Phnom Penh's redlight areas. Well, they are easily the most popular ones in the city to find sex. Also, Regarding the prices of drinks, You can expect to pay 1.25-1.50 USD for draft beer, 2-3.50 USD for bottled beer, 3-4 USD for spirits, 3-3.50 USD for lady drinks, 10 USD for the bar fine, and 40-50 USD for sex (negotiable).
Bar Girls Sex Prices
Phnom Penh Girls bars offer around USD$ 40 to 50 an hour. If the lady is hot and ages 18 to 25, the price will be higher as USD75 to 100 range.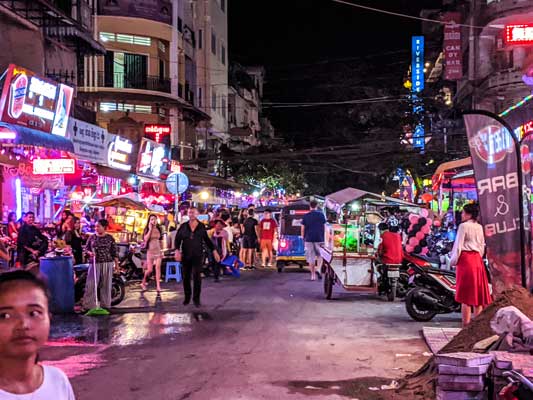 Freelancers (Street prostitutes)
Well, Street hookers are the cheapest. But every low personal hygiene Even though I have seen some tourists were picked ladies on the street. And I wouldn't recommend but your choices.
Type of Casual Hookers
Some young Khmer girls are coming out with their friends to go out and have a good time. Also, they are like to get hook with travelers other than locals boys. Well, Always, the issues with language, shy, and local culture are still very conservative in social hook up manner.
Disco Bars
Disco bars are the great places to pick up very local girls, But all about your talents and skills. Language barriers are enormous here.
KTV
I wouldn't be recommended KTV because they are costly and prevalent among local men. Many Vietnamese ladies are working on KTV. Somehow, Local men like white skins.
Day Activities
Phnom Penh Girls bars aren't the best way to enjoy your holiday. So, You need so many activities to try. Try some of the below during the day.
Touristic Attractions
Royal Palace
Cambodia National Museum
Choeung Ek
Tuol Sleng Museum
River Boat Cruises
Wat Phnom
Wat Ounalom
Russian Market
Silk Island
Final Tips
Phnom Penh Girls bars and girls easy to find
Phnom Penh Girls bars cheap
Sex Girls in Phnom Penh Don't Like to come for overnight because they want a short time and get nest hook and earn money.
Book your hotels at Riverside would be the best for hunting game
Street 278 near the Independence Monument offers best restaurants and cafes
Tuk charges around (1-5 USD per trip
Basic scooters renting at a hotel around USD 5 to 25 range
Make sure to book your hotel for two people. Also, the best hotels for sex friendly.