Nana Plaza One of  the largest Sex District in Bangkok, Thailand 
This is better known as Soi Cowboy or Patpong, Nana Plaza and it more of a place of adult activity.
This is it is not meant for families, marked and for everybody. Only a few tourists who are curious stroll there to have a look.
If you are into exotic visual experience and adult activities of an extreme kind to boast of once you return home, come to Nana Plaza.
This is the biggest nightlife area ever to be found in Thailand. This Nana Plaza provides space for more than 30 bars.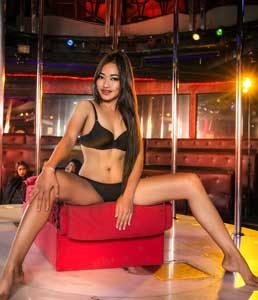 Is Nana Plaza Safe for Travellers? 
What is interesting is they are all located in one single complex. The plaza houses have the most well-known Go Go bars in Thailand and the world at large.
This Nana Plaza comes under the tight security scrutiny of the Bangkok metropolitan police department. It is a safety zone for tourists.
The police do a 24-hour security team work with dedication. This is to guarantee that both the employees and the guests receive the maximum security.
As you walk down Soi 4 from Sukhumvit Road you can happily come to Nana Plaza. The sight of a line of street vendors with their carts ready for their day to day business tells you that you have got to Nana Plaza.  
The street vendors provide you with their delicacies which include 'som tum' (spicy green papaya salad) 'Kai tod'(Charcoal grilled chicken) and fried insects.
Fried insects is an unusual delicacy for many a guest. Most comfort food that the bar girls obtain come from the northeastern province of Thailand.
There is Nana entertainment plaza and as you pass this notorious place you get the signs of neon lights.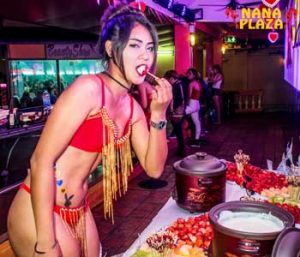 These neon signs invite you from every direction. What is more striking is the ones who accost you there.
These characters engage in an industry that is utter of adult content in nature. Their appearance is all to be taken with ease as they do so with all possible light-hearted attitude to life.
That is to say, their accosting means no harm to you. Where do you find the open air beer bars to choose from if not here at Nana Plaza?  
You can find yourself in Go-Go bars such as Lollipop, Pretty lad, and Red Lips as soon as you get onto the first floor.
You will find an enthusiastic staff trying to win you over to their bar. You will find yourself bewitched by their laughter and smile. Well, it is their happy trade you know.
Go up the moving stairs and find yourself on the first floor. What do you find there? Well… a cluster of Go-Go bars. Some of them are Spanky's, Carnival, Angel, Witch, Fantasia and Rainbow 3.
---
Would You Like to Have Best NightLife Tour With Our Local NightLife Tour Guide to Catch world Most Beautiful Thai Lady in a Club??
Boy offers the best prices for travellers and well-trusted person, no scam so ever. 

Personalised Nightlife tour in Bangkok. I'm working as a bar girl in Bangkok.

 
Contact on Our Contact Us Page or +61497822189 Sam on Viber or Whatsapp or travellerhints.com@gmail.com. We guaranty you best fun in Bangkok.  
---
If you go to Rainbow 4 you see the biggest of all the bars in Nana Plaza. It has a mixture of western and Japanese spectators.
G-spot Casanova and Temptations are to be called the most well-liked one among them. They have their mesmerising ladyboy shows.
Then Angel Witch is on the left and has its rock theme shows with a big hit too. They pay a lot of attention to clothes to guarantee the best kind of performance for the guests.
If you are into a serene place why not head for Big Dogs bar. It is in the left corner of the entrance to Nana Plaza.
It has a high terrace view onto the street and alleyway. It serves you your beers and as happy to cater to your insatiable needs.
You can see numbers on badges pinned on all bar girls. The places where they are displayed are their bikinis or G string.
As soon as you decide which lady to choose you just have to tell the waitress the number of the girl of your preference and they get her to sit with you. When she comes to sit with you have to buy the lady drinks she likes.
Go Go Bar Girl Pricing: If you wish to take her out of the bar you have to pay a bar fine ranging from 500 – 600 Baht.
This has to be paid to the bar or club the girl works for in Nana Entertainment Plaza. The rate of pay depends entirely on the duration of time – short time or a long time.
There are some other factors that have an impact on asking the price from a bar girl. It depends on the way you look your age and your ethnicity. Given below are the general rates of pay for play.
A short time ( one hour or you can discuss it) This requires 1500 Baht to 2500 Baht. It could also be more at times. Get ready to pay to play for a short time room and you have to incur an amount of 300 Baht for an hour.
Two types of short time rooms are available. The usually accepted time duration is 1 hour. However, you can ask for two hours instead.
In fact, safety comes first and our advice is that you buy your own condoms. There are ones at short time hotels but they are expensive and are not pleasantly OK. There are two short time hotels on the third floor.
Their charges are the same. If you wish to save the money you spend on hotel rooms make sure you stay in a hotel near Nana Plaza.
It is a lot more practical and you can have a clearer place to enjoy yourself with the lady you happen to select from Nana Plaza.
If you go for a long time (overnight), clearly you will have to spend more as you are taking her out of the bar the whole night.
You see, the bar girls can earn more with short time customers. The rates they ask range from 2500 Baht to 5000 Baht for a long time.
Then once again there are some other aspects that affect the prices. They are how much money she has already earned and how she is feeling.
Some may desire to be gone to rest as a majority of them work 6 days at a stretch every week.
Here is some advice. Wait until 2 a.m which is the closing time and ask the bar girl of your choice to save on the 500 Baht which is the relevant bar fine.
This way you can take the bar girl to your hotel room for staying for a long time. As the usual practice, the bar girl can not arrange unnecessary and private deals in the bar as it is against the rules of their bars.
If it is the case you can keep it a secret. Just as a secret only between you and the bar girl.
When you get a hotel room during your visit make sure you choose hotels which allow you to bring in the Thai hooker of your choice.
Yes, the hotels which raise no objections to your bringing a girl in. I give you this tip as some hotels charge a joiner fee when you invite non-registered hotel guests.
Nana Plaza which is a four floored complex of adult entertainment is notorious as the world's largest sex hub.
It is well known as a place to find charming girls at low cost and prejudice about sexuality. Nana Plaza is a place which is much better than many other places. Oh yes, checking out is more than worth it.
---
Look up The Hotel Deals with World Largest Booking site Hotel Combined 
---
More Travel Blogs to find Sex Here
Contact Kievfun for Ukraine fun Booking Here
Best Go-Go Bars in Nana 
 Nana Plaza – Billboard
This could be called the best among the rest of the go-go bars in Nana Plaza. Being quite big it displays dance shows of high calibre.
Their dance has high choreography and relevant clothes. You could also see a girl to girl interaction.
If you ask me the location, yes find it on the left side of the second floor of Nana Plaza.
Angelwitch Ⅱ
It was newly opened, this bar is not a lot crowded as its brother Angelwitch. However, it has the similar top-notch show quality.
These bars have both single girl and group choreography. Gosh! They strip off their clothes entirely.
The music can be called that of rock one and the toilet is for both male and females. You can find it ground floor of Nana Plaza. Yeah, on the right in the middle.
Angelwitch
This Go-Go bar competes highly with other bars in Bangkok. This, in fact, is a place you must see. You find casually dressed waiters here.
The girls wear beautiful clothes. They wear black stocking an over knee high heel boots. The girls are charming and there is every reason to believe that you will be unable to find one if you are too late to get there. Find it on the left of the first floor in Nana Plaza.
Spanky's Go Go Bar
This can be called a Go-Go bar which enjoys a high place in Nana Plaza. It is also among one of the oldest bars of its kind.
It usually gets crowded and you might even lose a chance to enter it. It has a small locale. However, it is the best of its kind.
Something even more interesting is the presence of a shower booth which the girls play under. Find it on the left of the first floor in Nana Plaza.
Spellbound
This could be called one of the freshest of bars in the Nana complex. It was opened in November 2013.
Among all the bars it is the one to enjoy a place to have a classy look. The private setting it offers you is attractive and inviting.
The stage has a shape of a cross and with it come many poles and the bar chains which are around it.
At a time there are ten girls on stage. The clothes worn by the waiters are also provocative and attracts you to the bar.
Tokyo Player
If I say that its size is comparatively bigger than the other bars you might want to go and see it for yourself.
Tokyo Player provides you coyote dancers in addition to strippers. So if you enjoy the shows of if you are ready to pay the bar fine to get one beauty to this place, it is really suited for the quenching of your massive thirst to get maximum of satisfaction.
Availability of a VIP area on the second level to enjoy your privacy with the girls and also to arrange private parties makes this place an ever so attractive place.
You are able to find it on the left of the first floor in Nana Plaza.
Rainbow 1
This bar is the oldest of the rainbow chain of bars. Also, it is known to be one of the best Go-Go bars in the whole of Bangkok.
It's more prominent thanks to its availability of more attractive belles than in any other bar. Its ways are a lot akin to Rainbow Ⅱ and it could also be called an ideal place to go to drink with a group of friends.
But make sure you do not go there only to look for the girls of less attractive natures they are very shrewd and sensible girls in good costumes.
It is to be called a lot better when we compare them with other usual type of bars.
Playskool
It has one of the smallest locales on the first floor. Playskool is a bar of center stage and it can accommodate about up to 80 girls.
Every ten minutes, there are shifts and they are charming as they appear mostly topless. They are quite inviting.
However, if you happen to take them along they may become familiar with you and start to satisfy you with their sexiest of manners.
It is really worth visiting this place. You could easily locate it on the right of the ground floor in Nana Plaza.
Rainbow 4
This is newer than rainbow 2 and could happily be called its younger brother. What this is, but another bar of high caliber providing you with a high choice of girls.
It also has two stages and is best suited for large groups. The availability of snack tables between stages is an important aspect in this bar. There are sofas. They are all not in a row, though. 
You could see an extra row of chairs on the stage. However, this is yet another crowded place. It is crowded, especially at weekends.
Rainbow 2
It is a popular legend that Rainbow 2 belongs to the police. Its stage is in the middle and has the capacity to feature two shift of ten dancers who change every ten minute and so.
This comfortable club is highly well liked and is a good place to  go with a friend. It is very crowded, though. You may be looking for something specific. Then rainbow 2 is the bar for you.
There are some other popular go go bars in Nana Plaza . They are as follows.
Fantasia go go Nana, Bangkok, Casanova, DC 10 Go Go bar Ertic Go Go Bar,  G spot Go Go bar, Hollywood Rock Go Go bar.
Las vegas Go Go bar, lollipop Go Go bar, Voodoo Go Go bar, sexy night go go bar, pretty lady go go bar, Mercury go go bar and Mandarin go go bar.
Nana Plaza sex Tips
Ladyboys- Thailand's best kept secret is lady boys. If you are looking for them you could find them aplenty around Nana Plaza two. We can also see the presence of exclusive clubs of ladyboys.
Obsession is one such club. However, despite what you choose make sure you always pay a bar fine in and get one you do not get robbed by cunning sex workers who are hell bent on cheating and stealing.
How to choose a girl – As dancing girls have numbers, if your choice is one of them it I just a matter of telling the waitress the number.
This will guarantee that she is brought to your table. You have to buy her drinks if you wish to make her stay with you.
You do this not for her. Oh yes, not for her at all, but because it is the locales policy. You see they are trying to make you spend on drinks.
Prices – You've got to remember the bar fine has nothing to do with the pay for the girls time. There is no way of negotiation when it comes to the bar fine.
The girl's payment for her time heavily depends on your looks and age. If the girl is into you she will negotiate.
Give her a good tip. It will make her be with you for a long time especially if she really gives you the pleasure you look for.
You may be able to keep her till 3 – 4 a.m. Or else get her to save her bar fine by asking her to come with you after the closing time.
You could negotiate the price further. Supposing the bar has not got a good crowd the price will be low as the girl is less in demand.
Cash – You have to keep money with you. It is because as the prices are negotiable you can not pay by credit card.
Language – usually the girls speak English. Maybe it is not good English but you can have a communication and exchange ideas with that.
Rooms – Nana Plaza has two short time hotels and cost for one room is 300 Baht for one hour. If you take her to your hotel make sure there is not a joiner fee.
Condoms – Bring your own ones. The ones supplied in rooms are of low quality.
How to get there – Nana Plaza lies midway between Ploenchit and Nana Skytrain stations. Assuming you come with Nana, you can take exit 2 from the station.
This leads up to Soi 4 on Sukhumvit Road. If you happen to come from Ploenchit BTS take exit #4
How to get there: It is just a bit of walking distance from Nana BTS Skytrain station.
Nana Plaza on Google map Here