Last updated on July 1st, 2017 at 07:09 am
Queenstown is a resort town in the Otago Region of the South Island of New Zealand.  The town sits around Queenstown Bay right on Lake Wakatipu.  The town boasts spectacular views of the surrounding mountains, including the Remarkables, Cecil Peak, Walter Peak, and Ben Lomond and Queenstown Hill.  
The town has the third largest urban area in Otago, after Dunedin and Oamaru.  Queenstown is also part of the larger Queenstown-Lakes District, which has a land area of 8,704.97 square-kilometres, not counting the inland lakes within it.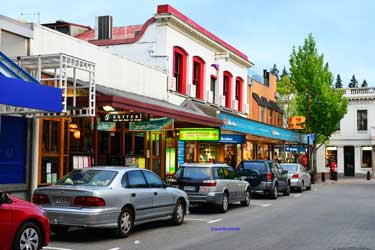 Like most destinations in New Zealand, Queenstown has a long and rich history that begins with Maori settlement far before European settlers ever set eyes on the area.
The first non-Maori to see Lake Wakatipu was Nathanael Chalmers who was lead by Reko, chief of the Tuturau, in 1853.  However, it was not until 1860 that the area received its first European settlers when William Gilbert Rees and Nicholas von Tunzelmann established farms not far from the present day city centre of Queenstown.
It wasn't until gold was found in the nearby Arrow River in 1862 that people really began to flock to the area in droves.  Now, many of the streets in Queenstown still bear names from the gold mining era.  Today, Queenstown is a very popular destination among adventure and ski tourists.
What to Do – Queenstown
        Any adrenaline junkie should find themselves right at home in Queenstown.  There are a number of different adrenaline pumping activity options for visitors to the area.
The town is home to some iconic bungee jumping.  In fact, Queenstown is the self-proclaimed bungee jumping capital of the world.
The area is also home to exhilarating whitewater rafting, river surfing, canyon swinging (which is exactly what it sounds like), and some wonderful, high-speed jet boating.  No matter what your heart-pounding activity of choice, Queenstown is sure to have something for you.
        At the other end of the spectrum, there is also a wide range of opportunities for visitors to enjoy a bit of papering and relaxation at one of Queenstown's spas.
 The town is home to multiple luxurious day spas that are sure to meet anyone's relaxation needs.  Visitors can enjoy a soak in a hot pool overlooking the river winding its way through the valley.  Alternatively, visitors can choose from a laundry list of wonderful spa treatments and massages that are sure to leave them nice and relaxed by the time they leave.
        If it is family fun you are looking for, look no further for Queenstown has you covered there as well.  The town is truly a four-season destination with entertainment for all ages in all four seasons.
Children will enjoy playing in the pools and on the playgrounds in the summer.  In the winter, they can enjoy a cold day in the cinema watching the latest films or out on the slopes with their family on family friendly ski-slopes.
       

Outdoor lovers will greatly enjoy the many trials surrounding Queenstown.  The town is situated in a truly beautiful location and the area's fascinating flora and fauna and the beautiful views can easily be explored on the wonderful walking and biking trails that wind through the wilderness.
 There are a number of short, yet beautiful, walks that start and finish right in the centre of Queenstown that are perfect for those just looking for a short, beautiful walk.  More ambitious walkers can try and tackle all of, or some of, the multi-day tramps located in the nearby Fiordland and Mount Aspiring National Parks.
Fiordland National Park in particular is home to some truly spectacular multi-day adventures, including the Kepler Track, the Routeburn Track, and the Milford Track.  Mount Aspiring National Park is home to the stunning Greenstone Track as well.  With such close proximity to walking trails of all different kinds, Queenstown is the ideal home base for walking enthusiasts hoping to explore the territory of one of the most beautiful regions in the world.  
       

Bikers will also enjoy the wonderful track surrounding Queenstown.
There are a number of shorter trails that start and end right in the centre of the town.  There are also longer tracks that will take riders a bit farther into the beautiful natural scenery surrounding the town.  Some of these tracks provide stunning scenic adventures while others are intense, downhill mountain biking adventures.  No matter what you skill level or what you are looking for, Queenstown has a biking adventure ready and waiting for you.
        On top of everything that has already been mentioned, Queenstown is also home to a variety of different tours, both on the ground and in the air, that are great ways for visitors to see, experience, and learn about the surrounding area.  No matter what you are interested in, Queenstown has something for you.  There are few more comprehensive holiday locations located in such a beautiful setting anywhere in the world.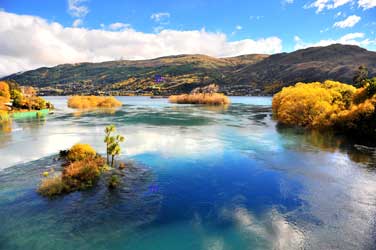 Accommodation
        As you might expect from such a popular destination for visitors, Queenstown is home to a very comprehensive list of accommodation options.
Whether you are looking for a cheap and affordable backpacker's hostel or a luxurious hotel, there is something for you.
There is also a relatively large network of self-contained vacation rentals available for visitors.  These options are ideal for visitors coming in large groups or for families.
Travelling from Abroad?
        Queenstown is very easily accessed for travellers coming from abroad.  Queenstown is home to its own international airport, which is serviced daily from a number of domestic and Australian destinations.
 If you are travelling from outside of Australia or New Zealand, most of the major hubs in Australia, i.e. Sydney, Melbourne, Brisbane, and Gold Coast, fly to Queensland.  The city centre is only a short 15-minute drive from the airport.