Religion Landmarks Reunion Island!  
La Reunion is a land where all races and religions mingle with one another in harmony and peace. Indeed, it is quite common to meet people following two religions, like Christianity and Hinduism for instance.
Catholicism arrived with the first settlers and had strongly spread through the island identity.  It was first commanded during the colonial period but later became a choice for many, no matter the origin : Africans, Chinese, Europeans etc.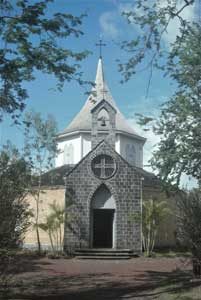 Every year, in September, many Catholics of the island make a pilgrimage in Saint Leu at Notre-Dame de La Salette to ask for favors.This chapel was built in 1859 after Saint Leu was spared from a cholera epidemic which explain why this place has such popularity among believers.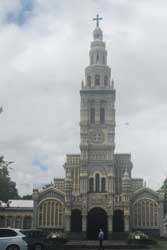 Religion Landmarks Reunion: Some monuments really worth a look
Church of Sainte Anne : located on the East coast, the Church of Sainte Anne, was open in 1863 after 6 years of construction.
In 1922 thanks to Father Daubenberger, son of an architect and freshly named father of the parish, the church started its mutation to the baroque style we know today. The church has been the set of a scene in the François Truffaut's movie "La Sirène du Mississipi". The bell tower, the front and the chapel of Sainte-Thérèse are classified "historical monument since 1982.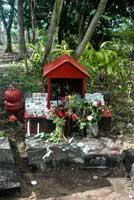 Other churches that deserve a look : Notre-Dame des Laves, in Sainte Rose, surrounded by lava flows from an eruption in 1977. The cathedral of Salazie, the church of Notre-Dame de la délivrance or "la chapelle pointue", in the heights of Saint Gilles.
Religion Landmarks Reunion: Hinduism:
Hinduism with its colorful temples, divinities statues and lively rites was brought by Indians workers after the abolition of slavery. There is 8 great temples across the island and the biggest is the temple "Le Colosse" in Saint André.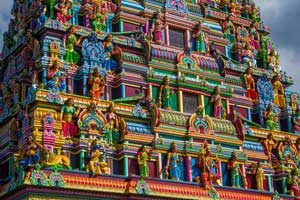 Le colosse : the temple Le Colosse is dedicated to the Goddess Pandialé and was built by indians workers during the 19th century. Ceremonies are held there throughout the year. The first ceremony is in January. Dedicated to the goddess of the temple, Pandialé, believers have to walk through a bed of embers at the end of a lent of 21 days.
This walk glorifies the purity of the goddess who did not hesitate to brave the flames to prove her loyalty. You will also be able to see a ceremony for Marliamen in May or for Karli in July.
In addition, many small chapels or oratory are spread around La Reunion. Believers Venerate the "Trimūrti", a trio composed of Brahma, the creator of the universe, Vishnu, the guardian, Shiva the destructor who embodies renewal. Other gods and goddesses such as Ganesh, the elephant-headed god symbolising chance and knowledge, Lakshmi, the goddess of light or Kali, Goddess of destruction, to whom people sacrifices animals. Even if she looks fierce with her fangs and necklace made of human skulls, what she destroys are vices to help believers to liberate themselves from those vices.
Many festivals pace the Tamil calendar like Cavadee (February / March) in honor of Muruga (god of war and symbol of strength and youth), where believers carry heavy flourished structures with hooks piercing their skins, mouths and tongues or the Deepavali in October for Lakshmi. During the festival of lights celebrating the victory of light over darkness, people dress up in new clothes or their best outfit, light up diyas (oil lamps) and fireworks.
Religion Landmarks Reunion:  Mosques
Even though they are around 25000 on the island, the muslim community is very discreet, except for call to prayer from Muezzins where mosques are established and in particular in Saint Denis where the mosque Noor-e-Islam stands.
Noor-e-Islam which was built in 1905 was the oldest mosque in France before the entrance of Mayotte as a French department. The entrance is located in the street Marechal-Leclerc between shops selling various articles such as toys or perfumes.
With its 32m high minaret, the sunnite mosque has an indian inspired architecture which is not surprising since the majority of the Reunionese muslims are Indian muslim descendants.
Muslims started to come to Reunion island after the abolition of slavery and the beginning of the indian workers arrival. But it is at the end of the 19th century that Islam really established itself with the arrival of indian muslims traders, mainly from Mumbai, Surat and Broach. They first settled in in Saint-Denis, Saint-Pierre and Saint-Paul and supply the island with rice, spices, cotton and other products from Asia. they also act as an intermediary between farmers and consumers.
Religion Landmarks Reunion: Chinese temples
The local Chinese community, despite being mostly catholic, has also believers visiting Saint-Denis or Saint-Pierre's pagodas to worship Guan Di (god of literature and trade) in a mix of Taoism, buddhism and confucianism beliefs.
CHANE Temple : the Chane temple was erected in 1896 in Sainte Anne Street in St Denis. Just as the 3 other temples of the island, this temple is dedicated to Guan Di. Several ceremonies are held throughout the year like TI TIANG festivals in April and September dedicated to ancestors souls or Guan Di's birthday (24th day of the 6th lunar month – around July/August)
Religion Landmarks Reunion: Saint Expedit
Saint Expédit,  'ti bon Dié" (little good god) on the road-side.
Saint expedit is a cult (almost) unique in the world. He is the patron saint of desperate causes that need quick outcome. Above religions and beliefs, Saint Expedit gathers Reunioneses around his "little red houses" spread across the island.
Nestled in his oratory  filled with flowers, candles and ex votos, Saint Expedit is represented as a roman legionary, holding in his right hand a cross where "Hodie" (today in latin) is written.
He is stamping on a crow saying "cras! cras!" (tomorrow in latin). It is said that this crow was sent by the devil to postponed the legionary's conversion to christianity, by telling him to convert him tomorrow but it failed.
Written by Solo Traveller  

Clément Diringer