Saint-Gilles is a seaside resort of the West coast and is the main resort of the island, on the coastline where the most popular and visited beaches of La Reunion are.
Locals nicknamed Saint-Gilles « zorey land », zorey being caucasians from mainland France and freshly arrived on the island.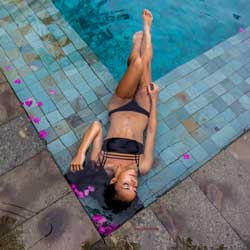 "Roche Noires" (black rocks) beach, one of the favorite beach of the west coast, is right next to the marina.
The aquarium of La Reunion is located in the centre of the marina which is an animated area with restaurants, nightclub, scuba diving clubs and cruising companies which will allow you to discover the seabed and approach cetaceans living in the waters of the island.
In fact, Dolphins took up residence all year long and from June to September, humbpack whales coming from Antarctica to mate and give birth to their babies  in the warm waters of the island.
At the North tip of the city (towards Saint Paul), Boucan Canot beach is also a very popular place, especially for families thanks to the sea-water-pool made out of black volcanic rocks protecting from the waves and to the shark-net set following attacks on surfers and swimmers.
In the heights of Saint-Gilles,you will find trails leading to the "Bassins des cormorans", naturals pools (3 pools but 1 is not accessible anymore due to landslides) which are very visited by tourists and locals even though the access is forbidden.
The Villèle museum, in Saint-Gilles-les-Hauts, is an old colonial property. This manor house at the heart of a huge plantation was owned by the Desbassayns family.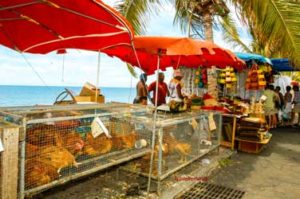 Madame Desbassayns was a very controversial character of the Reunionese history. In fact, she was a very powerful woman, owning hundreds of slaves working in coffee and sugar cane plantations.
Therefore, her partisans described her as generous and admirable. On the other hand, her detractors accused her of being a witch, cruel and mean, linked with the devil.
The interior of the «grande case» (big house) brings back a living environment of a wealthy family from the 19th century with its furniture and a collection of historical documents and fine arts.
The domain spread over 10 hectares and you can freely wander around the garden, the "Chapelle Pointue" (church), the kitchen, the slaves hospital and the exhibition hall.
Back on the coast, at Ermitage, you can visit the Jardin d'Éden (a botanical garden of 2.5Ha with more than 700 species), the lagoon and the Casino de Saint Gilles.