Saint Denis is the administrative center of the island and point of arrival for the vast majority of travellers by Roland Garros airport.
Take a stroll in this culturally rich city will help you understand what is Reunion island strength, its history and multiracial population.
Let's start with le Barachois in Saint Denis! now a long flowerbed planted waterfront, it is a lively place where Reunioneses like to gather thanks to the petanque field, kid playground, restaurants and snack bars.
What makes the Barachois so special is with no doubt, its  old cannons turned toward the ocean, relic of the 19th century, when Reunion island had to defend itself against an English invasion which hasn't been repulsed as English soldiers landed further South and came on foot.
Therefore, in July 1810, they took the city, causing the surrender of the island and the island became English for 5 years. Nowadays, they are mainly used as settings for wedding and sunset pictures.
Nearby, you can see the pr efecture building, former colonial shop and governor's lodge. Go up the "Rue de Paris " to discover colorful colonial houses and their well groomed gardens.
Around, you can also discover the "Jardin de l'etat" former jardin d'acclimatation for imported plants and the Natural History Museum which was home to the colonial council until the 3rd republic, the former town hall with its Napoleon III decor, unique on the island…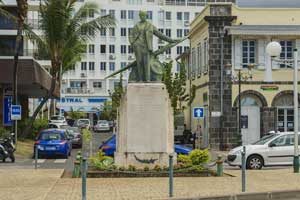 Finally, discover the multicultural face of the island by discovering religious sites such as the cathedral, the church Notre-Dame de la Délivrance, the mosque Masjid Noor-E-Islam (the oldest mosque in France) the hindu temple Kalikambal, the Chinese temples ( Temple de la Traversée Heureuse and the temple de la Prospérité Éternelle)
Although Saint Denis is culturally and historically very rich, it has other assets such as a casino, a golf course (Golf du Colorado) and numerous trails (La Roche Ecrite, Le Chemin des anglais, la cascade du Maniquet, etc.).