Third and last cirque of the island, Salazie is the largest and wettest of the 3 cirque. once again, Salazie is named after a Malagasian word "Soalazy" which is a 3-leg-pot used in the kitchen.
it refers to the "3 salazes", 3 rocks located between Salazie and cilaos.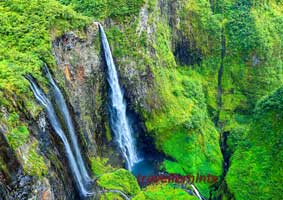 Just like Cilaos, Salazie is well-known for its canyoning routes such as "le trou blanc" or "le trou de fer" and for the hiking trails spread across the cirque including the trail of "le col des bœufs" which leads to Mafate.
Salazie and Cilaos used to have another point in common,thermal waters. Unfortunately, during a cyclone, a landslide destroyed the thermal baths of Salazie and they disappeared.
because of the high pluviometry, Salazie is full of waterfalls, the most famous is most probably 'le voile de la mariée", visible from the road leading to the village of "Hell-bourg". As per the legend, long time ago, a rich man and poor girl fell in love. Her father was against that love.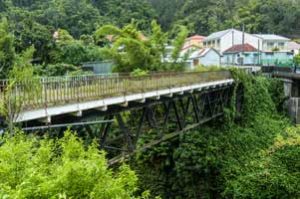 Despite the father's opposition, the couple decided to get married. When he discovered it, the father went berserk and showed up at the church with a sword, decided to kill his newly step-son.
the couple ran away and in the chase the girl fell from the mountain and her veil got caught along the mountain wall giving its name to the waterfall.
"Le trou de fer" is another icon of Salazie. 3 way to discover it : hiking (can be slippery at times), canyoning or by helicopter (quite impressive as the engine goes inside!).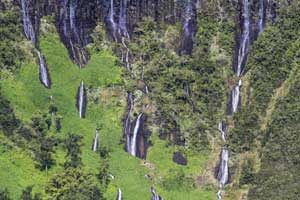 Agriculture is the other main resource of the cirque, the "chouchou" or chayote (an edible plant belonging to the gourd family Cucurbitaceae, along with melons, cucumbers and squash) being the main product.
Culturally, "la maison Folio" allows you to immerse yourself in the traditional culture of la Réunion with the visit of a colonial house and its garden.