Last updated on June 22nd, 2017 at 03:11 am
Sainte Rose is a charming little municipality mixing tradition and tourist sites. Its fishing harbour is very appreciated thanks to its surroundings, it is the icon of Sainte Rose, combining all the different elements that make Sainte Rose this unique place.
Being at the foot of the Piton de La Fournaise, Sainte Rose's church is famous for being spared by the lava in 1977. Indeed, during the eruption, the lava stopped right in front of the church's doors to go round the building leaving it undamaged.
Therefore, the church has been renamed Notre-Dame-des-Laves. The village of Piton Sainte Rose is made of colorful houses with lush gardens. There are plenty of nice places where to stop under the vacoas.
On the "route des laves", between Saint Philippe and Sainte Rose, you can explore the lava tunnels
. it is an incredible journey in the heart of the volcano of the island. Roofs where melted chocolate seems to be running from, lava couches,  and much more curiosities . a few companies offer to guide you through the tunnels.
They will give you valuables information about volcanology throughout the journey. The volcano's depths are packed with surprises and the journey will delight kids and adults.
Just after the "route des laves", you should make a stop at "l'Anse des Cascades" which shelters a fishing harbour and lots of little waterfalls. The site is peaceful and nice with picnic areas. Please note that the waterfalls sizes really depend on the amount of rain, so they may be dry or very thin from time to time.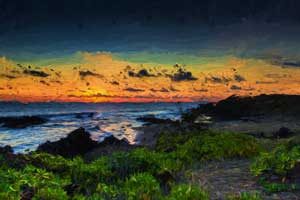 At the border of Sainte Rose and Saint Benoît, "le pont suspendu de la Rivière de l'Est" (suspension bridge of the river of the East) has been built in the 19th century (finished in 1894) and is 152 meters long. At the time of the opening, it was the longest bridge in the world.
Nowadays, the bridge is not in use anymore except by pedestrians who will enjoy a view over the gully of  the " Rivière de l'Est". Please note that crossing that bridge is at your own risks as some planks are damaged, so mind your steps…