Reunion Island culture economic and traditions are almost exclusively fasten with mainland France as well as Indian and Indigence  
What do you know about Reunion Island culture???
Reunion Island culture: Music and dance
Reunion music is based on two original styles deeply rooted into the island's culture: Maloya and Sega.
Sega is a music of Afro-Malagasy slaves and was, at first, played in secret. Nowadays, this music is enriched by various influences and can be married with other musical styles such as rock or reggae. More European than Maloya by its rhythms and instruments, Sega is the dance of all the festivities.
Maloya is a blend of dance, sing and music and was born from the desire of Afro-Malagasy slaves in sugar plantations to speak out the sorrow and revolt desire. Its name comes from the term maloy aho, which means "to speak in Malagasy". Since 2009 Maloya has had the honour of featuring in UNESCO's very select Representative List of the Intangible Cultural Heritage of Humanity.
Maloya has a long history and was passed on from generation to generation, mainly to honour ancestors; it then blended with other influences and expanded throughout the population of the island. In the past it was a simple dialogue between a soloist and a choir, accompanied by percussionists.
Then texts and music found influences in other styles and art such as poetry, slam, reggae and even electronic music. In this way djembés, synthesisers and drums are added to traditional instruments: the roulèr (bass drum), the kayamb (a flat rattle made from sugar cane reeds and filled with canna seeds), the pikèr (a bamboo cylinder that is beaten with two sticks), the sati (a metal box that is beaten with two sticks) and the triangle.
Maloya can also be heard during Moringue sessions, a very choreographed traditional combat sport (quite similar to the Brazilian Capoeira) which, just like Sega, came out of the shadow after being practised for decades by slaves and unknown to masters.
Reunion Island counts nowadays hundreds of bands and a large discography. Some artists are famous internationally : Danyel Waro, Davy Sicard, Salem Tradition, Granmoun Lélé, Meddy Gerville, Ziskakan, Baster, René Lacaille, Nathalie Natiembé, Zong, Pat'Jaune.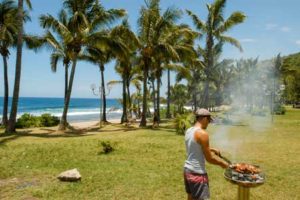 Reunion Island culture: Gastronomy
Cooking and food in general is really important for locals as it is a good opportunity for a family gathering or to spend time with friends.
Strolling along beaches and in the heights (Forest of Le Maïdo, Bébour-Bélouve etc…) will give you an hint of the essence of what tradition is in La Réunion. A huge picnic with family, friends and sometimes even total strangers who passed by and got invited to join in the party.
Reunionese transmit their love and tolerance through food as the local gastronomy is a reflection of its population, a happy marriage of cultures. Indeed, Take French culture as a base, then add up Indian spices, local and Malagasy herbs and products, and chinese way of combining flavors and you'll end up with a creole meal…
From appetizers to dessert, the print of the cultural mix is everywhere. In Reunion island, appetizer is often composed of Samoussas (small samosa which are Indian), Bonbon piments (spicy croquette probably Pakistani), Bouchons (Chinese dumplings) and to drink, various soft drinks and alcohols such as whisky, Martini etc, but also a local drink : Punch, a mix of fruit juice and rum.
Starters are often either a salad, the most iconic would be salade de palmiste (salad made of grated palm tree hearts), a vegetables gratin (chouchou (chayote) or citrouille (pumpkin)) based on French classic recipe or achards (raw vegetables marinated with spices originated from India) accompanied with black pudding.
Then the main course is usually composed of rice, grains (beans, usually red, broad or white or lentils), Carri (a meat, fish or eggs dish cooked in a tomato based sauce, cooked with spices (chili, ginger, turmeric, thymes) onions, and garlic) and Rougail ( fruits and vegetables are finely cut or crushed with a pestle, then mixed with chili, salt, onion and oil). Brèdes, a side dish are leaves and stems of plants (chouchou, mafane, etc.) cooked with ginger, onion, garlic and chillies.
To finish the meal, local cheeses (Mont Bebour, a brie-like cheese, Takamaka, goat-cheese etc) cakes like gateau patate (sweet potato cake) or gateau Ti'son (corn flour cake) and fruits. As a digestive, a rum "arrangé" is a must, it is basically macerated fruits and herbs in rum.
 Reunion Island culture: Handicrafts
La Reunion handicraft is diversified, using local products and skills passed on from generation to generation. Most techniques haven't changed for decades.
Essential oils (geranium, vetiver…) are distilled and have various utilisation. They are used in perfumes (geranium oil is used for Paco of Paco Rabanne for instance), bath oils, house perfumes, medicines,  and even in food for some of them for unique flavours.
While Geranium is distilled in the heights of Saint Paul in Petite France, Vetiver is distilled in the South, around Saint Joseph. Some distilleries can be visited to learn more about techniques and oils.
Weaving is done using vacoa (Pandanus) leaves and other seashore trees to make bags, baskets, hats and other items. Vacoa grows on the South coast of the island. Saint Philippe is reknown for this kind of weaving and some shops offers to see how it is made. Weaving can also be made out of Choca, a kind of agave like the Aloe Vera. L'entre-deux is where you can visit workshops.
Turtleshell is also a pretty unique handicraft. This art is doomed to disappear as buying shells is now forbidden and therefore, craftsmen has to work with the shells produced by La ferme Corail in Saint Leu (now Kelonia) before 1984.
In Cilaos, les Jours de Cilaos is a unique unique embroidery made by removing threads in a certain way in a piece of fabric to "draw" patterns such as flowers or geometrical shapes.
Many other handicrafts can be discovered across the island, Coconut shells sculptures, jewels made of volcanic rocks, etc.
Reunion Island culture: Language
By the early time of the island's history when settlement started, people from different backgrounds, had to invent a language to communicate.
The island belonging to France, French would be the roots of this new language. Added to this, words from the other people's mother tongues like Malagasy and Tamil for instance. Thus was born Reunionese creole.
Practiced daily by the large majority of the population, it is still evolving. It is however understood by the French newcomer … provided you listen well!
This language, very visual in its expressions and gently "singing",  is widely spoken among the local population regardless of their background.
This language which remained a spoken language for centuries and slightly varies from A to B within the island, is now taught in schools.
Experts want to set grammar and orthography rules, but it is still controversial as there is no official written transcription. It is used in traditional storytelling and fonnkèr (poetry), which is going through something of a revival.