Last updated on September 4th, 2017 at 03:40 am
Nelson is located on the eastern shore of Tasman Bay.  The city is the largest settlement in the Nelson Region.
There is a lot of history in Nelson as it is the second oldest city in New Zealand and the oldest on the South Island.
The city was proclaimed a city by royal charter in 1858.  However, many years before European settlement, the Maoris inhabited the area that is now regarded as Nelson.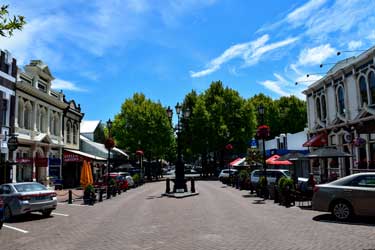 In fact, the Maoris began settle in the region around 700 years ago and there has been archeological evidence that indicated some of the first settlements in New Zealand occurred around Nelson.
Now, Nelson is known for being a hotbed for the arts, with the city hosting a variety of art related events each year.
It is also the sunniest region in New Zealand with beaches, untouched forests, rugged mountains, and world class cycling.    
Nelson: What to Do
There is no shortage of things to do in Nelson.  Beyond the city of Nelson itself, the Nelson region is filled with wonderful attractions for visitors to enjoy.  In fact, the Nelson Tasman Region is regarded as a cycling mecca.  
Nelson was recently named a Gold Ride Centre by the IMBA, thus making Nelson one of only six Gold Ride Centres in the world.
In addition to having over 50 mountain biking tracks, with three purpose built mountain biking parks, the Nelson Tasman Region is home to the Great Taste Trail and the Dun Mountain Trail, both of which are highly regarded internationally.
Great Taste Trail
        This is a relatively easy 175 kilometre cycling path that allows visitors to leisurely cycle the Nelson Tasman Regions most gorgeous coastal and inland areas.
On this trail, bikers will pass vineyards, breweries, orchards, and a variety of other locations that are prefect for sampling the region's wonderful cuisine.
If you are a wine enthusiast, Nelson is known for producing wonderful Sauvignon Blanc, Chardonnay, and Pinot Noir.
While the entire loop is 175 kilometres, it can be easily broken down and completed in your own time.
The loop starts at Nelson Airport and first passes through Richmond, before taking riders along a boardwalk path that takes them past the Waimea Estuary.
From there, the trail crosses over to Rabbit Island where riders have the opportunity to visit the Mapua wharf, enjoy some shopping, and stop at a great café or restaurant.
From there, the path heads to Motueka, where bikers will find a number of award-winning wineries.
 After you have tasted a few of the wonderful wines produced here, the trail winds on to Kaiteriteri, which is the gateway to Abel Tasman National Park, which is a wonderful place for bikers to stop and visit.
The trail follows the Mouteka Valley along the Mouteka River's west bank before reaching Woodstock.  At this point, the track becomes a bit rougher.
Between Woodstock and Wakefield riders will have to ride along an unsealed road that gains 300 metres in elevation (this section of the trail is only temporary and will be replaced with a flatter route in the future).
Between Wakefield and Nelson, riders will have the luxury of riding along purpose built cycling paths through vineyards, cafes, and a variety of accommodation options.
        Riders should be aware that there is mobile phone coverage available throughout the trail.
Additionally, drinking water is available at each of the townships along the way and at Rabbit Island.
The longest stretch between water sources is between Richmond and Rabbit Island (15 kilometres).
Dun Mountain Trail
        The Dun Mountain Trail is a shorter, 38 kilometre one day ride that should take around 4-6 hours to complete.
The trail starts in Nelson and climbs to an elevation of 878 metres, before descending back down to Nelson.  The track follows New Zealand's first railway line.
The first portion of the trail provides riders with glimpses through the trees of the Waimea Plains, Nelson, and further in the distance, Tasman Bay and Abel Tasman National Park.
Third House, located along the trail, is a great place to stop for a break along the way.  From there, you can enjoy the wonderful birdlife along the trail.
The trail peaks near Windy Point and Coppermine Saddle.  From this point, visitors are treated with stunning views of Tasman Bay.
The remainder of the trail is one of New Zealand's longest mountain biking downhills; it is a truly exhilarating ride down the mountain.
Riders should be aware of the following things before starting their journey on the Dun Mountain Trail:
1)   The trail is fairly difficult and requires are good level of fitness.  Riders attempting the trail should be competent mountain bikers.
2)   The trail is a long way from assistance.  Make sure you bring enough food, drink, spare tubes, and wet-weather gear so that you are prepared for any problems you might encounter along the way.
3)   Mobile phone coverage is patchy along the trail.
4)   Make sure you bring enough water to last you for the entire trail.  There are no water sources along the way.
Heaphy Track
        The renowned Heaphy Track also passes through the western portion of the Nelson Tasman Region.  While this track is most often thought of as a walking track, the trail is now opened for mountain bikers during select times of the year.
The trail is 78 kilometres and can either be completed in one day or broken up into smaller chunks and completed over the course of multiple days.  
The track was originally open to mountain bikers in the 1980s and 1990s and in the final year it was open to bikers, it is expected around 2,000 people completed the trail.
However, when the trail was incorporated into Kahurangi National Park, mountain bikers were banned from the trail.
After years of campaigning, the trail is open yet again, on a trail basis, between May and September for mountain bikers.
Over the course of the 78 kilometres, bikers will pass through a variety of landscapes, ranging from ancient beech forests, to barren alpine tussock, to the rugged and windswept nikau palm dotted coastline of the West Coast.
Along the way, there will also be giant rata trees, limestone caves, rivers, and wonderful views of the South Island's north coast.
Riders who want to bike the Heaphy Track should be aware of the following things:
1)   The track is regarded as an Intermediate Grade 3+.
2)   You will be travelling through remote backcountry.  As such, you will have to carry all your gear and will have to be prepared for very cold nights.  Make sure you are prepared with enough food, a well tuned bike, tools, spare tubes, thermal blankets, and a first aid kit.
3)   Fit and experienced bikers can easily complete the track in two days.  Less experienced bikers should expect to take around three.
4)   Groups of bikers must in no greater than 6.
5)   Accommodation along the trail is government-managed huts.  They sleep a varying number of guests in bunk beds and have flushing toilets, gas cookers, and coal fires.
Of course Nelson has more to offer than just cycling.  The area is also home to three national parks: Abel Tasman National Park, Kahurangi National Park, and Nelson Lakes National Park.
Abel Tasman National Park is New Zealand's smallest National Park in terms of surface area, measuring only 22,530 hectares.  However, it makes up for its small size by fitting a huge number of beautiful natural features in a small space.
The park is filled with wonderful bays, coves, and expanses of wonderful sand where you can swim, paddle a sea kayak, or just sit and relax.
Kahurangi National Park is home to an incredibly variety of native plants and wildlife.  It is also home to the renowned Heaphy Track.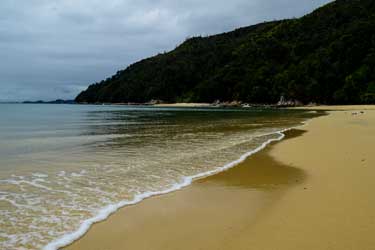 This walk takes 4-5 days but provides stunning scenery.
Lord of the Rings enthusiasts will also enjoy visiting some of the sites from the movie as Kahurangi provides the backdrop for many of the scenes in the movie trilogy.
Nelson Lakes National Park is surrounded by mountain ranges and is filled with alpine lakes.
The park is heavily protected and allows visitors to see New Zealand almost exactly as it would have been around 500 years ago.
Visitors can also take a trip to Golden Bay.
The drive between Nelson and Golden Bay itself is gorgeous and worth the trip as it takes visitors a scenic route up the marble mountain, Takaka Hill.
The bay is home to the Te Waikoropupu Springs, which are the country's largest freshwater springs.
The springs are set in a reserve protecting old gold mining equipment, regenerating forest, and a large portion of mature brush.
Visitors to Golden Bay can also take a guided safari to Farewell Spit, which is a bird sanctuary and wetland of international importance.
Finally, visitors to Golden Bay should take a trip to Wharariki Beach, which boasts a wild and beautiful coastal landscape.  Over time, the strong winds and harsh waves at this beach have crated huge, and unique, sand dune formations.
Finally, there is the arts scene in Nelson.  
This is what the city of Nelson is perhaps best known for.  Nelson has hundreds of working artists living in the city and it shows as the city is dotted with galleries, workshops, and museums.
Among the many artistic attractions in Nelson is the World of Wearableart & Collectable Cars Museum, which is just ten minutes from the city centre.
Additionally, there is the regional art gallery, the Suter, Te Aratoi o Whakatu, which has an impressive collection of work by Sir Tosswill Woollaston, who was one of the pioneers of modern art in New Zealand.
Visitors can also head out to the foundry at Höglund Art Glass and watch trained glassblowers in action as they make their most recent creations.
In addition to the beautiful items created at Höglund, the foundary is also situated within 7 acres of peaceful gardens.
Nelson is also home to a famous Saturday Market at which many of the local artists and craftspeople showcase their work.
Visitors should check and see what events might be occurring during their time in Nelson.  The city hosts a variety of arts events each year that would be a wonderful attraction for visitors to the area.
Accommodation
        Nelson has no shortage of accommodation options for visitors.  Whether you are looking for campgrounds, backpacker's hostels, vacation rentals, bed and breakfasts, boutique hotels, or resorts, there is something for every budget and taste in Nelson.
Travelling from Abroad?
Nelson is very easy to access for those travelling from abroad.  Nelson itself has a regional airport.
This airport is serviced by regular flights from Wellington.  Wellington is one of the largest cities in New Zealand and is home to a large, international airport.
Those travelling from abroad will find it very easy to connect through Wellington.