Last updated on September 4th, 2017 at 02:37 am
Kahurangi National Park is located in the northwest of the South Island of New Zealand.
The park covers around 4,520 square kilometres and is the second largest of New Zealand's fourteen national parks.
Kahurangi Point, which is regarded as the boundary between the West Coast and Tasman Regions, is located in the park, as well as the Heaphy Track and Mount Owen.
The park is a popular destination for tramping, rafting, and caving.
        The park has a rich geologic history.  Much of the park is covered in sedimentary rock that at one time sat below sea level.
It has subsequently been faulted, uplifted, and in certain areas, scoured by glaciers.  Other parts of the park are covered with limestone and marble.
These areas have an number of caves, bluffs, natural arches, sinkholes, and water-worn outcrops, making for a variety of fascinating rock formations.
The oldest fossil in New Zealand, aged some 540 million years old, was found in this park.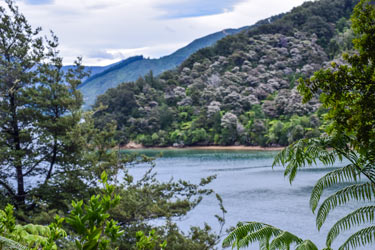 There is also a rich abundance of wildlife and vegetation in the park as well.  The varied landscape allows for many different species to inhabit the park.
There are a number of threatened species that dwell in the park, including the rock wren, and the great spotted kiwi.
The park is also home to the country's largest cave spider and over 20 species of carnivorous snail.  The vegetation also changes depending on where in the park you are.
In the east, beech forest dominates while in the west, it is podocarp forest with a rich undercover of ferns, vines, and various shrubs.
Right along the coastline, huge stands of nikau palms give the forest a tropical look.
Overall, around 80% of the alpine species in New Zealand can be found in the higher elevations of the park.
        If you are a Lord of the Rings enthusiast making the pilgrimage to New Zealand to visit the places used in the movie, then you will most certainly be making a trip to the Kahurangi National Park.
It was the location for Dimrill Dale and the outcrop outside of Rivendell in the film version of the Lord of the Rings Trilogy.
What to Do:

Kahurangi National Park
        First and foremost, if you are visiting Kahurangi National Park, you must go tramping.  The park is filled with a huge number of walking tracks ranging in length and difficulty.
Here is a quick Kahurangi National Park tramping and walking guide.
1)   Anatoki/Waingaro Circuit: A longer, 3-5 day advanced difficulty walk through beech forest, wonderful gorge scenery, and past the rock debris dam at Lake Stanley.
2)   Asbestos Cottage Tracks: This 2-hour, one-way, track will take you to an historic 1897 cottage that was the home of a reclusive couple for 40 years.
3)   Cloustons Mine Track: This is a 3-hour, one way, advanced difficulty track that is great for a day long walking trip.
4)   Cobb Ridge Route: This expert difficulty track is 6-hours one-way.  It provides wonderful views of the Cobb Reservoir from an elevated ridge.
5)   Cobb Valley Tracks: 4-5 hours one-way, this track is for advanced hikers and boasts both day and overnight tramping options.
6)   Douglas Range: This is a longer, 5-7 day walk with an expert level of difficulty.  It links the Aorere and Cobb Valleys in Golden Bay.
7)   Ellis Basin Route: This is a 2-day walk with an expert level of difficulty.  It provides extensive views of the Ellis Basin and the surrounding mountains.
8)   Flora Hut and Mount Arthur Hut Tracks: This is an easy walk that will take less than four hours.  It takes walkers through beech forest to one of two walks.  The tracks can be combined for a circuit walk.
9)   Heaphy Track: One of the more well known tracks, this walk will take 4-6 days and is of intermediate difficulty.  It will take walkers through expansive tussock downs, lush forests, and nikau palms to the west coast.
10)     Kahurangi Point Route: This is only a 3-4 hour, one-way, walk, but it carries an expert level of difficulty.  It is an unmarked route mostly along the beach.
11)     Kaituna Track: This is an 8-9 hour walk that can also be broken up into shorter walks ranging from 20 minutes to 2-hours.
 The track carries an expert level of difficulty rating.  It will take walkers through native forest and past the gold mining relics that are the main attraction of the Kaituna Valley.
12)   Karamea Area Walks: These walks can be anywhere from 15-minutes to 5-hours and can range in difficulty from east to advanced.  They take walkers down the west coast and offer stunning views of the coastline.
13)   Knuckle Hill Track: This is a one-hour and twenty minute walk that has an advanced level of difficulty.  It takes walkers to the top of Knuckle Hill, from which visitors can enjoy wonderful views of the South Island.
14)    Lake Peel Tracks: A two-hour and thirty minute walk with an advanced difficulty level to the basin that holds Lake Peel.
15)    Leslie – Karamea Track: This longer walk is a 6-9 day advanced excursion.  This track is one of the region's premier semi-wilderness experiences.
16)   Lodestone Summit: A 4-5-hour return walk for advanced trampers.  This track takes walkers to the top of Lodestone (elevation, 1,462 metres) where they can enjoy spectacular views of Tasman Bay and the Arthur Range.
17)    Matiri Valley and 1,000 Acre Plateau Tramping Tracks: A three hour advanced/expert walk to Lake Matiri.
18)    Mount Arthur Summit: A three and a half to four and a half hour, one way, expert walk to the top of Mount Arthur (elevation, 1,795 metres).
19)     Mount Owen Tracks and Routes: There are two access points to the summit of Mount Owen.  The Northern access is a 9 hour advanced walk while the Southern access is a 7 hour expert walk.
As the highest point in the park, the summit of Mount Owen (elevation, 1,875 metres) on a clear day provides truly breathtaking views.
20)   Oparara Basin Short Walks: A number of easy 10-30 minute short walks around the Oparara Basin.  The Oparara Basin is regarded as one of the finest features of Kahurangi National Park.
21)     Parapara Peak: A 5-hour, one way, expert level walking track that will take you to the summit of Parapara Peak (elevation, 1,249 metres).  The track is very steep and requires fitness and experience.
22)     Pupu Hydro Walkway: This one hour and fifty minute easy walk retraces an old, gold-mining water race.  It also passes through a forest of young beech, rimu, and mature podocarps.
23)     Riwaka Resurgence: A very popular ten-minute, one way, walk to the cave and deep clear pool where the Riwaka River comes out of Takaka Hill.
24)      Sylvester Hut Track: A 2-hour, one way, easy walk past the many small lakes on the top of Sylvester Hut.
25)    Tableland Circuit: This two-day long easy or expert, depending on what trails you take, walk passes through rock shelters, open tussock plateau, and up to higher elevation points with spectacular views.
26)       Wangapeka Track: This 4-6 day long, one way, advanced/expert walk takes walkers through beautiful forest land within the park.
If hiking is not for you, there are a variety of other attractions to Kahurangi National Park.  The park is filled with a variety of wildlife that make it a great place for bird or wildlife watching.
Mangarakau Swamp is a particularly great place for wildlife watching.
Located at the southern end of the Whanganui Inlet, Mangarakau Swamp is a freshwater swamp that in addition to boasting wonderful natural scenery is also home to a huge array of wetland birds.
Visitors to the park can also enjoy exploring the many caves located in the park.  Fishing enthusiasts will relish a day fishing on the Karamea River, which is internationally renowned for its trout fishing.
More experienced caves will enjoy exploring Kahurangi's deepest caves, which are among some of the deepest caves in the world. Finally, the rivers within the Kahurangi make it a great place for rafting, kayaking, and canoeing.
While most of the rivers are suitable for experience kayakers only, there are commercial rafting tours on offer.
Additionally, Mangarakau Swamp is a great place for inexperienced kayakers to learn while also experiencing one of the park's most unique locations from a whole new perspective.
Finally, mountain biking is another popular activity within the park.
There are four tracks suitable for mountain biking, the Flora Saddle to Barron Flat Track, the Heaphy Track, the Kill Devil Track, and the Knuckle Hill Track.
Kahurangi National Park:

Accommodation
        The park is home to an extensive network of huts and shelters available for visitors.
Visitors are required to have a Backcountry Hut Pass or a Backcountry Hut Ticket, both of which should be purchased prior to visiting the park, in order to stay in these huts.
The only exceptions are for the huts on the Heaphy Track, where hut or campsite booking is required.  All huts on this track have gas cookers, except for Gouland Downs Hut and Brown Hut.
Salisbury Lodge and Balloon Hut on the Tableland and Fenella Hut in the Cobb Valley also have gas cookers.  Everywhere else in the park, visitors will need to bring their own cooker.
Kahurangi National Park:

Travelling from Abroad?
        Visitors travelling from abroad will want to fly into the airport in Nelson, which is serviced by multiple airlines domestic airlines, meaning you are likely to have to make a connection in either Auckland or Wellington.  From there, the park is a short drive.