The Grand Mosque is the largest mosque in the Philippines. It was financed and built by Sultan Bolkiah of Brunei. It is located at Tamontaka Bubong Road, in the Cotabato City. The Grand Mosque is like a Golden sun that invites large groups of tourists. It is founded by the Government of the Philippines and Hassanal Bolkiah, Sultan of Brunei.
It occupies an area of 5,000 square meters and 5 hectares of land. The white and gold mosque's ground can accommodate 800 male and female worshippers. The Grand Mosque was designed by Christian Architects, although it is a place for Muslims to worship.
To get there, book a flight at Philippine Airlines or Cebu Pacific to Cotabato City. Flights are available daily and the average fare is Php 5 000 – 6 000. If you are in Davao, you can ride a bus to Cotabato.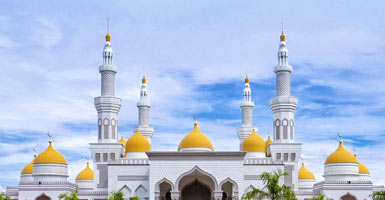 It is easy to go there from downtown central – ride a jeep heading to Awang and ask the driver to drop you at the intersection of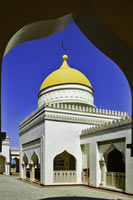 Husky Bus Terminal. There are tricycles there that can take you to the mosque. It will be a pleasing view of a 3 kilometer road parallel to Tamontaka River. Once you reach the place, thanks to the mosque's design, you will feel that you have been transported to the Middle East.
The first part of the mosque was a place where the female Muslims worships. It's the backside of  the prayer hall or musalla. It is a small dome that signifies the vault of heaven. There is a courtyard located at the outside of the prayer hall, where Muslims can gather without disturbing those who are praying inside.
The Muslims must wash their hands in the ablution fountain. They also call it wudu before entering the musallah. Once you set your feet inside the worship ground, it will make you believe and convince you that Mindanao is a Land of Promise. It's a place of possibilities and not a place of chaos.
Come and visit this place to know more about Mindanao. But most of all, don't forget to enjoy!