Island Home vacations  and relaxations holiday ideas in Philippines! Try a yoga or meditation session on an uncrowded, pristine white sandy beach. Kick back, relax and sip on a rum infused coconut whilst basking in the sun
Island Home: Alubijod Beach Philippine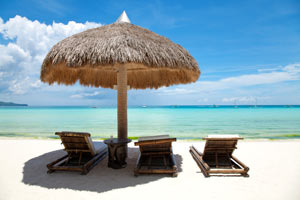 "Island Home Holiday Ideas: Unspoiled, peaceful, charming beach."
Mangoes had always been and will always be associated with Guimaras. It is where the sweetest mangoes came from. However, many are still unaware that it also had so much to offer.
To name one, BEACH. Guimaras has some of the best beaches in Western Visayas. Probably one of the most popular beach in Guimaras is the Alubihod Beach in Nueva Valencia . It is actually just less a kilometer long. It's cream-colored fine sand and crystal water is enough to convince you to come.
The specified carousel id does not exist.
In order to get there, you have to take the flight going to Iloilo, take a jeepney going to Ortiz Port, then take a boat going to Jordan Wharf in Guimaras. Upon arriving in Guimaras, take a tricycle and ask to drop you off Nueva Valencia; or you could take a jeepney and ask to drop you off at Alubihod Crossing. So choose which is more convenient for you.
Upon arriving in Alubihod, do look for a resort to stay. There are numerous resorts to stay within Alubihod, you could choose which rooms suit your need and of course, budget. Rooms being offered are with fan only or air conditioned. After you settled in, then plan your day's itinerary. Be informed that Alubihod Beach is open to non-guest of the resorts and therefore it could really get crowded on weekends.
Alubijod Beach is the jump-off point for island hopping activity, so from here you could rent a boat for island hopping. The best time to do so is early in the morning when the rays of the sun are still kinder. You surely don't want to experience the scorching heat, don't you? Neighboring islets are really accessible, you can reach one island in a span of 15-30 minutes. There are some islands though that is best to be visited during low tides to appreciate it more.
Look  Up your best camera here 
The most popular among the destination for island hopping is perhaps the Ave Maria Island and the Lawi Marine Turtle Rescue Center. Tourist usually go to Ave Maria to snorkel. Snorkelling suits/equipment are being rented by boatmen so you don't have to worry.  And Lawi Turtle Rescue Center is where you could have close encounter with turtles. You could try visiting the Baras Cave located in Baras Resort.
You might as well want to maximize your island hopping and go as far as Guisi Beach (just around 15-20 minutes away from Alubijod) where you could find some fascinating rock formations and the Guisi Lighthouse which was erected during the 18th century. It is the second oldest lighthouse in the Philippines. If you will climb the staircase of the lighthouse, you will see the breathtaking and magnificent view.
Stay there for a couple of minutes and just enjoy the view and it's tranquility. Resorts around Alubihod Beach do offer good food, seafoods to be specific. Prices may vary depending on which resorts you are choose to dine in. Lastly, you should not miss the very reason why Guimaras is very famous – Mangoes! End your trip by savoring the sweetness of their mango.
Island Home: Antulang Beach 
"Action and Adventure Awaits"
Does rock climbing and cliff hanging with the beautiful clear skies as backdrop appeal to you? Then probably, Antulang beach is the perfect choice for you! Antulang is located in Siaton, Negros Oriental, it is an hour away from Dumaguete. You can take a plane bound for Dumaguete and then take a van going to Antulang Beach. For convenience, you could ask the resort which you are staying to arrange airport pick up for you. That'd be less hassle but a little pricey.
There are numerous resorts and accommodation within Antulang. Depending on your budget, you can choose a simple cabana or villa or if you have enough budget you can get the room with the most spectacular view. This means the room with a private pool and heated Jacuzzi looking over the blue calm sea. The promise of serenity and relaxation can really be achieved. Unlike other beach though, the sand in Antulang Beach is not so fine with some pebbles scattered but surely you could still enjoy walking along the beach side during low tide. Walking barefooted though might not be advisable for the pebbles might poke your feet.
Antulang Beach is gifted with interesting rock formations and cliffs in which you could try to unleash your innate daredevil self. Rock climbing and rappelling is the activity you must try.
The cliff is about 20meter drop but worry not, the rope can hold up to 4 tons. The price you have to pay for this activity already included the harness, rope and helmet. Another activity you should try is Diving. Expect to see Manta rays, hawksbill turtles and different colorful fishes. You can also try night dive for a more exhilarating experience.
And oh, about diving, there is an open diving course for those who don't have any experience. For those who are certified divers, never forget to bring your C-card. Diving gears and tanks are available for rent at a certain price.
You could also try to channel your inner equestrian and do rent a horse. You could just roam around the beach while horseback riding. Another activity that might interest you is Kayaking. Go explore the mangrove forest and the nearby Tambobo Bay where you could see yachts of travelers from all over the world.
They too, are enchanted with how beautiful Tambobo Bay is. I must also say that this place is picture perfect. And to really maximize your stay, try snorkeling if you are a bit hesitant about diving. There is a guide which you can hire, a snorkel gear you can rent and even a life vest.
With snorkeling, you will surely be delighted of razor and cuttle fish, barracuda, and even giant clams and turtles. If you come between months of March to June, you might be lucky enough to see dolphins passing through. You will surely be thrilled!
Island Home Holiday: Dumog Sandbar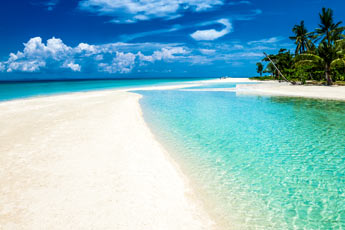 Dumog got its name from a legend of two fairies of two persons wrestling on the sandbar. Dumog is a Filipino style wrestling and so they named the islet Dumog.
Not known to many, there is a very interesting islet in between Bohol and Cebu. Strategically, it is closer to Cebu. The name of the islet is Dumog Islet or known to other as Dumog Sandbar. Dumog Islet or Dumog Sandbar is part of Brgy. Bilangbilangan, Tubigon, a municipality found in Bohol. Tubigon's port is said to be the largest and busiest port in the province of Bohol. Fact is, there are six conventional vessel and 2 modern fast crafts which has an average of 20 trips daily to Cebu City.
From Tubigon Port, the way to get to Dumog Island is to rent a boat. But first, ask the boatman if it's low tide. Although it is best visited during low tide, you could also find it fun to visit during high tide. Anyway the sandbar just goes under a few inches of water.
During high tide, you could only see a lone house / hut standing. It is serves as the outpost of the one task to look after the islet. There are cases of sand stealing and illegal fishing in the area that's why there needs to have someone to look after Dumog. During low tide season, the long stretch of white sand is very evident. It is indeed a perfect place for a quick camwhoring.
Mangrove can be seen on the rocky part of Dumog. Further, if you are lucky enough, you might be able to see some migrant birds here flying around. If you are travelling from Bohol or Cebu and you're going in for an island hopping, make sure to include Dumog Island on your list.
Island Home: Flower Island Resort, Palawan 
"Exquisitely beautiful Island. Flower Island Resort is part of Secret Retreats community."
Palawan had been gifted with beautiful beaches, vibrant marine life, clear blue sea and white beaches.  And many tourist come to Palawan to breathe away from the noisy city life. Private resorts are very common in Palawan, some are really popular among the locals, others among tourist but all offers a unique kind of experience. This experience is offered too by Flower Island Resort.
The community members are mostly independent owners, antique aficionados, authentic food lovers and chef of whose purpose is to offer unique travel experiences from across the Asia. The resort encourages nature lovers and promise of pure relaxation as well as regeneration of mind, body and soul. The WIFI connection is only strong in reception area. This is to give the travelers a time to really enjoy the nature.
Flower Island Resort is located in Taytay, Palawan. And there are several routes going there. You can take a flight going to either via Puerto Princesa or El Nido or choose a chartered plane directly to Taytay Airport. All these ways however, you still need to take the van going to Taytay and boat going to Flower Island. From Puerto Princesa the van or bus going to Taytay is about 3 and a half hour.
The island offers exclusivity with only 20 bungalows set with rustic luxury setting. These bungalows are made of local materials. They have 5 different types of room namely: Champagne, Golden, Deluxe Champagne, Deluxe Golden or you may want to experience spending the night in The Peak.  
The Peak is the highest point / building in the resort. There you could see 360 degree panoramic view. Based on your budget, you can choose which room to stay. Champagne and Golden only has ceiling fan although electric fans are available upon request. Deluxe rooms offer air conditioned rooms which featured solar powered hot water and bathtub. All these rooms offer great views of the beach so pick your choice. As for The Peak, you can inform the management to arrange for spending a night in there.
True to the Island's promise of regeneration of mind, massage therapy, yoga and meditation are being offered. Should you become hungry and thirsty, there are two establishment which could satisfy your stomach. The Pearl Diver's Bar in which you can enjoy beer or cocktail while adoring the beautiful view of the sunset. The Pearl Restaurant on one hand offers fusion of cuisine, here in this clubhouse you could hang out with your friends and meet fellow travelers. Fresh seafood is guaranteed to satisfy your gastronomic cravings.
Other activities you could enjoy in the resort includes scuba diving, kayaking, trekking, standing board, snorkeling (equipment are free of use), beach volleyball or probably you just walk around the beach or bask under the sun. You might as well try picnic on the shore. Or better yet, you could spare time to visit the nearby pearl farms. The exact locations of the farms though are not usually disclose to prevent thefts from knowing the place.
Island Home: Pristine Higatangan Island, Biliran 
"Island with shifting sandbars. Higatungan Island is blessed with interesting rock formations."
Or how does this sound to you if you heard of shifting sandbar? Well, you might as well visit Higatangan Island, an island famous for its shifting sandbar, white sand and clear blue waters.
Higatangan Island is an island located in Biliran, an island province in Eastern Visayas. The shifting sandbar is called so for it changed depending on the season. During the months of northeast monsoon wind or known as Amihan in Filipino, the Higatagan sandbar is directed to the right and during period of southwest monsoon or Habagat in Filipino, the sandbar is directed to the right.
Going to the island, you must take the flight bound for Tacloban, Leyte as this is the gateway going to Biliran. You will take a van going to Biliran and travel time is two hours. Getting around Biliran is by pedicabs, tricycles, multicabs and jeepneys. Accommodations in Biliran are very affordable too. There is no atm in the island so bring enough cash. Electricity is also limited but you could enjoy a sky full of stars.
The island has a lot of activities to offer, to name a few, island hopping, scuba diving, waterfalls hopping, and even cliff diving. Rent a boat to take you to Dulutan Island where you could do scuba diving, don't worry about diving gears because you could just rent for a minimal amount.
Be mindful though that if you are going to take a flight, don't do scuba diving for more than an hour or deeper than 40ft for you might have some decompression sickness. As for island hopping, you could go to neighbouring island like Tingkasan Island, Dulutan Island and Sambawan Island. While Dulutan Island is known for scuba diving because of its diving sites, Sambawan is for snorkelling.
You could try to do waterfalls hoping, there are about 30 waterfalls in Biliran. The most popular among these waterfalls are Ulan-Ulan Falls, Recoletos Falls, Tinago Falls, Kasabangan and the Mainit Hot Spring. You will surely enjoy this waterfalls' hopping for it is quite an adventure. But if you just want to enjoy island, just stroll in the beach. Be charmed by the beauty of the island. Its sand may not be as pristine as the other island you went, but surely you would love the feeling it will give you.
Island Home: Adventure Himokilan Island 
"A humble but beautiful destination. An island which is part of the famous Cuatro Islas"
White sand, clear sea waters and beautiful sceneries ~ these, and more can be assured by Himokilan Island. This Cuatro Islas is composed of Digyo Island, Apid Island, Mahaba Island and the Himokilan Island. Don't get confused though as Cuatro Islas belongs to Inopacan and Hindang, Leyte. Both Inopacan and Hindang is a municipality. The three first Islands is part of Inopacan and Himokilan is under the jurisdiction of Hindang.
The way to go there is through a plane going to Tacloban, Leyte. Travel time is more or less an hour and twenty minutes. From Tacloban, Himokilan is 25 minutes by boat. The name of Himokilan is said to come from the first inhabitant of the island, a couple named Himok and Ilan. It is said that the couple lived a harmonious life and the harmony resonated with the nature; it made the island very interesting. Local people of Hindang took interest in the island and by words of mouth, tourist came by to discover the beauty of the island.   
Himokilan Island is surrounded by trees and white sand. There are houses near the sandbar but be not discouraged because it is only few and these residents maintain the cleanliness of the beach. Fact is, they do protect the marine sanctuary by not allowing snorkeling within the area. The inhabitants of the island are mostly fisherman.
The most you can do in the island is to swim and of course, island hopping. And while island hopping, make sure to enjoy the sceneries as well as the boat ride as you explore the three other island of Cuatro Islas. Digyo is the smallest among the four islands; it gained popularity among campers as it is the island where campers stay overnight. Fun fact, digyo means "little" in their local dialect.
Apid Island is the farthest and biggest among the four islands and probably this is also the reason why it is the populated. You would see mangroves growing along the shores and of course you will notice how clear the seawater is. Mahaba is the second largest island among the four islands; it is called mahaba because of its long stretch of shoreline. "Mahaba" in Tagalog means long. This island is perfect for swimming and plain beach bumming.  
 Island Home: Limasawa Island 
"Historical Island with a promise of adventure"
Perhaps the first thing that comes to people's minds when you ask about Limasawa Island is that it the place where the first ever Catholic Mass was celebrated in the Philippines sometime in 1521. Many are not yet aware that the island has so much to offer ~ trekking, Scuba Diving, Mountain Climbing, Swimming, relax and just explore the island.
Limasawa Island is a small island located in Southern Leyte. There are several routes going to the island. By air, you can choose whether to take the bound for Tacloban, Ormoc City or Mactan Cebu. The most convenient among the three is the Tacloban-bound flight. Upon arriving in Tacloban take a van going to Maasin and ask to drop you off the bus stop that will take you to Padre Burgos town proper and then, from here, ride a chartered boat which will take you to Limasawa Island.
There are several activities that you can do to the island. Probably, you have to start off with the historical side of Limasawa. After all, it is what the island is mostly known for.
Do visit the Shrine of the First Mass located in Brgy. Magallanes. Inside the Shrine, you can see paintings and sculptures depicting the first mass. Then visit the cross, it was planted by Magellan when he visited the island. Be warned though that the stairs going to the cross is 450 steps.
Don't be discouraged because the view up is very refreshing – Blue sea, clear skies, green pastures – these and more is what's waiting for you. Relax on top of the hill as you would see the whole island in it's grandeur. Surely you would agree with me that this is so worth the 450 steps.
Limasawa Island is also known for diving, it is where the best diving site in the province is located. Be in awe with the beauty under the sea, you can do whale and dolphin watching as well. For those not comfortable with diving, you can opt for snorkeling at the marine sanctuary. You would certainly be pleased of how vibrant the life under the sea is.
Mountain climbing is also one activity you must not miss. There is a 704ft high point in the island which is ideal for mountain climbing enthusiast. You can even spend the night camping. But first, talk to the authorities before doing such so as to be properly informed. And for sea and sun worshippers, you can do take a dip. The sea water is very clear, calm and very inviting. It would be hard to say no.
As for your accommodation, there are several resorts in the island and price is pocket friendly.  The people of Limasawa Island are very friendly and very helpful, just ask them if you need help and they won't have any second thoughts. To roam around the island, you can rent a habal-habal (motorcycle). Be informed also that electricity is very limited. It is turned on at 5PM and off by 2AM.
Island Home: Marabut Beach, Samar 
"An Extreme Adventure Awaits you "
It is located at Marabut, Western Samar, Leyte, Philippines. It was a very beautiful beach, it will mesmerize you as you will see its golden sand, rocky islets with its gentle waves. This place was perfect for a family outing or with your friends because it is not yet crowded. Perfect for relaxation and unwinding because of the quietness and calmness of the surroundings.
You will also be amazed as you dock on this island, there are dogs that will give you a warm welcome and you will think that they had been trained to entertain the guests or tourists that visits this place. Also the local residents here have the hospitality and characteristics of a good Filipino citizen, they will help you immediately to find the caretaker of this resort. There is nothing special about their food here, it was just some home cooked food, but what is special was the generous service that they offer.
You can swim and snorkel here but be aware that if you want to snorkel, it should not be jellyfish season or else the caretaker will not allow you to snorkel for your own good.
Kayaking is also available here, the children of the caretaker will lead your adventure roaming around with kayak. Kayak was free, you will not rent it, you will not pay for it, it was free from charges. It was really an extreme adventure that awaits you. After a really tiring day but full of enjoyment, you will surely find some place to stay and rest.
There are a total of ten cottages available at the resort, it is composed and equipped with air condition, two single beds and one double deck, television, and restroom. It can accommodate a maximum of four persons in just one cottage. The cottages rates are divided according to number of people are staying. As your adventure ends, and needed to go home, the lovely dogs that entertained you as you first reach the island, will lead you to the way out as if they were saying goodbye to you. You will surely have a great experience and lots of values learned after this adventure.
Sila Island in Northern Samar 
"The Beach with the Pink Powdery Sand "
It is located at San Vicente, Sila Island, Northern Samar, Philippines. It is one quite unique beach, because it has a pink powdery sand which makes it so special. Its pinkish color comes from the mixture of the pulverized fragments, shells and red corals over a thousand years ago. With that particular event, it makes this beach more beautiful, special and one of a kind. It is more mesmerizing in the eyes of the guests when the alternately emerald green and turquoise sparkling water joins the pinkish white sand. It has a measurement of 92 meter long and 8 meter wide stretch and you could also get a great view during the sunrise and sunset.
A reddish rock wall sheltered it which separates it from the main village, it has 250 family residents. Corazon Luneza is the caretaker of the beach who will introduce you the history of the beach and will also give you tips on how you will enjoy your vacation on this beach. It is not yet developed that is why the Luneza wants to sell the Pink Beach for development purposes because they do not have the capital for this.
San Vicente was composed of Seven Islands and Sila Island was one of them and one of the best. Fishing was the main source of their livelihood and also one of the activity you can do on this Island. You could try fishing, you just need to ask the fisherman if you could do fishing with them and you could also do scuba, swim and snorkel.
A little tips, there are no stores within the beach so if you wanted to buy food and drinks you will need to go to the nearby village for your satisfaction, but, it is better if you bring and have your own supply of food so that you could lessen your expenses. Where to stay? There are no hotels in the Pink Beach, you should bring your own tents if you want to stay or you could stay on a several homes there that accepts visitors. How to get here? You should ride first a boat from San Isidro to San Vicente that leaves at 2pm and from the Pier of San Vicente, ride again on a boat.
Even if the path going to the Pink Beach was a bit tiring, once you dock on the shore of the Island, you will be amazed and will say that the trip was worth it. Even your tiredness will vanish because of the beauty that you will see. What are you waiting for? Make your vacation memorable and take on a journey and gain experience that will retain on your mind.