Little town of Boyacá, Villa de Leyva is located 3 hours North of BOGOTA and is now a very touristic destination and it's easy to understand why.
Please note that the city can become crowded on weekends as it's a spot to visit for Colombians too…
With its stone-paved streets, white walls and colonial architecture, Villa de Leyva is a really charming town and you feel like you're in a "Zorro" movie set (which is kind of true as a telenovela about him was filmed there a decade ago).
Furthermore, the town is part of the Colombian National Network Of Heritage Towns. Founded in 1572, Villa de Leyva is still a vivid town where past and present coexist in harmony.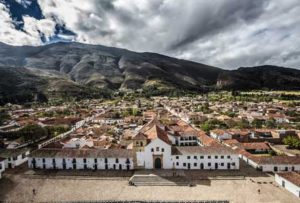 Indeed, Old buildings and traditions such as the celebration of the "Virgen del Carmen" in July are preserved and shared with the visitors while the town offers modern activities (festivals, ostrich farm…)
WHAT TO DO in VILLA DE LEYVA
Villa de Leyva maybe just a small town, it has a lot to offer in terms of things to do around.
The town hosts a few popular festivals throughout the year.
in July Villa de Leyva celebrates "la Virgen del Carmen". In August, The film festival and the kite festival are pretty popular too.
In early December, the town attires itself in candles and lanterns to commemorate the Immaculate Conception. Other activities such as fireworks or chorals are also common sight during this period.
If you're in town in June, the jazz music festival with free music concerts with both local and international artists.
Still in june, If you have some spare time, make sure to visit the small town of Sutamarchán (20 minutes drive from Villa de Leyva) to be part of the "Tomatina de Sutamarchán", a huge tomato fight.
If you're not in Villa de Leyva during festival periods, fear not, strolling in town is already a nice option as you'll pass by beautifully preserved colonial buildings.
You can also visit an ostrich farm, "el Museo Paleontológico de Villa de Leyva" (palaeontology museum), a museum  about fossils found in the area (the whole place was once underwater) and other archaeological sites…
If you're more of an outdoor person, the Iguaque Nature Reserve and its lake would be the best option for you (don't forget that there is an entry fee for national parks, rates vary if you're a Colombian or a foreigner).
Please bear in mind that the hike is not that easy as the path is irregular and it's best to get to the entrance of the park as early as possible and bring food and water in reasonable quantity as the hike lasts around 6 hours (round trip).
Another park nearby, "el Parque Ecologico La Periquera" (ecological park La Periquera) offers an easier access.
Near Villa de Leyva, you'll also find "el desierto de la candelaria" y el "monasterio la candelaria".
Located Southwest of Villa de Leyva, this desert has nice landscapes and the monastery, built in 1661 by Augustin monks, is well preserved and has a nice collection of colonial art and gardens.
There is also a small museum where you'll find antiques oil paintings and a rich collection of portraits made by artists from the colonial period.
From the desert push a little bit further to reach Ráquira, as it's considered the "capital city" of Colombian handicraft.
Not only you can buy handicrafts but you can also give it a try and make them yourself. The town itself is also really nice to visit with a different look from Villa de leyva as the town is much more colourful.
HOW TO GET THERE
From Bogota :
You can take a bus from the "Terminal de transporte"  or from Portal del Norte and the trip to get to Villa de Leyva lasts around 3 to 4 hours.
Another option is to go through Tunja. So you can catch the bus from Bogota "Portal del Norte" to Tunja then get a minibus from Tunja to Villa de Leyva.
From Cartagena :
Not the best option as the trip would be really long…but if you decide to take this itinerary, you can go from Cartagena to Villa de Leyva via Bucaramanga.
Villa de Leyva on Google Map