Selcuk – Selcuk is a small, farming town about 70 km south of Izmir and about 10 km east of the Aegean coast Turkey. In addition to being located extremely close to many historic sites, Selcuk is known for its natural beauty, because it is positioned between green forests, beautiful fields and orchards.
It has been thought of as a friendly, local place to stay or visit en route to many of the historical attractions in the region. However, Selcuk does have some great sites of its own.
It is home to the ancient fortress on Ayasoluk Hill, ancient aqueducts, the Ephesus Museum (holds many archeological excavations from the ancient city Ephesus), the St. John Basilica (ancient ruins of the Byzantine Church of St. John and location of his burial) and the Isa Bey Mosque (a historic mosque dating back to the 14th century with a more Arabic influence and Seljuk design).
The St. John Basilica and Isa Bey Mosque are only about 4 km away from the Ephesus Archeological Site. This site is the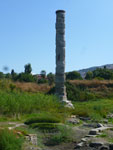 most crowded tourist spot in the region and temperatures can be scorching during the afternoon hours in the summer, so plan accordingly.
Ephesus was one of the most important cities for Christianity and held the Third Ecumenical Council under the Emperor Theodosius II around 430.
Ephesus became one of the largest cities in all of Asia during its peak, helping to spread advances in religion, archeology and other cultural arts. Ephesus is also home to the Temple of Artemis, one of the seven ancient wonders of the world.
Unfortunately, there is not much left of this ancient wonder, buy many other glories have survived, bringing pilgrims, travelers and tourists from all over the world.
Some of these sanctified sites include the Great Theater, Library of Celcus, Gate of Hercules, Temple of Hadrian and the Odeon.
The House of Virgin Mary or Meryemana, is where the blessed Virgin Mary is thought to have spent her dying days. Next to the house you can see the Wishing Wall, where people leave notes and stand in reflection or prayer.
Much of Ephesus and especially the area around Meryemana, is considered to be a holy place for pilgrimage, so please act respectfully. The area can get really crowded drawing in lots of noise and foul manners, but try not follow suit.