Bodrum, located on the peninsula of Turkey's southwest coast on the Aegean Sea, is part of the Mugla Province.  The town is known as one of the best night-life spots in all of Turkey, with many clubs, restaurants, bars and boutique hotels.
This is definitely a place to visit for your fun in the sun at the beach, and nightlife lasting until the early hours of the morning. However, Bodrum has also historically been an important fishing and port city.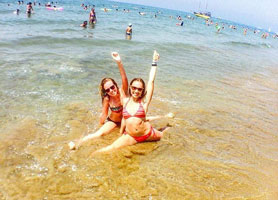 Formally known as Halikarnassus in ancient times, it was once home to the Mausoleum of Halikarnassus, one of the Ancient Seven Wonders of the World.
Sadly, most of this ancient wonder was destroyed during an earthquake around the Middle-Ages, with only the foundation remaining.
The most prominent landmark is the Bodrum Castle or Castle of St.Peter, dating back to the early 1400s, in addition to the Museum of Underwater Archeology and the ancient amphitheater.
Popular night life places: 
 Küba Bar – Best cocktails and  fascinating food in the town.
 Mandalin Bodrum Night Club – Best place to hook up with Beautiful eastern European Girls and boys.
 Nightlife in the town is amazing, most of the night-time activities in in the town takes place on the mile-longBodrum Bar Street  only (It also calls Cumhuriyet Street).
Best Accommodation 
Xuma Beach Club – The place over looking beautiful blue ocean. Few minutes away from Yalıkavak, it gives you a myriad of opportunities to spend your entire relax day there.
Moon Beach – is a new Hotels style resort that opened few years ago  inside Casa Costa Hotel in Bodrum's Gündoğan. Traveller  can relax in the sun in the comfortable chairs , hammocks on the extensive decking all day every day from as early as 8am.
Sebastian Beach Club –  The hotels build on beautiful white-sand beach location, Sebastian spoils its guests not only with its rich fine dining food. Also, few other water sports but also the sophisticated traditional country décor designed by famous Turkish architect Mahmut Anlar.