Bogota is the capital city of Colombia. It's the biggest city of the country with a cosmopolitan and vibrant atmosphere.
It's located in the centre of the country in the Altiplano cundiboyacense (cundiboyacense high plateau). Being quite high (2640 m above sea level), temperatures can be chilly at times (between 6 and 20°c).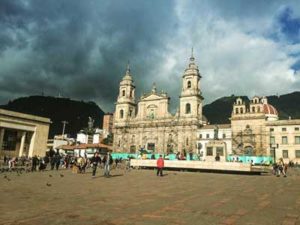 WHAT TO DO  in BGOTA
The first thing to do when you get to Bogota is just to wander around to feel the unique atmosphere of the city.
Some neighborhoods really worth a look, Candelaria for instance is very touristy and it's easy to understand why while walking down its colorful streets, with a colonial architecture and old buildings.
Don't miss the Iglesia Nuestra Senora del Carmen (church). With its unique style, it's a must see in the area.
Museo del oro (Gold museum)  : Holds the biggest collection of pre-Columbian gold in the world. It Depicts the history of the different peoples living in Colombia before the Spanish conquest of the area.
Monserrate : located nearly 3200 meters above sea level, the place offers one of the best view over Bogota.
The church at the hill's top is quite nice, but often busy as it's a pilgrimage spot for locals and attracts also a lot of tourists. You can access it either by foot, funicular or cable car.
Hill of Guadalupe : less touristy than Monserrate, offers also a nice view of the city below. You can walk up to the chapel and admire the 15-meter-high statue of Guadalupe.
Simon Bolivar's House (Casa – Museo Quinta de Bolívar) : A nice country-house with a beautiful garden surrounding it.
Once the house of "El Libertador" of South America, it's now a museum with artifacts from the independence times including objects belonging to Simon Bolivar. Entry is free on Sundays
Simon Bolivar Metropolitan park : Considered as the "Central Park" of Bogota ( Simon Bolivar's park is even bigger than the New York 's park).
This park is one of the most popular park of the city with its lake in which people can rent paddle boats and for its large spaces for concerts and events capable of holding 140.000 people.
Locals love to get there to play with the kids, exercise and chill, especially during weekend and holidays.
Zipaquira : about an hour away from Bogota's "Portal Norte", Zipaquira is a town, well-known for its "Catedral de Sal" (Salt Cathedral).
To visit the Cathedral, you'll go 180 meters below the surface and find a Catholic church, built in the heart of a salt mine, where you can see carved salt sculptures, including a cross 16 feet high that is located behind the main altar. It's a huge place (around 6000 sqm) and made of tunnels and impressive naves.
HOW TO GET THERE
Being the Capital city of the country, it's pretty easy to find transportation to get to Bogota wherever you are by bus (but may be really long) or by plane (much faster), if you can afford it.
Bogota on Google Map Here!