Kusadasi has everything you would want from a popular beach town, including discotecas, bars, restaurants, boat tours, boutique hotels and much more. 
The three most notable beaches are Long Beach, Silver Sand Beach and Ladies Beach.  Pamucak Beach is another popular destination, but it is not directly in Kusadasi.
It is known for being less crowded and less developed.If you do decide to visit this long beach, swim at your own risk, because there are no lifeguards and waters are a bit more rough. 
Kusadasi is also home to other great cultural sites such as the Miletus, Priene and Didyma, which are all known for their historic ruins.
There are so many beautiful things to see here and some people end up liking these sites more than Ephesus! Many people don't think of of doing cultural or historic tours around Kusadasi, because it is known more for the beach and leisure life-style.
but people are impressed and surprised once they see many of the ancient ruins. The harbour area also boasts some great sites such as the caravanserai built in the early 17th century.
From the harbour you can walk out to Pigeon Island and you will notice a 13th century fortress surrounding the periphery of the island. This is perfect for a nice stroll and there is also a cafe where you can sit and relax.
Dilek Peninsula is just over 20 km north of Kusadasi and makes for a great day-trip. The peninsula is a national park area offering scenic coastline, hiking trails, beaches and the Cave of Zeus (a natural swimming cove steeped in myth).
Pamukkale – Meaning 'cotton castle' or 'cotton palace' in Turkish (former Greco-Roman name is Hierapolis), Pamukkale is located in the Denizli Province, which is also located in southwestern Turkey.
This is another wondrous, natural beauty of Turkey.
The name comes from the calcite-laden waters and springs, and seemingly frozen waterfalls beneath a 200m cliff, which have created a story-book like appearance of thermal pools.
Pamukkale is also home to a historic amphitheater comparable to Ephesus, natural parks and the Cleopatra Pool, which is an all-natural, mineral spring pool (there is an extra charge for swimming around 30 TL).
Lastly, They are about an hour outside of the city and a nice visit if you have the time.
The caves are quite similar to what you will see in Pamukkale, with the main difference being they are underground. The caves are less than 5 TL for entrance.  
Princes Isles

– Kusadasi:   When you are in Turkey and looking to get  away for a day  or so, the Princes Isles are only a ferry-boat ride away.
Buyukada or 'big island' in Turkish is the largest and most historic of the other eight islands making up the Princes Isles.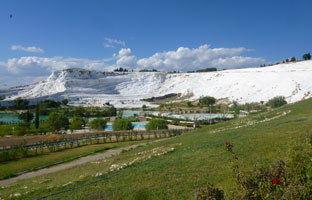 These islands can provide a nice relaxing escape from the hustle-bustle of city life, including the nice ferry-boat ride.
There are no motorized vehicles on the islands, mainly horse-drawn carriages and bicycles (rental shops are available for cheap). Buyukada is very walkable, but if your legs do get tired, just signal down a
horse-carriage to your next destination on the island. These islands are where many exiled Byzantine leaders, religious figures and artists lived.
Trotsky lived on Buyukada from 1929-1933 and is said to have written 'History of the Russian Revolution' during his time on Buyukada.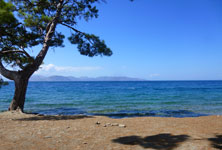 This island is highly recommended. With many historic Ottoman mansions, monasteries and churches, Buyukada is a splendid treat right off the coast of Istanbul in the Marmara Sea.
Popular Night life places in Kusadasi:
Bar Street –  This is the most busiest in Kusadasi beach city. And that means the loudest clubs around.  There are many bars and clubs,  most of them are free offering free entry. as well no dress code apply either. As the prices are steeping  up here and better drink up as much as you want before get into clubs.
Ladies Beach located  just out side busy city life – This place isn't busy as Bar Street however there are a few bars and clubs at night, not too loud but not quiet either. The atmosphere is more relaxed, than bar street without as much hassle,  more and more Eastern European girls are waiting to get hook up.