Bursa is located across the Marmara Sea, with ferry boat rides lasting a little under three hours and bus rides lasting a little under five hours depending on traffic (be sure to compare prices, because ferry-boat rides can be considerably more expensive).
Bursa is also known as Yesil Bursa, or Green Bursa, because of the many lush gardens, trees and mountainside.
In addition, Bursa was the first capital of the Ottoman Empire dating back to around 1335. Bursa is much smaller than Istanbul , which makes things more accessible, and there is an amazing blend of history, modernization and landscape.
There are wonderful restaurants all throughout Bursa and along the Marmara coast, but the city is most famous for the 'dish of the Sultans' or Iskender kebab.
In addition to the Iskender kebab, Bursa is famous for Uludag Mountain, thermal hot springs,Uludag Gazoz (Turkey's delicious, one of a kind soda) gigantic peaches, quality fabrics/silk bazaars and gold shops. Once you arrive in Bursa, be sure to check out the following:
Ataturk Museum – This is a great museum to check out if you have done some reading or are interested in the life of Ataturk. The museum is Ataturk's old house in Bursa dating back to the 1920s and 30s.
The house is surrounded by a nice garden and there are many artifacts and personal belongings inside.
Bursa City Museum – This is probably the nicest museum in Bursa with a myriad of cultural items and Turkish history. However, there are not many things described in English, so if you are able to have a Turkish speaking accompany you, it would be for the better.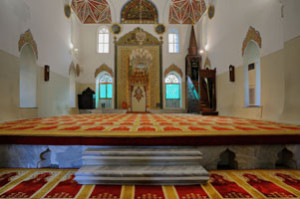 Bursa Museum of  Anatolian Cars – A very quaint, clean museum, with exhibits showcasing carriages and vintage automobiles. The museum has also added a 'Time Machines' exhibit, which showcases the history of clocks and watches.
Cumalikizik – This is a famous Ottoman village about 10 km east of Bursa at the foot of Mount Uludag. Many of the architectural designs have remained in pristine condition, so it really does take you back to the future. Many film and documentary crews have used the village as a backdrop for their productions.
Emir Sultan Camii – This mosque was built early in the 15th century by Emir Sultan's wife, Huni Hatum, and has the largest dome in comparison with the other mosques in Bursa (but its size is small in comparison). Located on the hill-top in old city, it has a peaceful vibrance and is known for its fountains and artistic beauty.
 The Green Mosque (Yesil Camii) and Green Tomb – This mosque was built between 1414 and 1419 and is one of the great architectural works in Turkey, known for its distinct 'Bursa' style. You will notice the crown door at the entrance of Yesil Camii, which is a product of the fabled, stone carving art.
The name comes from the gorgeous, turquoise marble found inside the mosque. The Green Tomb is located just across from Yesil Camii and was built in 1421 by Murad II, following the death of Mehmet I (the fifth Ottoman Sultan).
The Great Mosque (Ulu Camii) – This mosque was built by Yildirim Bayezid in 1399 following the Nicopolis Victory and is situated on Ataturk Street in the center of the city. Ulu Camii truly is magnificent and is known for its grandeur, consisting of two minarets and twenty domes. Inside there are close to 200 inscriptions of calligraphy, which date back to the second half of the 19th century and a lovely fountain.  
Hunkar Kosku or Sultan's Pavilion – Hunkar Kosku now serves as a museum with a great restaurant and spectacular views. Built in the 1840s, it originally served as a hunting lodge and leisure center. Ataturk is said to have visited here during his stays in Bursa.
\Iznik – Historically known as Nicaea, this is where the first and seventh Ecumenical Councils were held for the early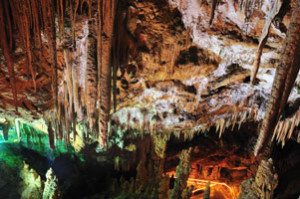 formations of Christianity. Iznik was also world famous for its distinctive ceramic and pottery designs.
You will also notice incredible statues of Kyrgyz warriors, who are remembered for helping to defend the city. This is also a popular spot for trekking and swimming in nearby lakes. Close to one and a half hours from Bursa center, but worth the short trip.
Koza Han – Bursa is home to several historic hans or caravanserais, with Koza Han being the most famous.
This was an international trade center dating back to the 15th century, with travelers and merchants gathering from all over the world. Once you step inside be sure to sit down and relax at one of the cafes, and just take in the beautiful surroundings.
You will truly feel the beauty of this place and can only imagine what it must have been like a few centuries ago. A must see!