More recently, Cappadoccia served as the setting for the 2014 Turkish film Winter Sleep, which won the prestigious Palm d'Or at the Cannes Film Festival. If you have ever seen a travel brochure or photos of Turkey, chances are you have seen pictures of Cappadoccia.
Located in central Turkey, Cappadoccia is a location that escapes description or adjectives. You will often hear people say Cappadoccia is 'out of this world,' 'the setting of a fairytale or storybook' and has terrain 'similar to Mars.'  
All of this is true, and even though Cappadoccia fits all of these descriptions, none of them truly penetrate the depth and uniqueness of its beauty. This is definitely a must-see site on your visit, probably right behind Istanbul .
It would be recommended to give yourself two to three days to take in the main sites, but of course this depends on your itinerary. You can always stay longer and explore more places if you wish!
Cappadoccia consists of several touristic cities and towns, all of which are in convenient proximity. Urgup serves as a
central location for many things and offers fine dining options and boutique hotels.
Urgup is also famous for its stone-cut houses or cave houses, the Old Village (take a walk through this traditional neighborhood and witness its architectural beauty), the Turasan Winery and the Temenni Wishing Hill (has an observation deck where you can have spectacular views of the town).
Goreme is also a great place for accommodation and dining options, and where you can find the amazing Open-Air Museum, which is one of Turkey's famous World Heritage Sites.
This is almost the most popular town offering hot-air balloon rides (this is a must!).
Cappadoccia is tucked away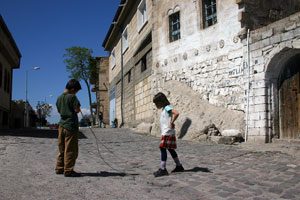 from many other places (about five hours from Ankara, twelve hours from Istanbul, eleven from Bursa and twelve hours from Izmir ) but there are numerous transportation services going to and from.
Once you are hypnotized during and after your visit, you will not even notice the length of the bus ride to your next location.