Timaru is an important port city in the Canterbury Region on the South Island of New Zealand.  Located around 196 kilometres northeast of Dunedin and 157 kilometres southwest of Christchurch, Timaru is the second largest urban area in Canterbury behind Christchurch.
The town is situated atop a series of rolling hills that were created from the lava flows of the extinct Mt. Horrible volcano.  
As such, the streets of Timaru undulate, which is very unlike the rest of the Canterbury Plains just to the north, which are characteristically flat.  Timaru is known for having a number of "bluestone" buildings.  These buildings were constructed using the volcanic stone from the Mt. Horrible lava flows.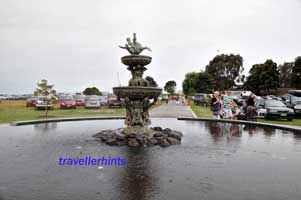 Like most places in New Zealand, Timaru has a long and interesting history.  
Prior to European settlement, the Maori people used Timaru as a place to dock their canoes and rest on their voyages up and down the eastern coastline.  There are over 500 areas with traces of Maori rock art in and around Timaru.  
There is archeological evidence that suggests that various Maori tribes were permanently settled there starting in 1400 C.E.  By the 19th century, the whaling industry brought the first European settlement.  In 1839, the Weller brothers, who hailed from Otago, built the first whaling station close to the present day Timaru town centre.
What to Do
        The first stop for any visitor to Timaru has to be the Caroline Bay Park.  Located right in the town, the Caroline Bay Park is an expanse of coastal Edwardian gardens with access to low sand dunes and the beach to boot.
 Anyone can be entertained at Caroline Bay, with the park home to a playground, a skate park, an ice cream kiosk, the wonderful aforementioned gardens, and many other attractions.
The Trevor Griffiths Rose Garden, also located in the park, is a wonderful collection of heritage rose varietals.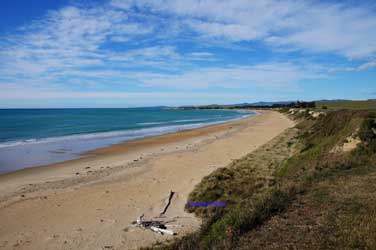 The garden is home to over 1,200 blooms, all of which are set within beautiful features, such as arbour and fountains.  The beach itself at Caroline Bay is wonderful and it actually swimmable as well.  
However, if you find the water a bit too cold, take a stroll down the beach just take in the wonderful and relaxing coastline.  Also, keep your eyes out for seals and penguins.  Both of which have been known to visit the area.
        For a different garden experience, head over to the Timaru Botanic Gardens.
 Established in 1864, these gardens are an example of tranquility.  Home to vibrant, lush lawns, a beautiful and peaceful pond, lots of old, shady trees, a playground, for the children, and expansive arrays of colourful plants, the Timaru Botanic Gardens are a gardeners dream.  While the gardens are beautiful any time of the year, the best time to visit is during rhododendron or rose-bloom season.
       

Timaru is also home to a variety of cultural and historical attractions.
Visitors interested in learning more about Timaru and the Canterbury Region should take a trip to the South Canterbury Museum, located in Timaru itself.
 The museum houses a collection of historic and natural artefacts, including a section devoted to Maori history in the region.
There is also a replica of the aeroplane designed and flown by New Zealand, and Canterbury's, own pioneer aviator Richard Pearse.  There is much speculation that Pearse had a few mildly successful attempts at flight prior to the Wright brothers.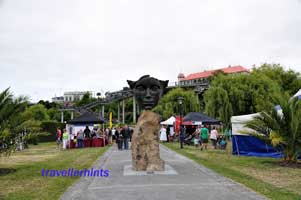 Art enthusiasts will relish a trip to the Aigantighe Art Gallery, also located in Timaru itself.
The Aigantighe is one of the largest public art galleries in New Zealand.  Set in a beautiful 1908 mansion, the gallery is home to a large collection of both New Zealand and European art across various eras.
The gallery is also home to a steady stream of fascinating changing exhibitions.
If you get to the gallery after closing hours, take a stroll through the sculpture garden housed in the galleries surrounding gardens.  The sculpture garden is always open to visitors.
        Visitors should also take a stroll past the Sacred Heart Basilica.  Built in a neoclassical style, the Roman Catholic Basilica has multiple domes, Ionian columns, and vibrant and stunning stained glass.  The inside has a unique, art-nouveau feel.
The plasterwork on the walls includes beautiful intertwined floral and sacred heart details.  Unfortunately, there are no set opening hours, visitors just have to hope it is open when they arrive.
Accommodation
        Timaru has a variety of different accommodation options ranging from basic backpacker's hostels to more luxurious hotels and self-contained vacation rentals.  No matter your budget or your taste, there is something for you in Timaru.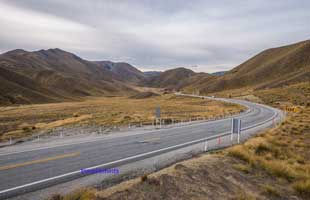 Travelling from Abroad?
        As previously mentioned, Timaru is situated almost exactly between Dunedin and Christchurch.  It is 196 kilometres to Dunedin and only 157 to Christchurch.
 As the South Island's biggest city, Christchurch has relatively large international airport that is serviced daily from a variety of international destinations.
While the airport in Dunedin is smaller, it is still serviced daily by Auckland, Wellington, Christchurch, and Brisbane.  Between these two airports, it is very easy for foreign travellers to at least get close to Timaru.
The three towns, Dunedin, Timaru, and Christchurch are all connected by an easily drivable road, so no matter where you fly in, it is a very manageable drive to Timaru.