Motueka is a small town on the South Island of New Zealand that lies next to the mouth of a river with the same name on the western shore of the Tasman Bay.
After Richmond, Motueka is the second largest centre in the Tasman Region.
What to Do – Motueka
Motueka is home to a diverse variety of attractions for visitors.  The town is situated in a particularly fertile part of the South Island with the surrounding area being known for its wonderful orchards, hops, and a variety of other crops.  In fact, the area was once known as the foremost tobacco growing region in New Zealand.
Recently, the region has begun to receive international acclaim for a few exemplary vineyards.  These agricultural interests are responsible for the huge swells in population Motueka experiences during the harvest season as seasonal workers from all over the country make the pilgrimage to Motueka to help with the harvest of crops.
 Of course, the fertile soil also brings addition people to Motueka in the shape of visitors.  Visitors flock from all over to try some of the world's best green tea and most unique hops.    
        In addition to the agricultural draw, Motueka is one of the nearest towns to both Abel Tasman National Park and Kahurangi National Park.  
As such, the town serves as a very popular home base for visitors hoping to explore either, or both, of these parks.  Both parks are filled with more opportunities for outdoor recreation than you could possibly imagine.
 They are both wonderful spots for walking with each park being home to many trails that are suitable for walkers of any level.  In fact, Abel Tasman National Park is home to the very well known, multiday Abel Tasman Coastal Track as well as the Inland Track, both of which are featured below.
Abel Tasman Coastal Track
        The Abel Tasman Coastal Track is one of the more popular walking tracks on the South Island of New Zealand and one of the highlights of Abel Tasman National Park.
The track itself is of an easy-intermediate grade and runs for 51 kilometres.  The track runs right along the coast and offers wonderful views of the northern coastline of the South Island.  
Along the way, walkers will have the opportunity to see and explore, should they chose, a myriad of quaint coves with beautiful turquoise water and golden sand.
During the summer months, the water is a very comfortable swimming temperature, so feel free to take a break from your walking for a quick dip in the ocean.
 In certain coastal areas, particularly on the headlands at Separation Point and near Tonga Island, you can find fur seals.  Additionally, little blue penguins return to the islands just offshore at night.  Visitors can also commonly see dolphins frolicking in the water just offshore.
        Depending on your fitness levels and how much time you spend enjoying the stops along the trail, the walk should take around 3-5 days.  Should you want to take your time, the following 5-day route it recommended:
        Day 1: Marahau > Anchorage, 12.4 kilometres.  This portion of the track passes through open country before reaching Tinline Bay.  It then rounds Guilbert Point before arriving at Apple Tree Bay.
You will then pass through beech forest with huge kanuka trees to Yellow Point.  After Yellow Point, you will head inland again, passing through small gullies all the way to Torrent Bay.  You will then descend into Anchorage where a campground and huts await.
        Day 2: Anchorage > Bark Bay, 12.1 kilometres.  First, you will cross a low ridge to Torrent Bay Estuary.  This must be timed as the estuary can only be crossed for two hours at either side of high tide.  The track then climbs up and over two separate valleys before you will reach a 47 metre long suspension bridge.  The track then wanders through coastal forest before dropping back down to the sea and the Bark Bay hut.
        Day 3: Bark Bay > Awaroa, 11.4 kilometres.  After crossing the estuary, walkers trek through a manuka forest before returning to the shore at Tonga Quarry.  Just offshore, they will be able to see Tonga Island, which is surrounded by a marine reserve full of fascinating marine life, so go snorkeling!  Just past Tonga Quarry is Onetahuti Bay, where you will cross an all-tide bridge and boardwalk across an inlet.  You will then follow the track up and over the Tonga Saddle before descending to Awaroa Inlet, home to the Awaroa hut.
        Day 4: Awaroa > Whariwharangi, 13 kilometres.  After timing the Awaroa Estuary crossing, you will drop into Waiharakek Bay, where there was once an old timber mill.  You will then pass through a string of forest, beaches, and lookout points that alternates between sandy beaches and rocky headlands before descending into Wahiwharangi Bay.  The hut there is a restored old farmstead.
        Day 5: Wahiwharangi > Wainui, 5.5 kilometres.  This is the shortest leg of the hike, so take your time.  You will pass through more beautiful beaches and inlets before finishing in the Wainui carpark.  From there, either arrange transportation to pick you up, or take a water taxi back to Marahau.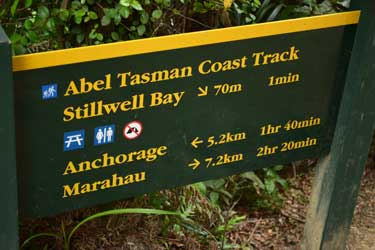 Along the track, walkers can decided to either stay in government managed huts or in private, lodge-style accommodation with a tour provider.  There are 4 huts and 19 campsites along the way.
Reservations are required should you want to stay in any of these accommodations, including the government managed huts and campsites.  Additionally, the track is very remote so be sure to bring adequate supplies with you.  Be sure to bring equipment to treat water should you need to.
Inland Track
        The inland track also connects Marahau to Wainui Bay.  However this track is via Pigeon Saddle on the Takaka – Totaranui Road rather than via the coastline.  The track is 41 kilometres long and should take around 3 days to hike.  The track carries an advanced grade.  Here is a suggested hiking plan for a three-day hike.
        Day 1: Marahau > Castle Rock Hut, 15.1 kilometres.  From Marahau you will follow the Coastal Track until Tinline Bay, at which point the Inland Track begins.  You will climb steeply up from the bay into regenerating forest for about 2 ½ hours until you real Holyoake Clearing.  From there, you will re-enter the forest and continue climbing up to Castle Rock Hut where you will be treated to wide views of the Marahau Valley and Tasman Bay.  There are no bookings required at Castle Rock Hut, it is first come, first served.
     Day 2: Castle Rock Hut > Awapoto Hut, 13 kilometres.  You will again begin this walk with a climb before the track begins to undulate before descending into Moa Park Shelter, which is surrounded by the tussocks of Moa Park.  From here, there are two side tracks leading to stunning lookouts.
From Moa Park, the track will cross a small stream before re-entering beech forest.  Once you reach Evans Ridge, you will head north and begin a gradual descent to Awapoto Hut.  This hut is also first come first served.
        Day 3: Awapoto Hut > Wainui Carpark, 13 kilometres.  As you continue beyond Awapoto Hut, the track steepens before gradually descending into Pigeon Saddle.  From there, the track climbs slightly before passing a turn-off to a good viewpoint.  You will the gradually climb up Gibbs Hill, beyond which are the best views of the whole park.  From there you will descend back down and join to Abel Tasman Coastal Track to the Wainui Carpark.
        Both the Inland Track and the Abel Tasman Coastal Track can be done in a circuit, where you walk there on one and back on the other.
Both tracks are very remote and as such, walkers should come fully prepared with food, clothes, and whatever other supplies they might need.
The Inland Track has few reliable water sources so either bring enough for the whole trip, or bring water treatment equipment.
       

Motueka also has a vibrant arts scene that has also drawn visitors more recently.  Potters and reggae musicians in particular seem to be drawn to Motueka.  One could easily spend the day perusind the streets, popping into galleries, and sitting in cafes enjoying a good meal, a coffee, and just watching life go by.
Accommodation – Motueka
        Montueka is home to a variety of accommodation options, ranging from basic and affordable backpackers hostels to more expensive and luxurious resorts and hotels.  It is safe to say any budget and any taste can find something in Motueka.
Travelling from Abroad?
        The closest airport is in nearby Nelson which is serviced daily from a variety of locations within New Zealand, including Wellington, which is a very accessible airport for international visitors.