Jumalon Butterfly Sanctuary is pretty well known among tourists who are backpacking or looking for a natural attraction. It is one of the most popular tourist spots in the paradisiacal island of Cebu.  Built in 1974, The sanctuary is named after the Late Prof. Julian N. Jumalon. This sanctuary provides a unique home to butterflies as they are able to fly freely in the area.
This sanctuary is run by the Jumalon Foundation. It is located west of the downtown area, particularly along the Basak Elementary School inside Julian N. Jumalon St. (former Macopa St.) Basak, Pardo, Cebu City. Take a taxi to take you to the sanctuary because most of the drivers know the place.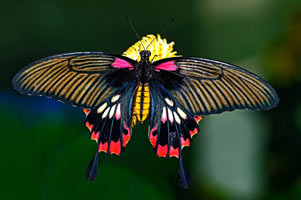 There is an entrance fee to be paid to get into the Jumalon Butterfly Sanctuary.
The fees are inclusive of 30-45 minutes tour around the sanctuary and a lecture about the butterflies' life cycle.
For foreign tourists, the tour will be conducted in English and for Filipinos, it would be either in Tagalog or Cebuano. Take a look at the sanctuary's beautiful collections of shells, butterflies, mosaic, art, etc., and a trip to the butterfly cage where the butterfly land on you for photo opportunities.
Aside from butterfly sanctuary, the place also features a gallery of paintings and artworks of Prof. Julian Jumalon. There are other collections available for viewing like coins, dolls, stamps, fossils, seashells, key holders, rocks, eggs, matchboxes and native artefacts.
The best time to visit the sanctuary during the month of June to February. The public viewing starts at 8:30 a.m to 5:00 pm all days of the week. Make a prior appointment for large groups either by email or by telephone to avoid overlapping.
Did you know:  Beautiful caterpillars of both moths and stunning butterflies can be camouflaged in few seconds to blend in with their food plants while others display shocking examples of slimmer pattern or bright colours.
This is a simple phenomena used in nature to give a prime warning to would-be predators that this animal is toxic or at least doesn't taste very good.