Last updated on October 23rd, 2020 at 01:50 am
Tayrona National Park Info Guide for Travellers 
This national park is located in the Magdalena department, in the Northeast part of the Caribbean coastline of Colombia. Located at the foothills of the Sierra Nevada de Santa Marta.
Combining a great array of ecosystems such as mangroves, beaches, dry and misty and humid forests, all bursting with life.
This park is not only of a huge importance naturewise but also culturally as the park shelters archeological ruins built 1 400 years ago! There is plenty to do for the adventurer sleeping in you!
Important reminder : the Park being a concession managed by Tayrona people, they shut the park  for indigenous ceremonies every now and again so check ahead.
WHAT TO DO  Tayrona National Park 
With its 150 KM² ("ocean part included"), everyone can find what he's looking for.
Pristine beaches, some even without anyone around, and blue or green crystal waters. Paradise for sunseekers.
Please bear in mind that not all beaches are safe to swim as some has pretty nasty currents. A few names:
Cañaveral beach : characterised by a lush vegetation, mostly coconut trees. An area is dedicated to camping, there is also a restaurant and "ecohabs" (small huts).
Playa cristal: Popular beach, often included in tours organised to Tayrona. Perfect spot for snorkeling. The beach being very touristy, prices for food, drinks etc.are quite high. Furthermore, the boat ride to get there may be quite hard when is sea is rough.
Playa grande: 20 minutes away on foot from Taganga. A boat ride is also possible (approx : 5 minutes). This nice stretch of pale golden sand is quiet during the week but much less during Colombian holidays and weekends as locals tend to go there to get some sun. Just like Playa Cristal, restaurants are pricey.
Playa granate: For more privacy, playa Granate would be a better option than the previous stated beaches. To get there, you'll have to take a boat and once again, bear in mind that the sea may be rough and the ride lasts 25 minutes… One more piece of advice, there is no shops of any kind there, so anticipate and bring your own food/drinks.
Bahia concha: Pretty decent sized bay, with nice golden sand. Calm during the week but can be packed over the weekend and local holidays as this beach is easily accessible by the road from Santa Marta.
Like all beaches of the Tayrona park, you will get that contrast between the blue of the sea in front of you and the green of the mountains behind. There is a restaurant on site.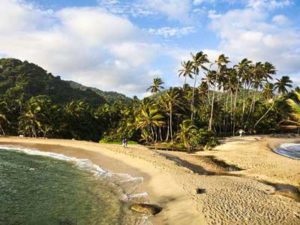 Neguanje: The biggest beach of the park but also where the strongest swells are. It's a nice place to snorkel as shoal of fish are really close to the shore.
La Piscina : it's a 15-minute-walk from Arrecifes to this lagoon. A reef in front of the coast forms a natural swimming pool. Look out for rays and lobsters which may lurk in the seagrass area close to the shore.
Scuba diving is another nice activity for the sea-orientated travellers. The easiest way is to book your dive in Taganga, the nearest town, right next to Tayrona. Thanks to the caribbean sea richness, you'll fill your eyes with colourful wonder!
Surfing is also available on certain sites but, because of strong riptides, only experienced surfers should give it a go…
A visit to Tayrona couldn't be complete without an inner view of the park. A trek inland would let you discover all the beauty of the forests of the park, filled with birds, monkeys (including the very rare cottontop Tamarin monkey), reptiles and even jaguars (hard to encounter as they are nocturnal hunters)…
Another way to discover the park is by riding a horse. You can rent them in Cañaveral for example.
Please note that trails are sometimes different for horse riders and pedestrians. Indeed, while pedestrians routes are often next to the beach, horse trails are more "inland", so doing a bit of both would be a good idea…
Finally, last but not least, one of the main attraction of the park : Chairama, also called El Pueblito.
An archaeological site as those ruins, of a Tayrona people village (indigenous people, one of the oldest and most advanced pre-Columbian civilisations), is more than 1400 years old. To reach the village, you'll have to hike for around 2 hours from El Cabo. Bringing water, snacks, sunscreen and mosquito repellent is highly recommended.
WHERE TO STAY
Cañaveral
Cañaveral is the only place which can be reached by car. Camping is possible. There is also some "Ecohabs" with view of the Sea that can be rented.

Arrecifes
Here too they have some "ecohabs" but they also offer hammocks for rent and allow camping. A short walk further brings you to a place with reggae music that offers hammocks and camping too.

El Cabo
Is a campground with a restaurant (serving breakfast, lunch, and dinner).and offering hammocks and tents for rent.
There is also a two story wooden bungalow (2 double rooms and some hammocks). All reservations must be made on site. Common toilets and showers are available.
HOW TO GET THERE
By bus
From Santa Marta :
take the bus from the corner of Calle 11 with Carrera 11. It leaves about every half hour and costs COP6,000.
Ask the bus driver to drop you off at the park entrance or to the closer town Calabazo (which is another park entrance).
From Mamatoco:
a shuttle goes to the park entrance frequently (passing through Calabazo).
From Minca:
hop off at the "Texaco Sierra Nevada" gas station at Mamatoco then catch a bus to the park entrance or Calabazo.
From Calabazo:
You can take up the challenge of a 4-hour-walk on a steep but well marked path. The trail goes through el pueblito and arrives either in Cabo San Juan (where you can catch a boat going to Taganga in the afternoon, around 4PM) or Playa brava.
By boat (C$45,000 each way) :
You can catch a boat from the beachfront at Taganga in the morning ( around 9.30am) and tend to leave once they have enough passengers, so it's best to get there earlier.
It is more expensive than getting the bus (about C$25,000) but the boat ride is only 1-1.5 hours. The ride can be fairly rough.
The boat drops you straight at El Cabo, The boats leave El Cabo for Taganga at about 4pm (depending on tides).