Glenorchy is a small settlement on the northern end of Lake Wakatipu on the South Island of New Zealand in the Otago Region.  Located a short 45-kilometre drive from Queenstown, Glenorchy is primarily a tourist settlement that sits right on the confluences of the Rees River and the Dart River with Lake Wakatipu.
The settlement enjoys a rustic feel in a quaint and beautiful setting amongst native beech forest and beautiful, towering mountain ranges.
The scenery is so spectacular that it has been used as the setting for a number of well known films, including, a number of scenes from both the Lord of the Rings and Chronicles of Narnia trilogies.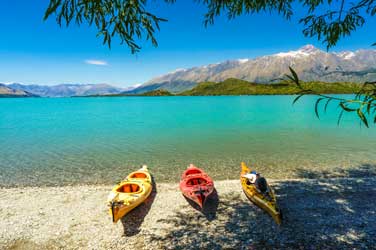 What to Do – Glenorchy
        The drive into Glenorchy is an attraction by itself.  In fact, some say, if you are visiting the South Island and only have time to do one scenic drive, the drive from Queenstown to Glenorchy is the one you should choose.  The drive only takes about 30-minutes, but it is 30-minutes of stunning scenery.  
The road runs more or less along the eastern edge of Lake Wakatipu.  As such, drivers will be treated to views over one of New Zealand's most stunning lakes in addition to beautiful vistas of the surrounding mountains as well.  If you are making the drive in the winter, these mountains will still be caped with snow.
 The best times to make the drive are in the early spring or winter for this reason.  As most visitors to Glenorchy will likely fly into Queenstown, this will likely be most people's first experience in Glenorchy and it will surely be hard to beat.
Lake Wakatipu provides one of the major attractions for visitors to Glenorchy.  The lake, and the rivers running into it, provide ample opportunity for jet boating, kayaking, and fly-fishing.  In fact, there are few more beautiful settings for one to enjoy a lake holiday in than in Glenchorch on Lake Wakatipu.
Glenorchy is also only a short distance away from some of the most wonderful walks that are sure to enthuse avid trampers and weekend-warrior walkers as well.  There are around 16 day walks that range from easy, yet refreshing, 30-minute strolls, to longer, 6-hour affairs that will likely serve as the primary activity of the day.
 Some of the longer, multi-day tramping trails, such as the Routeburn Track, also pass through the area.  Visitors traversing the entirety of the track will enjoy a night spent in Glenorchy along the way.  Likewise, visitors to Glenorchy will enjoy spending a day walking along a section of one of New Zealand's most well regarded tramping tracks.
If walking isn't for you, but you do want to explore some of the surrounding natural scenery during your visit, then book yourself a horse trek.
There are a number of horse treks that will take visitors through some of the most scenic parts of the beautiful areas surrounding Glenorchy.  In fact, horseback is perhaps one of the most authentic ways visitors can experience the beautiful rustic paradise that is Glenorchy.
In the winter, the surrounding mountains provide some wonderful ski and snowboard areas that are popular amongst visitors.  in fact, only a short distance from Glenorchy are the Invincible Snow Fields.
This ski resort is also situated right off of Lake Wakatipu.  While it is a privately run ski resort, there are few facilities outside of some wonderful slopes.
The owners run it like an old-fashioned snowfield with the main draw for visitors coming from the area's backcountry terrain and feel.  
There are no groomed trails, and there is even an old-fashioned "nutcracker," style rope-tow that is powered by an old Ford tractor.  The snowfield is accessed by helicopter from Glenorchy.
 There are no rescue services so skiers will have to bring their own touring equipment to ensure their own safety.  The resort is only recommended for experienced skiers.
Lord of the Rings enthusiasts will also enjoy a trip to Glenorchy as the town and nearby Paradise were the sites of multiple scenes in the trilogy.
Accommodation – Glenorchy
        Glenorchy is home to a variety of accommodation options ranging from simple backpacker's hostels to more luxurious hotels.  Of course, if you are willing to stay around 30-minutes away, Queenstown is also home to a huge variety of accommodation.  Between the two, there is sure to be something to meet any visitor's taste and budget.
Travelling from Abroad?
        Those travelling from abroad will find it easiest to travel to Glenorchy via Queenstown.  Queenstown is home to a small international airport that is serviced from a number of domestic destinations as well as Sydney, Brisbane, Melbourne, and Gold Coast.