Blenheim is the most populous town in the region of Marlborough, on the east side of the South Island of New Zealand.
Blenheim, and the Marlborough Region, benefits from one of the sunniest climates in New Zealand, with hot, relatively dry summers coupled with crisp winters.  
The surrounding area is well known for being the cradle of the wine industry in New Zealand, making Blenheim an ideal home base for those wanting to enjoy some excellent wine.
The surrounding area also has a variety of leisure activities for visitors to the region.
The wine industry, as well as all the upscale amenities that come with it, have made Blenheim, and the Marlborough Region, a very popular destination for visitors.
Blenheim: What to Do
        Arguably the greatest attraction to Blenheim is the wine industry from the surrounding area.
The Marlborough Region produces world-renowned wines with their own, unique characteristics.  A wine expert has described the wines of the Marlborough Region in the following manner, "[the wines have a] balance of extraordinary purity and intensity of flavors set around impressive aroma, distinctive fruit characteristics, and appealing balanced acidity…these are stylish, exciting wines that surprise and delight."
The land in Marlborough has been incredibly fertile throughout history, with the Maori having cultivated a variety of crops here hundreds of years ago.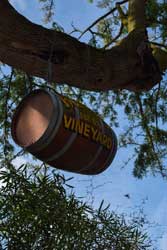 Back in 1873, Scottish immigrant David Herd planted Marlborough's first vineyard.
Now, over 100 years later, the region is internationally recognised as a first rate viticulture region.
As you might expect, there are a variety of events, tasting rooms, and other ways for visitors to experience this unique wine-producing region.
One of the most popular ways visitors take in the wine country is by taking a trip along the Marlborough Wine Trail.
The majority of the wineries are located in a loop just off of some of the major roads in the region.  Almost all of them have tasting rooms, where visitors can walk in and taste the latest creations at each vineyard, and even pick up a few bottles for themselves if they like what they have tasted.
It is also not uncommon for the wineries to have a café, or a restaurant where visitors can enjoy a nice meal.  Visitors who might be interested in traveling along the Wine Trail should visit the wine region's website at wine-marlborough.co.nz, where they will find an interactive map of the region and all its wineries.
        The region also hosts a number of wine related events that are very popular for visitors.  One of the most popular is the Marlborough Wine & Food Festival.
This festival is New Zealand's first, and longest running wine festival.  The festival pairs the region's wonderful wines with some of its finest culinary creations, all set in one of the region's oldest and most picturesque vineyards, Brancott Vineyard.
Wine enthusiasts will enjoy the wine tutorials offered by some of the region's premier winemakers.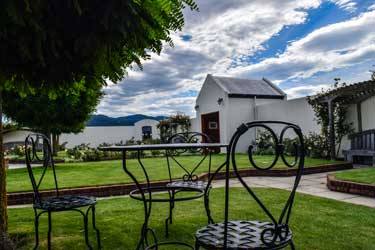 There is also a very popular Fashion in the Vines Competition and foodies will enjoy the Culinary Pavilion, which will house a variety of celebrity chefs and cooking demonstrations.
There are a number of other, smaller events each year, such as the kick off to International Sauvignon Blanc Day, the Silver Secateurs Competition, and the Young Viticulturist Competition.
Visitors should check the Marlborough events calendar prior to their visit to see if there are any wine country events they might be interested in.   
        Boating enthusiasts will enjoy the annual Wineworks Marlborough Sauvignon Blanc Yacht Race.  This race, which started in 2001, is organized by the Waikawa Boating Club and involves racing that year's Marlborough Sauvignon Blanc across the Cook Strait to Wellington.
The race begins at the entrance to Tory Channel and finishes in Wellington Harbour.  After the race, the boats will sail together into the harbour.
Each boat will have one bottle of that year's vintage Marlborough Sauvignon Blanc, which will be available for the public to taste after the race.    
        If you aren't really that interested in wine, there are a variety of other, non-wine related attractions in Blenheim as well.
In fact, the area has a number of natural attractions that are completely separate from the wine industry.
Nearby, are the Marlborough Sounds.  These sunken valleys create a network of calm, clear waterways in the midst of regenerating native forest.  
The sounds are home to a variety of wildlife, including terns, shags, herons, blue penguins, dolphins, seals, and a variety of native forest birds.
Visitors can easily see many of these creatures while enjoying a day out on the water in a boat, whether it be on a private boat or a chartered tour.
In fact, visitors can even go swimming with the dolphins in the Marlborough Sounds.  The sounds are also home to the beautiful and renowned Queen Charlotte Trail.
Queen Charlotte Track
        The Queen Charlotte Track is a beautiful, 71-kilometre track that stretches from historic Ship Cove to Anakiwa in the Grove Arm of Queen Charlotte Sound.
The track runs along the perimeter of the Marlborough Sounds.  The track is suitable for both walking as well as mountain biking.
The entire track is open to mountain bikers almost year round.
The only exception is the section between Ship Cove and Kenepuru Saddle, which is closed to mountain bikers during the busy summer season between December 1st and February 28th each year.
The entire track takes around 2-3 days to complete on bike, but, there are sections of the trail that make for great day rides if you are not up for biking the whole thing.
The track is relatively easy to ride on bike if you are moderately fit and experienced at mountain biking.  However, it is steep and challenging in certain sections.
Additionally, there are no facilities along the way for repairing bikes, so ensure you bring any equipment you might need to deal with a repair.
Below are a few suggested riding times for those wishing to complete the whole trail:
        Day 1: Ship Cove to Camp Bay: 26.5 kilometres, 5 hours.
        Day 2: Camp Bay to Torea Saddle: 24.5 kilometres, 4 hours.
        Day 3: Torea Saddle to Anakiwa: 20 kilometres, 4 hours.
        If you are walking, you should plan for the whole trail to take about 5-6 days.  Below is a suggested travel plan should you be walking the trail.
The times vary and lean towards the slow side, so if you are extremely fit, or are only a day walker with a light pack, it might take less time then written here to complete the stages.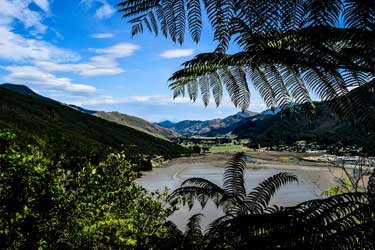 Day 1: Ship Cove to Resolution Bay: Walk time: 2 hours, distance: 4.5 kilometres.
There is no road to Ship Cove, so walkers will have to arrange boat transportation.
Ship Cove is an historic location and visitors should plan to spend some time exploring the area there. The track begins by climbing away from the beach before passing through old forest with a high tree canopy.
After around 50-minutes walking, there will be a lookout point that offers great views over Queen Charlotte Sound.
After this saddle, the track drops into Resolution Bay, where there is a DOC campsite at Schoolhouse Bay as well as a private cabin accommodation.
        Day 2: Resolution Bay to the head of Endeavour Inlet: Walk time: 3 hours, distance: 10.5 kilometres.
From Resolution Bay, the track will pass over a ridge into Endeavour Inlet.  It will wind downwards, following the shoreline to the head of the inlet.  Hostel and motel accommodation is available along the way.
        Day 3: Endeavour Inlet to Camp Bay: Walk time: 4 hours, distance: 11.5 kilometres.  The track continues along the shoreline before wandering through regenerating forest where visitors will be able to enjoy the music of a variety of birds.
It then rounds Big Bay to Camp Bay, where visitors can stay in a DOC campsite, or, a little further on, private accommodation.
        Day 4: Camp Bay to Torea Saddle: Walk time: 8 hours (3 hours to Bay of Many Coves Campsite and 6 hours to Black Rock Campsite), distance: 24.5 kilometres.
This section of the track will pass through private land, so be sure to have you QCLTC Pass ready.
This is the longest and most difficult section in the journey.  However, it offers wonderful views of the sounds along the way.
You will start by climbing out of Camp Bay to Kenepuru Saddle and follow a ridge separating Queen Charlotte Sound from Kenepuru Saddle.
Eventually, the track will descend to Torea Saddle between Portage and Torea Bay.  Here, there is a DOC campsite at Cowshead Bay and a private accommodation in Portage Bay.
        Day 5: Torea Saddle to Mistletoe Bay: Walk time: 4 hours, distance: 7.5 kilometres.  This section of the track will pass through private land, so be sure to have your QCLTC Pass ready.
This section also follows the ridgeline, through a forest full of gorse, manuka, and sheltering shrubs and trees.  There is a wonderful lookout just before the descent to Te Mahia Saddle.
 At Misteltoe Bay there are cabins and campsites.  There is also private accommodation at Te Mahia Bay.
        Day 6: Misteltoe Bay to Anakiwa: Walk time: 4 hours, distance: 12.5 kilometres.  This section of the track will pass through private land, so be sure to have your QCLTC Pass ready.  This section follows old bridle paths high above the water.
The track will round a point before descending to the DOC campsite at Umungata (Davies Bay).  The final hour is on an easy path through mature forest to Anakiwa.  Here, you can catch a bus to Picton, or to nearby accommodation.
Each of the campsites along the way has toilets and a water source.  However, walkers will have to bring their own food and cookers.
Accommodation
        Blenheim and the surrounding Malrborough Region is filled with a variety of accommodation options for its visitors. Ranging from campgrounds, to hostels, to lodges, to vacations rentals, to motels, to hotels, to luxury resorts, there is something for every taste and every budget.
Blenheim and the Marlborough Region are known for their, "character," accommodation.  The region is filled with unique boutique hotels.
Travelling from Abroad?
        The local airport is Woodbourne Airport.  It has direct flights from Auckland, Christchurch, Wellington, Nelson, and the Kapiti Coast.
Auckland and Wellington both have large international airports that would make for good connecting points for those travelling to Blenheim from abroad.