My Volunteering Experience-Ghana was an incredible eye opening experience, which really introduced me to the wonderful world of travel. By the way, it was back in 2012 with the help of a volunteer organisation nicknamed SYTO (Student and Youth Travel Organisation).  I left home to spend a month teaching computing to underprivileged kids.
I became immersed in their culture, lived in a local homestay and experienced all that their lifestyle had to offer. Somehow, my time there taught me how truly privileged we are and will always have a place in my heart.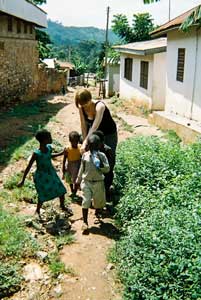 I was assigned to a small town in the east of the country called Peki Blengo, which is located in the Volta region. Ghana has several different regions, and although their official language is English many of these regions still use their own from back in their tribal days.
I quickly learnt that in the Volta region "Yevou" means white person. Whenever I ventured into the village the kids would run up to me shouting Yevou and waving at me. On the way to school there was always a fight between them over who would get to hold my hands.
My Volunteering Experience-Ghana just unforgettable.
The Kids would rub my milk bottle coloured arms and touch my ginger hair in sheer amazement, genuinely not believing it was real!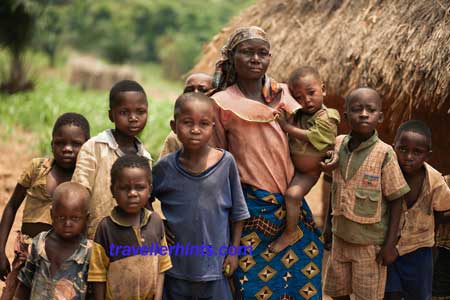 In Ghana, if you are white skinned you are considered rich. They think that automatically every white person they meet is a millionaire who lives a luxurious lifestyle. Many have never travelled outside of their own region, and can't begin to imagine what first world countries are like. This sometimes became a bit awkward for me. Kids would come to me, begging me to pay their school fees.
Backpacking girls resorted to wearing cheap rings on their wedding finger as men would propose marriage to any white female that they saw.  
They were so desperate to gain the visa that allowed access to these rich countries they had only ever dreamed of. It was heartbreaking that we couldn't help, but it really does show you just how many things we take for granted.
My home-stay was with a local woman called Agnes, who at 83 years old had the most amazing complexion I have ever seen! There weren't many luxuries, Agnes did the cooking outside over a fire and would spend hours each day pounding a dough mixture for a local dish called fufu. There was no hot water (although in constant 40 degree heat I didn't really miss it). I just considered myself lucky that they had a flushing toilet!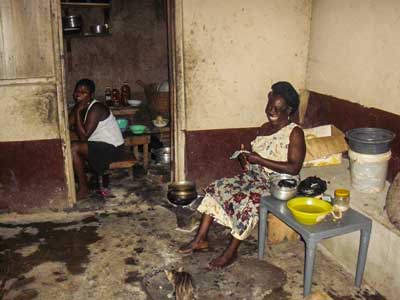 The kids in the school were amazing. The school itself was basic, with unpainted brick walls, wooden desks, no windows and a blackboard. For my IT classes, I had to guide my class of 30 to the local high school where they shared 3 computers between the entire class. I let each child take a turn, writing their name using the keyboard and playing a game using the mouse. They were so excited and enthusiastic, most of them had never even touched a computer before. Even their regular teachers were clueless and listened eagerly as I showed them how to write a sentence.
My Volunteering Experience-Ghana! was bittersweet. Travel vaccination are  Highly recommended. 
Unfortunately during my trip, I got sick and had to go to hospital where the conditions were shocking. There were countless people waiting to be seen and children were bawling in their mother's arms. There was no air conditioning and the heat from all the bodies made the place unbearably hot. I was told that the average waiting time to see a doctor was 30 hours! I felt so sorry for those people and felt helpless for being unable to do anything.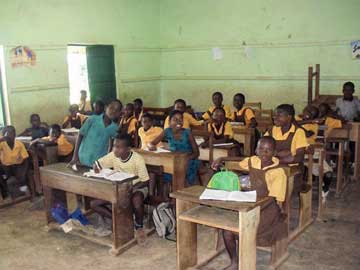 When the time finally came, we were taken for our consultation in groups of 10. We each sat in front of the doctor in turn, where he did a visual inspection for each individual before proclaiming his diagnosis. There was no blood tests or conversation. He diagnosed me with malaria then sent me on my way as easily as if he'd just diagnosed me with a common cold.
Hoping that the medication wouldn't be too expensive, I headed to the pharmacist to collect my prescription. Amazingly these lifesaving drugs cost the equivalent of only £9.50 GBP (approx. $19 AUD or $13 USD). It horrified me that people died because they couldn't afford the price of medication, yet it cost less than we would pay for a meal out.


Being in Ghana really hit home how many of the small things we consider to be essentials are actually luxuries. A hot shower. Electricity. Medical attention. Yet somehow, in many ways these people are richer than us. They are so open, so friendly and accepting. Their communities still orientate around family values whereas ours is so often about personal and financial gain.

Any traveller would be lucky to have the opportunity to immerse themselves in such a culture. SYTO were especially helpful as they teach you the basic 1-0-1 in an orientation week before sending you onto your host family. If I had known the emotional roller-coaster I would go through on those 4 weeks would I do it all again? Hell yes.
My Volunteering Experience Ghana changed my life for ever!
Written by: Robyn Downie