Last updated on June 21st, 2017 at 03:11 am
Kangaloola Wildlife Shelter was one of my favorite experiences in Australia and any animal lover's dream! When I first walked in I was surprised by how basic it was. Baby roos hung from makeshift pouches in the living room, while orphaned wombats inhabited the back garden. Everywhere you looked there was local Australian wildlife looking poorly and sorry for itself. The level of cuteness in that building was unreal.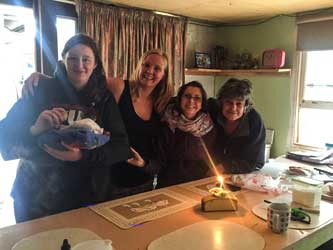 Kangaloola is a wonderful but small family run wildlife shelter by Yachandandah near the VIC/ NSW border in Australia. For the past few decades, Glenda and Ron (along with their local long term volunteer Sarah) have dedicated their time to rescuing, rehabilitating and releasing orphaned and injured Australian wildlife.
The shelter is not for profit therefore does not open to the public, meaning that by volunteering here you really get to see off the beaten track.
The property is basic, with a long drop toilet, hardly any water and a generator for electricity. Yet the sense of community that you get here more than makes up for the lack of luxuries.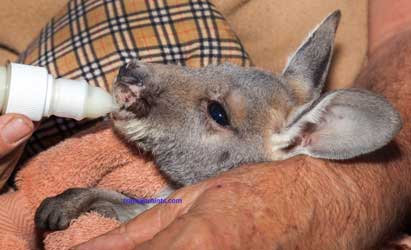 Day to day life in Kangaloola wildlife shelter: Rule number 1 – the animals always come first!
Glenda is an amazing lady. A mother and grandmother, she gets up every single morning at 4am to feed her furry babies. Her home is overrun by wallabies, sugar gliders, koalas, an Emu, wombats, parrots, roos and the occasional backpacker. This means that a holiday away is just not a practical option for her.
Their rescue hotline is open 24/7 so Sarah (who also does the baby roos feed at midnight ) regularly has to abandon her rest when a call comes in. They only host a maximum of 3 volunteers at a time, so you can really expect to get a hands on experience here.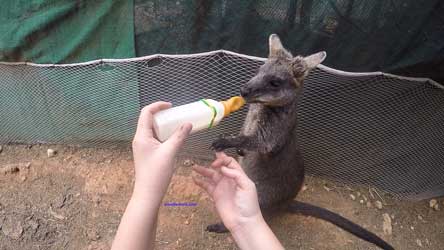 An average day at Kangaloola Wildlife Shelter consists of the morning feed at 8am for the young roos, wallabies and wombats. Yard cleaning is done in the morning before the next baby roo feeding at noon. After human lunchtime, any odd jobs are attended to, such as putting up shelves, dicing up vegetables for Dingles the emu or taking the littlest orphans out for some sunshine and a hop.
4pm marks the next feed, this time including the bigger, injured wildlife based outside in the yard before the volunteers and the family all eat together at night. There is an hour or two's respite before the 8pm bedtime feeding, after which you collapse into bed beside the wood burning fire. Of course all this is intermittent between going on rescue calls and releasing recovered animals.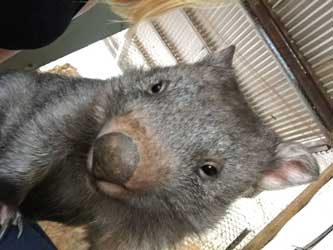 You learn so much about Australian wildlife when you are here. Many have been injured or orphaned as a result of our roads and you quickly learn how to check a pouch and safely remove a baby if there is one inside.
Feeding a bottle becomes second nature and you get over your aversion to being covered in poo. All the babies have their own personality and traits – Pirate sucks his hand like a baby sucking its thumb, Lily loves to play tag, Chicken is partial to a piece of toast… It really is a marvellous place.
If being surrounded by adorable baby animals for 2+ weeks sounds like your idea of heaven and you don't mind getting your hands dirty, head to the oceans 2 earth volunteering website and speak to Tracy who deals with volunteering requests for Glenda.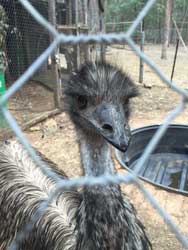 They are always in need of helping hands! You do have to pay for your own food and accommodation in the form of a project fee, and please be aware that although everyone tries their best not all the animals can be saved.
Kangaloola Wildlife Shelter was the best part of my working holiday in Australia??? yes
This experience is SO much more than a holiday as you really get the chance to feel like you are making a difference to the lives of these animals. I absolutely loved it and it is definitely an experience of a lifetime. I highly recommend spending some time here and can assure you that it is 110% worth it!
Written by Robyn Downie: working Holiday experienced in Australia.