Enchanted River: where a stunning natural blue lagoon is protectively covered by evergreen rainforest in the mountain side of Mindanao Island .
Why do we call it enchanted? Because of its amazing crystal clear blue water that is really brilliant. It is salty river water, no one knows where the water comes from as it is under the mountain. In the cave, when the caretaker is ringing the bell at around 12 noon, it is the "feeding time" and there are some fish coming from nowhere and once the feeding is finished they mysteriously disappear.
Things to do during your vacation in Enchanted River Hinatuan.
Swim at the river and marvel at the beauty of Hinatuan. Visitors have the options for island hopping by renting a boat that costs of 160 pesos per hour, maximum of 4 persons. They have a river cruise for those visitors who want to explore around the river.
The entrance fee is 30 pesos per person, 15 pesos per hour for a life jacket and 100 pesos for the picnic table with umbrella.
They also provide cheap accommodation nearby the Enchanted River. The Marky's Hostel is a recommended accommodation.
It is clean and very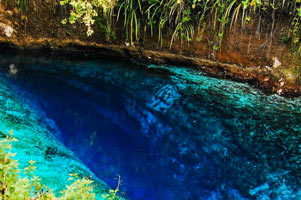 affordable with good facilities. You can buy fresh food in the market and the hotel staff volunteers to cook for you.
Try their specialties such as spicy shrimps, grilled blue marlin and the shrimp soup. Aside from a hotel mentioned above there is also a Maryland Lodging House and the apartel-type of Cj's room.
Getting to this place: if you are from Metro Manila, you can book a flight to Butuan city and after that, you can ride a bus for almost 5 hours to travel going to Hinatuan town. Then from Hinatuan, you can hire a motorcycle with a 300-400php fare or the habal habal with a 100 php fare going to the enchanted river.