Lake Wanaka is located in the Otago Region of New Zealand's South Island.  It is located at an altitude of 300 metres and covers an area of 192 square-kilometres, thus making it the fourth largest lake in New Zealand.
Its mountain setting also makes it one of the most beautiful of the country's lakes.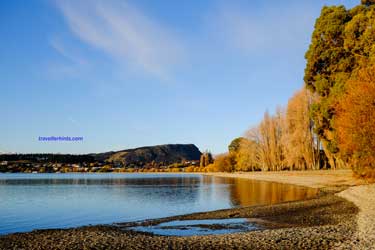 While the lake has long been known by the Maori people, it is believed the first European to find the lake was Nathaniel Chalmers in 1853.  Accompanied by Maoris, he walked to the lake from Southland via the Kawarau River.
By 1861, many new sheep stations had been built on the south side of the lake and in 1862, the lake was surveyed by a whaling boat.
Now, the lake remains used for sheep farming in addition to being a popular tourist attraction.
What to Do
        Lake Wanaka is filled with wonderful activities for visitors year round.  In the winter, the mountains surrounding the lake provide wonderful skiing opportunities.
Skiers from all over the world flock to the area for the skiing at Cardrona and Treble Cone, as well as the cross-country skiing at Snow Farm and the heli-skiing high in the Harris Mountains.
During the rest of the year, the lake is very popular as a fishing, hiking, canyoning, climbing, and skydiving location.
There are a number of operators who run flight tours over the lake.  This is a particularly beautiful vantage point from which to enjoy the scenery.
Some of the operators even allow for landings in nearby Mount Aspiring National Park for those wishing to hike, climb, and hunt in the park.
Of course, what would a lake be without boating?  Lake Wanaka is a great place to enjoy a cruise or a jetboat trip.
Additionally, the lake is a haven for paddle boarders, water-skiers, kayakers, and, when the conditions are right, windsurfers as well.  Of course there are also a number of walking tracks.
These tracks can be as simple as a twenty-minute stroll or as difficult as a four-day hike.
No matter what your age or fitness level, there is a walk for you around Lake Wanaka.
Finally, visitors can even enjoy a trip around the lake on horseback should they desire.
Accommodation
        Lake Wanaka and its nearby towns boast a variety of accommodation options.
Whether you are looking for a simple campground or a super-luxurious accommodation that is only accessible by helicopter, there is something for you at Lake Wanaka.
Travelling from Abroad?
        While the township of Wanaka has its own airstrip, it is only for scenic and charter flights.
However, there are three international airports in close proximity: Queenstown, Dunedin, and Christchurch.
It is about an hour drive from the Queenstown Airport, a 3-hour drive from the Dunedine Airport, and a 5-hour drive from the Christchurch Airport.