The northernmost point on the South Island of New Zealand, Cape Farewell is a headland located just west of Farewell Spit.  Despite being a beautiful location, its very remote position on the island makes it one of New Zealand's least visited capes.  
As such, if you are looking for a remote getaway, this is the place to head.  The cape boasts wonderful views, as well as a very enjoyable and beautiful walk.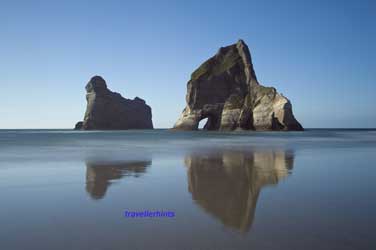 The most popular thing to do at Cape Farewell is enjoy the Wharariki Beach to Cape Farewell walk.  The walk takes about 2-3 hours and starts at Wharariki, which is a place that will surely leave a lasting impact on anyone who visits it.  Everything at Wharariki is done at such a large scale, that it will take your breath away.
 The waves are huge.  The cliffs seem never-ending.  The sand dunes are mountainous.  The caves are giant.  All these grand features coupled with the remote location will make you feel like you have travelled to another planet.  Walkers will then pass through the privately owned Puponga Farm Park, which is still a working park.  
Here, walkers will get to see a variety of paddocked livestock as they make their way along the marked track.  After the farm, walkers will follow a sign for the Stone Brige, which will take them down to the beach.
Walkers should plan to make the walk during low tide, otherwise, they will not be able to cross this section of the beach as the water is too high during high tide.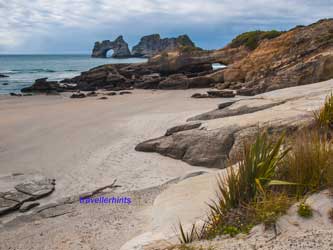 Visitors will then follow the beach past gigantic sand dunes (if you don't mind getting sand everywhere, climb to the top and jump down them).
Eventually, walkers will have to wade across a small creek, but the water is no more than knee deep so it is very manageable for walkers.
Eventually, the track begins to go uphill back into the farm park.  Along this section of the track, visitors will be able to enjoy wonderful vistas of the large cliffs surrounding the coastal areas.  
Eventually, the track will lead you to Cape Farewell.  If you are lucky, you might see some seals sunning on the rocks below.
If you want to keep going, you can walk a further 3-4 hours out along the Farewell Spit, which is known for its distinctive kiwi bird appearance.  If you don't feel like walking, there is a local company that allows visitors to ride along the coastline on horseback.