Anakiwa is a small coastal village on the South Island of New Zealand.  The village is located in the Marlborough Region and it sits at the head of Queen Charlotte Sound.  The village does have a small number of permanent residents that live in one of the 140 private dwellings within the village.  
However, the population grows significantly during the summer months when visitors flock to the area.  The town is perhaps best known for being home to an Outward Bound School as well as for being one of the termini of the Queen Charlotte Track.  Most people will finish the track in Anakiwa and then take a short water taxi to Picton, which is only a short distance away.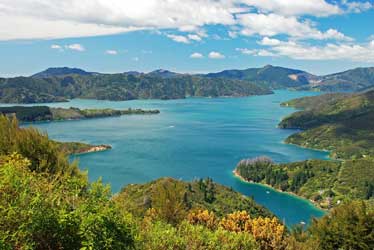 The Anakiwa area has a very interesting history that dates back to 1864 when the New Zealand Government gave the land to a family for farming purposes.
 The same family held onto the land for years and in 1928, they built a guesthouse on the site.  That guesthouse was then subsequently purchased by the Outward Bound School Trust in 1962, who turned the guesthouse into an Outward Bound School later that year.  The school now plays a primary role in the village.
What to Do – Anakiwa
        Arguably the biggest attraction to Anakiwa is its position right on Queen Charlotte Sound.  Queen Charlotte Sound is arguably the most beautiful of all the Marlborough Sounds and Anakiwa offers excellent access to it.
 The Awakiwa foreshore is home to five publically accessible boat ramps that make it easy for visitors to get their boat in the water and start enjoying everything the sound has to offer.
The sound has very calm water, which makes it a very popular destination for sailors.
        Of course, Anakiwa is also home to the end of the Queen Charlotte Track.  It is very common for walkers to finish in Anakiwa, so, it you have plans to walk the track, why not spend a day in Anakiwa after you are finished and enjoy the scenery of Queen Charlotte Sound from a nice relaxing, stationary spot.  Should you be interested in walking, here is a quick guide to traversing the track such that you end in Anakiwa.
Section 1: Moretoto/Ship Cove to Endeavour Inlet.  There is no road to Ship Cove so you will have to arrange boat transfer to this location.  Water taxis are easy to come by so this should be no problem.  There is no camping permitted at Ship Cove, but there are toilets.  Visitors should take some time and explore the historical areas at the cove prior to setting out on the walk.
 The track climbs away from the beach and through a unmodified forest.  As you reach higher elevations, beech trees begin the dominate the foliage.
After about 50-minutes walking, you will reach a lookout point, where walkers can enjoy views out over Queen Charlotte Sound.  After this lookout, the track drops into Resolution Bay, where there is a DOC campsite and a private cabin accommodation a bit further on.
From Resolution Bay, the track follows an old bridle path over a ridge and into Endeavour Inlet.  Private accommodation is available along the way.  Water is available in Ship Cove as well as at the Schoolhouse Bay campsite.  Toilets are located in Ship Cove, Schoolhouse Bay, Tawa Saddle, and Endeavour Inlet.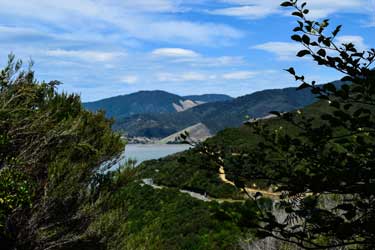 Section 2: Endeavour Inlet to Camp Bay.  This walk is about 11.5 kilometres and will take around 4 hours.  From Endeavour Inlet the track hugs the shoreline and wanders through regenerating forest.
This part of the track has an abundance of small birds, making it great for birdwatchers.  It then rounds Big Bay before heading to Camp Bay, where there is a DOC campsite and private accommodation.
Water can be found at the Camp Bay campsite.  Toilets are located at Endeavour Inlet, Miners Camp, and the Camp Bay campsite.
Section 3: Camp Bay to Torea Saddle.  This is the longest section of the walk, and by far the longest day if you are doing the whole thing.  It is 23 kilometres and should take about 8 hours, although there is another campsite at the Bay of Many Coves, which is only about 3 hours away.  
First, you will climb out of Camp Bay to Kenepuru Saddle, where you will follow the ridge separating Queen Charlotte Sound from Kenepuru Sound.
Above the Bay of Many Coves and Kumutoto Bay are two DOC campsites.  The track will eventually descent to Torea Saddle between Portage and Torea Bay.  
There is a DOC campsite at Cowshead Bay and a private accommodation at Portage.  Water can be found at the Camp Bay campsite, Bay of Many Coves campsite, Black Rock campsite, and the Cowshead Bay campsite.  Toilets are located at the same locations.
Section 4: Torea Saddle to Mistletoe Bay.  This section is around 8 kilometres and will take 4-hours to complete.  It continues along the ridgeline through thick growth of gorse and manuka.  
There is a side-walk that leads to a lookout just before the descent to Te Mahia Saddle.  At Mistletoe Bay, there are cabins and campsites.  Water can be found at the Cowshead Bay Campsite.
Toilets can be found at the Cowshed Bay campsite, Torea Saddle, Te Mahia Saddle, and at the Mistletoe Bay Eco Village.
Section 5: Mistletoe Bay to Anakiwa.  This final section is 12.5 kilometres and takes around 4-hours.  The section follows old bridle paths high above the water, providing beautiful views.
The track rounds an obvious point and descends to to the DOC campsite at Umungata.  The final hour of the walk is on an easy path through beech forest.  From Anikawa, you can catch a boat back to Picton or stay in one of the nearby accommodation options.
Accommodation – Anakiwa
Anakiwa is home to a 140 private residencies, most of which serve as rentals for visitors.  As such, visitors will have a few choices to pick from when it comes to their stay in the village.  Most of the options are self-contained and there is a small store within the village for visitors to get their supplies.
Travelling from Abroad?
        Anakiwa is only a short water taxi ride away from Picton, which is only 65 kilometres away from Wellington itself.  Wellington has one of the largest international airports in New Zealand.
As such, it is serviced by a number of international destinations daily.  From Wellington, visitors will have to catch a ferry that will take you from Wellington across the Cook Strait to Picton.