Arusha is a city with full of nature attractions in northern Tanzania and the capital of the Arusha Region, with a population of 416,442 plus 323,198 in the surrounding suburbs and villages  Arusha District (2012 census). Located below Mount Meru on the eastern edge of the eastern branch of the Great Rift Valley, Arusha has a very dry and hot climate.
The city is regarded as a gateway to the northern circuit attractions namely: Serengeti National Park, the Ngorongoro Conservation Area, Lake Manyara National Park, Olduvai Gorge, Tarangire National Park, Mount Kilimanjaro, and Mount Meru in Arusha national park.
Also, Arusha city  is a major international diplomatic hub. The city hosts the East African Community. From 1994 to 2015, the city also hosted the International Criminal Tribunal for Rwanda, but that entity has ceased operations.
The entire Region is a multicultural city with a majority Tanzanian population of mixed backgrounds: indigenous African, Arab heritage -Tanzanian and Indian heritage -Tanzanian population, plus a small White heritage  European and a white American minority population. Religions of the Arusha population are Christian, Muslim, and Hindu.
Attractions and
things to do in Arusha
Arusha is a major tourist city as its a gateway to the northern circuit attractions and therefore harbors a lot that travellers can do and enjoy in the city from a diversity of natural, cultural to man made activities.
Arusha national park p

opular safari destination 

 
Arusha National Park covers Mount Meru, a prominent volcano with an elevation of 4566 m, in the Arusha Region of north eastern Tanzania.
The park is small but varied with spectacular landscapes in three distinct areas. In the west, the Meru Crater funnels the Jekukumia River; the peak of Mount Meru lies on its rim. Ngurdoto Crater in the south-east is grassland. The shallow alkaline Momella Lakes in the north-east have varying algal colours and are known for their wading birds.
Mount Meru is the second highest peak in Tanzania after Mount Kilimanjaro, which is just 60 km away and forms a backdrop to views from the park to the east. Arusha National Park lies on a 300-kilometre axis of Africa's most famous national parks, running from Serengeti and Ngorongoro Crater in the west to Kilimanjaro National Park in the east.
The park is just a few kilometres north east of Arusha, though the main gate is 25 km east of the city. It is also 58 km from Moshi and 35 km from Kilimanjaro International Airport (KIA).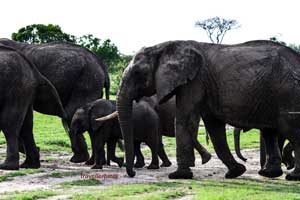 Tarangire national park
Located slightly off the main safari route, Tarangire National Park is a lovely, quiet park in Northern Tanzania. It is most famous for its elephant migration, birding and authentic safari atmosphere.  
The majority of travellers to the region either miss out Tarangire altogether or venture into the park for a matter of hours – leaving swathes of Tarangire virtually untouched! With a game viewing area that is roughly ten times the size of nearby Manyara national park and a concentration of game that is exceptional from July through to October, this seasonal Tanzania safari park is a little gem on the Northern safari circuit, especially if you love elephants! Tarangire is the surprise package on the Northern circuit.  
Often overshadowed by the Serengeti and the Ngorongoro Crater, Tarangire has huge concentrations of animals in the peak months and a fraction of the visitor numbers of any of the other Northern parks.  
Lake Manyara national park
Lake Manyara National Park is one of Tanzania's smaller parks and, although many safari itineraries skip it, we highly recommend you make the detour.
The dramatic western escarpment of the Rift Valley forms the park's western border. To the east is the alkaline Lake Manyara, which covers one-third of the park, but shrinks considerably in the dry season. During the rains, the lake hosts millions of flamingos and other birdlife.
While Manyara lacks the raw drama of other northern circuit destinations, its vegetation is diverse, ranging from savannah to marshes to evergreen forest (11 different ecosystems in all) and it supports one of the highest biomass densities of large mammals in the world.
Elephants, hippos, zebras, giraffes, buffaloes and wildebeest are often spotted. Leopards and hyenas are also here. Lake Manyara is also home to a famous population of tree-climbing lions.
Best Safari Ngorongoro conservation area
The Ngorongoro Conservation Area covers 8,292 square kilometers. It is one of the three divisions that comprise Ngorongoro District in Arusha Region.Ngorongoro Conservation Area was established in 1959 by the NCA Ordinance No 413 of 1959 as a multiple land use area, designated to promote the conservation of natural resources, safeguard the interests of NCA indigenous residents and promote tourism.
Ngorongoro Conservation Area is a unique protected area in the whole of Africa where conservation of natural resources is integrated with human development.
The main feature of the Ngorongoro Conservation Area is the Ngorongoro Crater, the world's largest inactive, intact and unfilled volcanic caldera, the Serengeti Plains that support about 2.0 millions migratory wildlife species of the Serengeti Mara-ecosystem  and the catchment forest; the Northern Highland Forest Reserve (NHFR) known as 'Entim Olturot' in Maa language.
Other important features found in the NCA are the archaeological and palaeontological site located at Olduvai Gorge and the early human foot-prints that were discovered at Alaitole in Ngarusi area. Because of these particular features and the harmonious co-existence between wildlife and people that has existed for many years, NCA was accorded the status of a World Heritage Site and listed as one of the International Biosphere Reserve by the UNESCO's Man and Biosphere Reserve Programme
Serengeti national park in Arusha is the best Safari park!  
The Serengeti National Park in Tanzania is a nature spectacle which was established in 1952. It is home to the greatest wildlife spectacle on earth – The great migration of wildebeest and zebra.
The resident population of lion, cheetah, elephant, giraffe, and birds is also impressive. Serengeti National Park is undoubtedly the best-known wildlife sanctuary in the world, unequalled for its natural beauty and scientific value, it has the greatest concentration of plains game in Africa.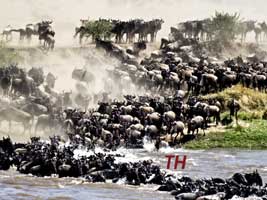 The Park can be divided into three (3) sections. The popular southern/central part (Seronera Valley), is what the Maasai called the "serengit", the land of endless plains. It's classic savannah, dotted with acacias and filled with wildlife. The western corridor is marked by the Grumeti River, and has more forests and dense bush. The north, Lobo area, meets up with Kenya's Masai Mara Reserve that together form the serengeti- Mara ecosystem.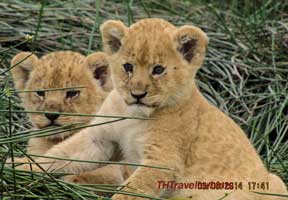 It is the migration for which Serengeti is perhaps most famous. Over 1.5 million wildebeest and about 200,000 zebras migrate south from the northern hills to the southern plains for the short rains every October and November, and then swirl west and north after the long rains in April, May and June. So strong is the ancient instinct to move that no drought, gorge or crocodile infested river can hold them back. The Wildebeest travel through a variety of parks, reserves and protected areas and through a variety of habitat.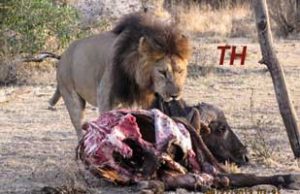 Arusha Activities or Day Trips 
Balloon safari
Not all safaris require a four-wheel-drive vehicle; in fact, one of the most popular safaris requires no wheels at all. Since 1989, Serengeti Balloon Safaris has helped park visitors take to the skies to spot wildlife and watch the park's famous Great Migration.
Choosing the best camera for travel photography!
The fleet of 8-, 12- and 16-passenger hot air balloons carries travelers annually across Central Serengeti (and seasonally through the Western Corridor and Southern Serengeti) to give them a bird's-eye view of the park. Visitors rise early for a spectacular  adventure so that the balloons and their passengers can rise alongside the sun.
Flights last about an hour, after which passengers gather, surrounded by the park's lush plains, for a sparkling wine toast and an "Out of Africa" English-style breakfast.
Some recent travelers bemoaned the balloon safari's early departure time and high price tag, but most say that the experience is worth it. Former visitors were also impressed with Serengeti Balloon Safaris' staff and pilots, who reviewers described as friendly and knowledgeable.
Hot air balloon safaris, which include round-trip transfers, the one-hour hot air balloon ride and breakfast, cost around $550 per person. Advance bookings are recommended to ensure availability.
You can reserve a balloon safari through your tour provider or at one of the park's lodges. Children 6 and younger, pregnant women and travelers with select mobility and health conditions are not permitted to participate in this excursion
Ol Donyo Lengai Volcano Mountain
Famously known as the "mountain of God" is an active volcano located south of lake natron within the Arusha region. The mountain summit rises 2962 meters high above sea level, and affords direct views into the caldera of Tanzania's only officially-certified active volcano, and the world's only carbonated volcano.
Records of eruptions have been maintained since 1883, the largest of which deposited ash 100 kilometers away in Loliondo on the Kenyan border to the North West. Ol Doinyo Lengai is the only active volcano in the world that erupt natrocarbonatite lava which is cooler than other lavas about (510 degrees C) compared to the temperatures of basaltic lavas (1,100 degrees C) with less silicon.
The mountain is in the heart of Maasai land, and locally regarded as a sacred mountain. Looking north from its summit crater, the hot barren salt flats of Lake Natron stretch into the distance.
To the south stretch the crater Highlands and the Ngorongoro crater conservation area. The eastern horizons dominated by Kilimanjaro and to the west the forested escarpments and hills comprising the western slopes of the Rift Valley. Every seven years the mountain erupts and plumes of smoke billow out of the crater.
It is possible to walk across the crater floor. The ascent of Ol Doinyo Lengai is demanding on account of the day time heat, lack of water, steep and unsuitable slopes of ash and crumbly rocks and considerable height gain. Normally you can start ascending to summit early in the morning and reach to summit at sunrise.
Short and a warm jacket are suitable for ascent, also long trousers are good as the summit before dawn can be cold. Access route from the North West allows an early descent to be made from the summit in the morning shadow.
While on the summit of Mountain Ol Doinyo Lengai one can sight clearly the Soda Lake Natron which accommodates and consist of good nesting sites for different bird species especially the Flamingos, pelicans and geese more than 350 different types are recorded to date. A traveler can also enjoy the nearby Maasai BOMAS that gives one a chance to interact with the indigenous people, learn their cultures, taboos and traditional.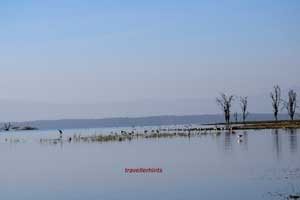 Lake Natron in Arusha 
A soda lake at the base of the active Ol Donyo Lengai volcano, the area around Lake Natron is often described as having a desolate and almost lunar beauty. Lake Natron is found in the northern part of Tanzania. Nearest towns to Lake Natron is Arusha in Tanzania and Magadi in Kenya.
It is the most important breeding site for Lesser Flamingos in the world and therefore a Ramsar site wetland of international significance.
Lake Natron is one of two alkaline lakes in the area of East Africa; the other is Lake Bahi. Both are terminal lakes that do not drain out to any river or sea; they are fed by hot springs and small rivers. As shallow lakes in a hot climate, their water temperatures can reach as high as 106 degrees Fahrenheit (41 degrees Celsius).
The lake is the only regular breeding area in East Africa for the 2.5 million lesser flamingoes, whose status of "near threatened" results from their dependence on this one location. When salinity increases, so do their food and the lake can also support more nests.
These flamingoes, the single large flock in East Africa, gather along nearby saline lakes to feed on blue – green algae. Lake Natron is a safe breeding location because of its caustic environment is a barrier against predators trying to reach their nests on seasonally forming evaporate islands.
Greater flamingoes also breed on the mud flats. The Lake's alkaline waters support a thriving ecosystem of salt marshes, freshwater wetlands, flamingos and other wetland birds, tilapia and the algae on which large flocks of flamingos feed.
The Hadzabe people
Take a wonderful cultural experience into the Hadza, or Hadzabe tribe of Tanzania as its the last true nomads of Africa. A traveler will join men as they hunt for their daily subsidence using traditional bow and arrows, or join the women as they forage for fruits and wild berries. This is not a show or a "tourist put on". This is the real deal. A true African cultural experience, not for the faint of heart.
The Hadza, or Hadzabe,  are an indigenous ethnic group in north-central Tanzania, living around Lake Eyasi in the central Rift Valley and in the neighboring Serengeti Plateau. The Hadza number is  just under 1,000. Some 300–400 Hadzabe live as part-time hunter-gatherers, much as they have for thousands or even tens of thousands of years; they are the last functioning hunter-gatherers in Africa.
The Hadza are not closely genetically related to any other people. While traditionally classified an East African branch of the Khoisan languages, primarily because it has clicks, the Hadza language appears to be an isolate, unrelated to any other.
As descendants of Tanzania's aboriginal hunter-gatherer population, they have probably occupied their current territory for thousands of years, with relatively little modification to their basic way of life until the past hundred years.
 Book your travel Package with  STA

What to eat and drink:
The Arusha region and city is home to various tribes which serve different delicacies in their own local style. A traveler can enjoy locally prepared dishes by the indigenous "waarusha" people like the delicious "loshoro" dish prepared using fermented milk with maize.
One can also enjoy roasted meat with local drinks since the tribe is a pastoralist community one that keeps livestock.
Since the city is a 'tourist hub', a traveler can enjoy international dishes ranging from chinese restaurants to quick fast food stands all around the city. Famous restaurants include: fifi's restaurant, Arusha Naaz Hotel, Africafe, Mc Moody's restaurant among many more.
Best Accommodations Booking Here in Arusha  
Arusha Accommodation:
Accommodation is readily available in the city varying from five star hotels, lodges, hostels to cheap guesthouse for travellers to enjoy.
Near ngorongoro conservation area, major national parks and other attractions is karatu area crowded with readily available lodges and hotels for travellers to enjoy rather than staying in the conservation area or in the park which is perceived expensive.
Fine your Cheep airlines here 

Arusha: HOW TO GET THERE
The Nature of Arusha Public transportation 
Arusha as a city is served by road and air transport but there is no water nor railway transport serving the city. Arusha is served by Kilimanjaro International Airport for international air travellers, some 60 kilometres (37 mi) east, approximately halfway to Moshi.
The airport provides international and domestic flights. Arusha Airport is a regional air hub in the west of the city and serves more than 87,000 passengers yearly. Travel by road can be done through privately run coaches (buses) to Nairobi, Dodoma and Dar Es Salaam, and other major cities in the nation.
Transportation withing  Arusha
Most safaris to the Serengeti start from the town of Arusha. The best option to get there is to fly into Kilimanjaro International Airport (JRO) which is situated about 46km from Arusha. It is also possible to fly into Julius Nyerere International Airport (DAR), just outside of Dar es Salaam, and use a domestic flight to get to Arusha Airport (ARK).
Alternatively, you can pick up a cheaper flight to Nairobi in Kenya, one of Africa's transport hubs, and take a shuttle bus to Arusha. In most cases, your tour operator will pick you up from the airport in Tanzania and take care of your ground operations, including local transportation.
The most convenient way to get from Arusha to the Serengeti is by taking a small charter plane to one of the various airstrips in the park namely Seronera airstrip, Kogatende airstrip and Ndutu airstrip south of Serengeti. The drive from Arusha to the Serengeti is about 325 km and will take 8 hours. It is a bumpy ride and, for a large part, over dirt roads- but the trip offers beautiful scenery.
You'll surely see some wildlife on the way, or even do en-route game drives. Also, if you travel by car, you'll seldom do the whole trip in a single day. In most cases, your safari tour will include a day or two in other parks on the way, cutting the drive down to about half the time.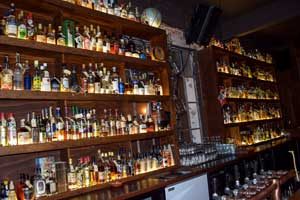 Arusha's Nightlife and Tinder Hook Up Places 
There are many hot nightlife spots around Arusha. Some of the most popular are via via, Maasai Camp, Lively Lady and Johnny's Bar at Tanzania Game Trackers (TGT).
TGT
 Is the white man's country club of Arusha. Located near the airport, it is where families, predominantly white, go on a Friday and Saturday night so the parents can socialize over a glass (or twelve) of white wine while the kids chase each other on the perfectly manicured field that boasts rugby games and polo matches during the evenings
Best Night life in Arusha: Club D
It is one of best of Arusha nightclubs. Located in the Moshono area of Arusha town, World Garden: Club D was crafted with the distinct objective of providing classic Entertainment to night-clubbers and party revelers. Nestled below the foot of Mount Meru the venue brings glitz, excitement and taste, hence standing out as the Classic nightlife venue that packs all the style and fun for classic people.
If you want to party where the locals go, this is one of the best ways to experience Tanzanian nightlife. It's affordable and fun. Hip Hop, Ragga, Reggae, Bolingo (Modern Tanzanian fusion) and western music all in this place.
The club is a great place to be on a weekend which starts on a Thursday, with a ladies night, Friday thank God its Friday and Saturday where it is either black out or get out partying till done which is not to be missed.
Via Via – Cultural Lounge & Café
Via Via in Arusha is simply one of the 11 affiliated Via Vias worldwide. Jocar, a Belgian tour company, and the Livingstone Group. An NGO collaborated to open the Arusha Via Via. It is the happening spot in Arusha on a Thursday night. It is famous for large crowds of tourists, travelers and locals. Many people in Arusha are familiar with via via cultural café, located in the garden of the museum at Boma Road.
The restaurant is a popular haunt of ICTR workers at lunchtime, and the place to party on Thursday nights when the calm cafe ambiance often transmutes into a raucous party with live music.
The place strives to be more than just a café where people eat and drink, but aims to develop culture and bring people together.
The bar is completely outside with tent-like structures acting as roofs of dance floors, seating, and bars. There is plenty of space to venture and meet new people.
Travelers and tourists are attracted to this place because it strives to be different from other restaurants, cafes, and discotheques, it is that it works as a 'cultural café' a place where different people from all over the world interact and exchange cultural experience while in Tanzania. The via via gardens reinvest profit in developing culture and promoting culture.
The best Hook Up Place for solo travellers  – Bar & Lounge
This is a smaller nightclub in Arusha located at Njiro sun park road. It attracts locals in huge numbers. The Hook Up is owned by a young and energetic couple, famously known to support Tanzanian music artists both financially and with their marketing.
It has made the lounge the best place to be, especially when these young Tanzanian Artists perform live. Every local wants to meet these celebrities!
Be sure not to miss visiting this night spot in Arusha, especially when there is live music. The club offers Caribbean (reggae) night on Wednesdays, karaoke on Thursday night where one can sing and listen to others sing various songs of their choice.
A live Dj is on entertaining the crowd on Friday and Saturday night while Sunday is a special day for oldies to enjoy. There also special marked dates where celebrities perform live music. This is one not to miss out while in Arusha for a great diversity.
Empire Sports Bar
It is the go-to spot to begin the night. It is located at the TFA complex in Arusha city. The club has a pool table and play a steady stream of music.
It is a nice place with indoor and outdoor seating where one can either sit and chat casually or get a bit more aggressive at the bar and on their dance floor.
It has a large modern bar, with high ceiling and mezzanine floor, pool tables, dart board, lounge bar, large TVs for watching sport and some tables outside in the courtyard. On Tuesday nights, they have an acoustic jam and live music while on Wednesday it's famous for the karaoke and after party with the DJ.
On Friday nights it is free entrance which explains the mass of people there, slingshot club, Dancehall and ragga vibes are to be enjoyed on this night. Saturday nights are graced with live music from 9 pm and a more chilled Sunday to relax while watching sports on the big wall screen. The club is famous with travelers and expats.
Le Patio Bar/ lounge/ restaurant
If you fancy a tranquil dining experience in Arusha, look no further. Having evolved from a home to a pre-school, the property has been remodeled into a lavish restaurant, with plenty of comfortable outdoor sitting options.
The menu is amazing and guaranteed to leave you with a smile on your face! For those with a sweet tooth, this might just be a trap; the desserts are out of this world. Great bar, service is impeccable and the occasional theme nights add the icing onto this cake!
Le Patio is one of the newest restaurants in Arusha, and it has quickly become the place to be. The food is as diverse as its clientele, which makes it a great place.
There are different areas so whether one want to sit at the bar, lounge around at leisure, have a snack in the garden or a gourmet meal in the dining area, it is all possible.
This makes it ideal for a business lunch, but also nice to meet with friends and bring children.
The music is always good, and there are a number of different events and occasions with live music. Since the dining area and garden is so big, one will always find a cozy nook to sit close to the crowd or more privately.
The grill is always turning out excellent dishes, the pizzas are creative and many items on the menu are unique to Le Patio: a clear effort has been made to have a diverse, original menu. There is a choice of wines by the glass, which is nice, as well as local beers.
And do not forget the patisserie, the variety of cakes and sweets is bigger and better than anywhere else in Arusha.
More exciting If there is any event from Independence Day to Halloween, Le patio will host all those parties and therefore it is a popular place for travelers due to its western ambience.
Fig & Olive /Cocktail bar/Restaurant
The Fig & Olive is a Mediterranean Restaurant in the center of Arusha, located on the Haili Salasi road. Fresh and modern cuisine, with an amazing open space and great bar.
The Fig and Olive offers Mediterranean cuisine and is open for lunch and dinner from Mondays through to Saturdays. Sundays they are open for brunch and lunch. Join them on Friday for Happy Hour from 6pm until 8pm. Beers and house wine are buy one get one free.
Lively Lady Bar & Grill
The bar is located off sokonie road past meru house post office towards Nakumatt super market- it's down a dirt road and a sketchy looking alley. Most taxi drivers don't know where it is, so one has to describe it.
This is one of those little backstreet gems where the locals hang out that you won't find in the glossy brochures; small, quaint and friendly with a great vibe and realistic pricing.
This is the place to meet real people in Arusha, a cultural melting pot with a great atmosphere and decent local food, the bar starts to come alive after 10, this is a late night venue to party and enjoy.
If you like rock, good vibes and great food this is the place for you. The staff is the friendliest we've found in Arusha who take pride in the service they give which is very high. The food is delicious, it might take some time to arrive but it's worth it! They also have live music every now and then. It's been buzzing every time we've been there and it's most definitely worth a visit if you're in town.
  Compare low cost airfares here 

Boogaloo Club
This Club/Bar area is famous for a multicultural get together. As it is located in the Arusha's biggest shopping center, Njiro shopping complex. The bar/club is famous for its (Nyama Choma) Swahili name for BBQ and the best sweet banana BBQ. There is an inside and an outdoor area that makes the Bar suitable to all characters. A night here is one not to miss out
Johnny's Bar
Located near the Arusha Airport at TGT grounds. This is the place to be on Friday nights, especially with their famous Happy Hour: buy one get one free on all beers and wines. It is therefore a place to socially interact with both locals and travelers.
Written By   BRENDA EBENEZA, Diploma in wildlife tourism- College of African wildlife management Mweka, Current job: Eco- Assistant camp Manager at Asilia Lodges and camps.