Mount Kilimanjaro Climbing Information for travellers.  
Mount Kilimanjaro is the highest mountain in Africa, rising approximately at 4,900 m (16,000 ft) from its southern base in the plains near the municipality of Moshi to its summit height of 5,895 meters (19,341 ft).
 Kilimanjaro, by any name, is a metaphor for the compelling stunning beauty of East Africa as well of course in Tanzania (Read Travel Info).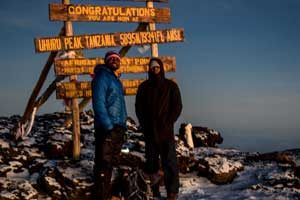 When you see it, you understand why. Not only is this the highest peak on the African continent; it is also the tallest free-standing volcanic mountain in the world, rising in breathtaking isolation from the surrounding coastal scrubland
Kilimanjaro is a large stratovolcano composed of three distinct volcanic cones: Kibo, the highest; Mawenzi at 5,149 meters (16,893 ft) and Shira, the shortest at 4,005 meters (13,140 ft).Mawenzi and Shira are extinct while Kibo is dormant and could erupt again. Uhuru peak is the highest summit on Kibo's crater rim.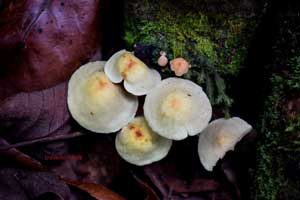 Mount Kilimanjaro Attractions and Things to Do
Although the name Mount Kilimanjaro brings to mind images of high peaks, the name also belongs to the natural park surrounding the famous mountain.
The park covers an area of 291 square miles and has been declared a UNESCO World Heritage Site. While many visitors come here for climbing, there's more to see and do within the park.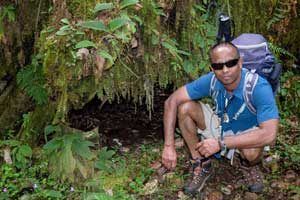 Mount Kilimanjaro climbing
Most visitors who come to the park want to either see or climb Kilimanjaro. Climbing Mount Kilimanjaro requires hiring a licensed guide, as solo climbers are not allowed.
Depending on the type of climb you have in mind and which of the six available routes you take, the excursion costs from $1,000 to more than $5,000 as of 2011.
The easiest climb is via the Marangu Route, which takes five to six days to get you to the summit. The Machame Route takes about the same time but is more scenic and more rustic, as well as more strenuous. Hiking time varies from three to eight hours per day and you will need to be in good shape.
Mount Kilimanjaro Wildlife Watching
Mount Kilimanjaro National Park is rich in both small and big game. The park itself is a moorland zone, which means you'll find lush vegetation with plenty of rainfall.
Even at ground level, you'll still be higher than sea level, so you might have some trouble breathing and adjusting to the altitude.
Easy hikes are available on the moorland, and you might need to hire an armed park ranger to reach some areas because of the potential danger from elephants, buffalos and other large animals. A trek will also allow you to see baboons, bush pigs, mongooses and a number of other animals.
Even before you cross the national park boundary (at the 2,700m contour), the cultivated footslopes give way to lush montane forest, inhabited by elusive elephant, buffalo, the endangered Abbot's duiker, and other small antelope and primates. Higher still lies the moorland zone, where a cover of giant heather is studded with otherworldly giant lobelias.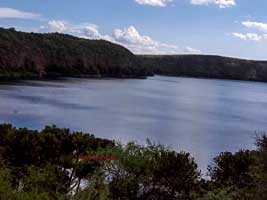 Visiting lake chala
Located on the edge of Mount Kilimanjaro, Lake Chala is inside a high crater rim. The lake covers an area of 1.6 square miles and is one of the park's most famous sights because of its incredible waters, which range in color from turquoise to emerald green depending on the time of the year.
Lake Chala Safari Camp is the only accommodation available near the lake, where visitors can rest or choose to join a tour of the area.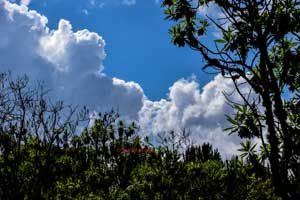 Mount Kilimanjaro hiking
Travelers can also join hiking tours that explore the lower levels of the mountain, around the Shira Plateau.
Most hikes take three days and require you to sleep in mountain camps. Expect steep trails and lots of climbing over rocks and tree roots, as these are not well maintained, smooth trails. Hikes will take you to see craters, giant ferns, wildlife and plenty of scenic views.
How to get there
Climb up Mount Kilimanjaro is accessible with different routes that will successfully help you reach the summit.
Watch our Video Here 
Marangu ("Coca Cola") Route
Known as the "Coca-Cola" route, the Marangu route is a classic trek on Mount Kilimanjaro. It is the oldest, most well established route.
Many favor the Marangu route because it is considered to be the easiest path on the mountain, given its gradual slope. It is also the only route which offers sleeping huts in dormitory style accommodations.
The minimum days required for this route is five, although the probability of successfully reaching the top in that time period is quite low. Spending an extra acclimatization day on the mountain is highly recommended when climbing Kilimanjaro using the Marangu route.
However, despite its immense popularity, we avoid leading climbs on the Marangu route. The route has the least scenic variety of all the routes because the ascent and descent are done on the same path and it is the most crowded route for that reason.
Marangu is favored only during the rainy season, where the hut accommodations are preferred over wet ground, or for those who only have five days to climb Kilimanjaro (which we do not recommend anyhow). Otherwise, the Marangu route is a poor choice.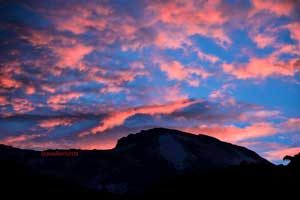 Best Climbing Route: Machame ("Whiskey") Route
It is the most popular route on Kilimanjaro. Machame route draws is in its scenic beauty.
However, the trail is considered difficult, steep and challenging, particularly due to its shorter itinerary. Therefore this route is better suited for more adventurous folks or those with some high altitude, hiking or backpacking experience.
The minimum days required of hike up the mountain using this route is six days with high chances of reaching the summit although if a traveller is not confident about how well he or she can acclimatize, seven days trek is highly recommended.  
The route approaches Mount Kilimanjaro from the south, beginning with a short drive from Moshi to Machame Gate.
The path leads hikers through the rainforest to Shira Plateau. Here, many of Kilimanjaro's routes converge. Then the route turns east and traverses underneath Kilimanjaro's Southern Ice Field on a path known as the Southern Circuit before summiting from Barafu. Descent is made via the Mweka route.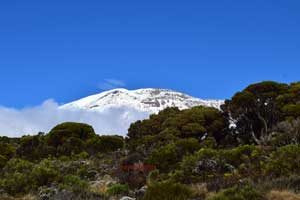 Lemosho Route
The Lemosho route is considered the most scenic trail on Kilimanjaro, granting panoramic vistas on various sides of the mountain.
As one of the newer routes, Lemosho is a superb choice for your climb. It is a preferred route due to its ideal balance of low crowds, beautiful scenery and a high summit success rate.
Travellers trekking using this route can take up a minimum of seven days and up to eight or nine days maximum to conquer the summit.
The route approaches Mount Kilimanjaro from the west, beginning with a long drive from Moshi to Londorossi Gate.
From there, the first two days are spent trekking through the rainforest to Shira Ridge. The Lemosho route crosses the entire Shira Plateau from west to east in a pleasant, relatively flat hike.
Crowds are low until the route joins the Machame route near Lava Tower. Then the route traverses underneath Kilimanjaro's Southern Ice Field on a path known as the Southern Circuit before summiting from Barafu. Descent is made via the Mweka route.
Rongai Route
The Rongai route is the only route that approaches Mount Kilimanjaro from the north, close to the Kenyan border. Though gaining popularity amongst climbers, this route still experiences low crowds.
Rongai has a more gradual slope than the mountain's other routes and therefore is recommended for those with less backpacking experience.
It is the preferred route for those looking for an alternative to the popular Marangu route, for those who would like a more remote hike, and for those who are climbing during the rainy season (the north side receives less precipitation).
Although the scenery is not as varied as the western routes, Rongai makes up for this by passing through true wilderness areas for nearly the entire way.
A minimum of six days is required to trek up the mountain using this route and optionally seven to eight days maximum. Descent is made via the Marangu route.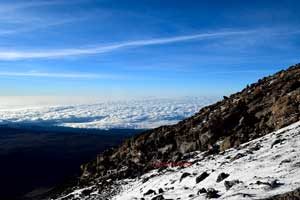 Umbwe Route
The Umbwe route has a well-deserved reputation of being the most challenging route on Mount Kilimanjaro.
Due to the fast ascent to high altitude, this route does not provide the necessary stages for acclimatization.
The number of people on this trail is very low so is the chance of success is also low.
Therefore; a maximum of six days is enough to help a traveler conquer the highest peak in Africa via this route.
Umbwe is considered to be very difficult, taxing route – one that should only be attempted by strong hikers who are confident in their ability to acclimatize quickly to altitude.                                                             
Approaching from the south, the Umbwe route is a short, steep and direct climb. After reaching Barranco Camp, the trail turns east and traverses underneath Kilimanjaro's Southern Ice Field on a path known as the Southern Circuit before summiting from Barafu. Descent is made via the Mweka route.
Shira Route
The Shira Route is a little used trail that begins near Shira Ridge.
It is nearly identical to the Lemosho route. In fact, Shira was the original route and Lemosho is the improved variation.
Although Shira is a varied and beautiful route, it is not recommended due to the high altitude of Shira's starting point which is accessed by vehicle.
It is possible that climbers will experience altitude related symptoms on the first day. Climbers using Shira should be confident of their ability to acclimatize quickly.
The route approaches Mount Kilimanjaro from the west, beginning with a long drive from Moshi to Shira Ridge. The vehicle bypasses the rain forest zone and the hiking trail begins on Shira Ridge.
The Shira route crosses the entire Shira Plateau from west to east in a pleasant, relatively flat hike. Then the route traverses underneath Kilimanjaro's Southern Ice Field on a path known as the Southern Circuit before summiting from Barafu. Descent is made via the Mweka route.
Northern circuit route
The Northern Circuit route is one of the best routes on Kilimanjaro, offering nearly 360 degrees of beautiful scenery, including the quiet, rarely visited northern slopes.
As the longest route on Kilimanjaro, utilizing a minimum and maximum nine days of hiking up, the Northern Circuit also has the most acclimatization time and the highest summit success rate.
Thus, the Northern Circuit route is highly recommended.
The route approaches Mount Kilimanjaro from the west, beginning with a long drive from Moshi to Londorossi Gate. From there, the first two days are spent trekking through the rainforest to Shira Ridge, before crossing the Shira Plateau.
The route then heads north and circles clockwise from Moir Hut to Buffalo Camp to School Hut, before summiting from the east. Descend is made via the Mweka route.
Western breach route
A Kilimanjaro ascent via the Western Breach route is the most challenging and also by far the most dangerous way to scale Kibo and reach Uhuru Peak.
The danger lies not in the climb itself, it lies in the melting glaciers above the route. As the glaciers retreat they release previously bound up rocks.
The western breach route is therefore by far the most expensive route up Mount Kilimanjaro and it takes the longest days which is 9 days.
The danger that lies when using this route however does not stop some of the adventurous travelers from using this route. One aspect is the challenge itself, the chance to do something unusual and to be different.
Another aspect is that, as the name says, the route leads through a breach in the crater wall. Where all other routes take you to the crater rim, climbing Kilimanjaro on the Western Breach Route takes you inside the crater. It gives you an opportunity to enter and camp in the crater.
Climbers can explore the Furtwangler Glacier, the Ernst Reusch Crater, and the Ash Pit; even take excursions to the Northern and Eastern Icefields.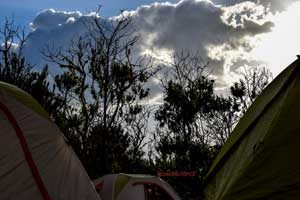 Mount Kilimanjaro: Accommodations
There are only two types of accommodation facility up the mountain- huts (only available via marangu route) and camping for the rest of the routes up Mount Kilimanjaro.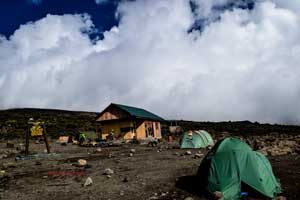 Toilets and facilities 
The campsites have wooden cubicle type toilets with holes in the floor ( I would call DE-compost type  old Asian Toilets)
Some camps are offering mobile phone charging
All camps are facilitated with solar power
No pipe borne water available ( boiled water from  creeks)
No shower available       
Mount Kilimanjaro: Climbing Cost
Climbing cost will vary from one company to the other and depending on the route and number of days one chooses to hike up the mountain.
Prices may be expensive when the climb is arranged on a private basis and less expensive when it is a group climb. Generally prices range from US $ 1500- 3000 and are inclusive of park fees, guides and support staff, accommodation (huts or camping), food and water, Kilimanjaro rescuing fees etc.
What to pack
While climbing Mount Kilimanjaro you will cross through several different ecological zones from lush rainforest to alpine desert to the cold and beautiful arctic zone on the summit.
The temperature at the base of the mountain can be 70–80°F, while on the summit it can be -20–20°F. Be prepared for the changing weather by carrying the appropriate clothing layers.
To pack for this, it's helpful to keep your climbing clothing and gear apart from your travel clothing and gear by packing in separate duffel bags or pieces of luggage.
Before you set out on your climb, you'll be able to leave your non-climbing clothing, gear and toiletries behind at a hotel or guide company office.
While climbing Kilimanjaro, you will typically carry the gear you need for trekking from one camp to the next in a medium-sized daypack (approximately 25–35 liters). You'll pack things like sunscreen, sunglasses, food, water, money, passport, a camera and extra clothing in this bag.
The rest of your clothing and gear goes in a large duffel bag that will be carried by a porter from camp to camp. Guide companies typically require that your duffel bag with gear weighs no more than 33 lbs. (15kg).
When buying a duffle bag for this purpose, look for one with about a 95-liter capacity. The duffel should be made from rugged waterproof material and have a durable zipper that can be locked closed with a luggage lock. Pack your clothing and gear in large plastic bags before stashing them in the duffel to ensure everything stays dry.
Mount Kilimanjaro ESSENTIAL Climbing Information
List of Climbing Equipment
         H

eavy duty duffel bag ( 95 liters, no wheels or rigid handles)
         Day pack (25-35liters)
         Pack cover ( rain cover
         Sleeping bag (comfortable to 15 f )
         Waterproof hiking boots
        Trekking poles
        LED head lamp with extra batteries
     One or two waterproof little plastic bags
 

Climbing Clothing
        

Sun shielding hat or cap and a warm hat
        Sunglasses
        Neck gaiter, balaclava or scarf
        T shirts
        Thermal tops and thermal pants
        Fleece
        Down jacket
        Water and wind proof jacket and rain pants
        Poncho
        Waterproof gloves and glove liners
        Hiking trousers
        Hiking socks (wool or synthetic) and liners
         Gaiters
Personal items
Many of the following items are optional and one can tailor make them to suit their individual needs.
Hard plastic water bottles or hydration reservoirs (3-4 liters a day) or one camel bag
Water bottle insulating sleeves
Watch with an alarm
Camera with spare batteries
Battery Banks 
Camping pillow
Camp towel
Insect repellant
Ear plugs
Small binoculars
Cash
Personal first aid kit
Portable battery bank
Toiletries
Alcohol Wipes: Great way to clean armpits as well as keep travellers personal  hygiene ( Please Read Traveller Personal Hygiene)  
Many of the following items are optional and specific to travel; tailor the list to suit your personal needs.
 

Toothbrush and toothpaste
Toilet paper
Wet and dry wipes
Women's hygiene items
Hand sanitizer
Lip balm
sunscreen
Biodegradable soap
Deodorant
Dental floss
Razor and shaving cream
Skin lotion
Spare eyeglasses or contact lenses
Prescribed medication (diarrhea pills, altitude sickness etc.)

Food & Beverages 
Guide companies generally provide breakfast, lunch, dinner and drinking water during your climb. You'll want to add to this by bringing snacks, drink mixes and energy foods. Check with your guide company to see what food is provided.
        Snacks ( cookies, snickers etc)
        Energy bars
        Energy gels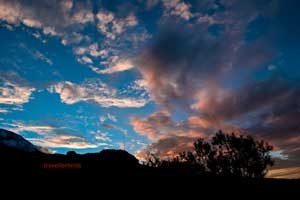 Mount Kilimanjaro: Best time to climb
The main trekking seasons on Kilimanjaro correspond with the mountain's two 'dry' seasons.
These are January to mid-March and June to October. Note that it will still probably rain on your trek during these months too – it's rare to climb without getting rained on at least once so it is good to be prepared with the right clothing.
Of course you can take a climb in the rainy season but there is a much higher chance you'll encounter rain, and the summits of Kibo and Mawenzi are likely to be wreathed in thick cloud too. Indeed, several agencies even suspend their operations in November and December.
Curiously, Christmas and New Year, when the weather is far from perfect, are actually amongst the most popular times.
It's true that visibility is less at this time though we take issue with those companies that say that your chances of reaching the summit are significantly lower too; that simply isn't the case.
True, once every couple of years or so there may be too much snow, blocking you from reaching the summit. But this is rare.
So as long as you are dressed for the conditions then, in our experience, you've got just as good a chance of getting to the summit.
Mount Kilimanjaro: Altitude Sickness
Acute Mountain Sickness is also referred to as "Altitude Sickness", and as the name indicates the illness is commonly encountered at exceptionally high altitudes, such as the summit area of Mount Kilimanjaro. AMS, once apparent, can be most effectively treated by immediately taking the affected person to a lower altitude.
Often a drop as little as 500m will be sufficient.
The symptoms of AMS include in the order normally experienced; headaches, nausea, anorexia, exhaustion, lassitude, rapid pulse, insomnia, swelling of the hands and feet and reduced urine output.
Climbers can take precautions to at least minimize the severity of the illness, by maintaining a slow steady pace from day one, include an extra day of acclimatization at a high altitude and by drinking at least 3-4 liters of water every day.
Preventative medicine is also available and you should consult your physician for specialist advice.
Fluid build-up may cause a condition known as edema (or oedema), which can affect the lungs (pulmonary), preventing effective oxygen exchange, or affect the brain (cerebral) which will result in the swelling of the brain tissue.
The latter can be lethal if not treated immediately or if symptoms are ignored. Probably 70% of all people climbing Kilimanjaro will suffer to some extent from AMS. You should familiarize yourself with this condition and take preventative care.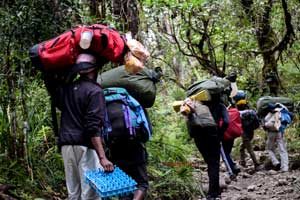 Mount Kilimanjaro Climbing Tipping guidelines:
Gratuities to guides and climbing support staff are not included, tipping is voluntary but it's an established culture among Tanzanians and especially the mountain crew,  you can do so at your own discretion but as a general guideline, plan on about $ 400-500 ( $120 per guide, $ 60 per porter, $45 per cook) for the entire trek.
Note: (1 person would require 1 guide, 3-4 porters and 1 cook)
Hiking on the "Rooftop of Africa  is the adventure of a lifetime?