Last updated on June 21st, 2017 at 02:58 am
Beaches La Reunion, thinking about a tropical island summons up, in most of us, the picture of a pristine white-sand beach with a coconut tree and crystal clear water.
Beaches La Reunion – being famous among travellers for its incredible Oceanic landscapes,even more now that a huge part of the territory is now part of the UNESCO heritage – may not compete with other countries in terms of sand fineness or whiteness.
Nevertheless, the coastline, thanks to its diversity, has lots to offer to counterbalance its lack. Here is a selection of beaches with a variety of assets.
Some of the best Beaches La Reunion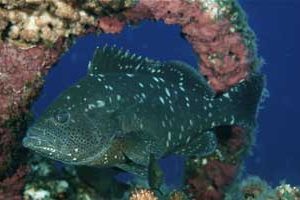 Boucan Canot:  boucan Canot is one of the most popular beach of the island and located on the west coast.
Beaten by waves, this beach is, despite a few shark attacks, a famous surf spot. Being a very frequented place, the authority decided to set a shark net in 2015 to prevent shark from entering the swimming area and, therefore allows resumption of nautical activities like surf.To the north, a sea-water pool made with black rocks.
If the water is not too rough, have a swim around that pool with diving mask and fins as you can easily spot colorful fishes such as parrot fish.
Teens and adults without kids are the main "population" visiting this beach. Families with young children prefer the lagoon of l'Ermitage, further South.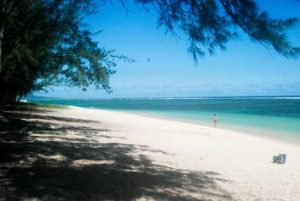 Ermitage: further South from Boucan Canot, L'Ermitage is where you will find the lagoon. Being protected by the reef, with shallow waters, and bordered by Australian pines (called locally Filao) which give a shelter from the sunrays, Ermitage is the favorite spot for families with toddlers and young children.
During holidays and on Sundays that area is taken by storm by Reunionese families gathering there to picnic. And the least we can say is that they come well equipped!
Tables, chairs, hammocks are often set by the filaos since morning to get a good spot. Later, pots filled with rice, carris and other local dishes will be brought for a nice lunch while kids will be playing football or making sand castles by the shore.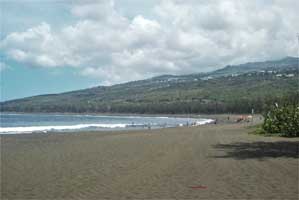 Etang-Salé-les-Bains: The beach of Etang-Salé-les-Bains, in the South of the island is a biggest black-sand beach of the island. It can be divided in two parts.
The South, near the cute little harbour and called Bassin Pirogue is protected by a reef and therefore safe to swim. There is a lifeguard post and showers.
The Northern part is open to the deep sea, with waves and currents. A few people brave danger to surf there. But be aware, sharks can be lurking in this portion of sea.
One last piece of advice, black sand can be scorching hot so be careful...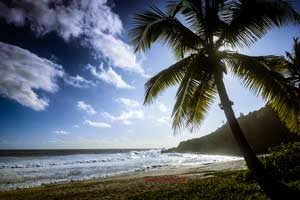 Grande Anse: located at Petite-ile, between Saint-Pierre and Saint-Joseph, Grande Anse is a picture postcard beach with its white sand, blue sea and trees (coconut trees and vacoas).
You can swim in a seawater-pool delimited by black rocks. Indeed, bathing outside this pool is forbidden due to the dangerousness of the waters surrounding it ( currents and sometimes sharks). If you want to spend the day, you can either get some food and drinks from one of the snack bars next to the beach or do like many locals and bring your picnic.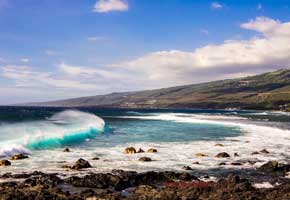 St Leu: Saint Leu has 2 beaches, less frequented than Ermitage. Both beaches have coral reefs, supervised by lifeguards. The first one is next to the city centre,  the second, called "citerne 46" is further South, at the end of the city.  The citerne 46 is bigger and has more shade but less protected against wind. The choice is yours…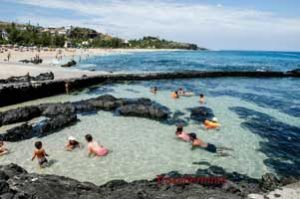 Beaches La Reunion some of the finest 
Written By Local Solo Traveller Clément Diringer