Last updated on August 4th, 2018 at 11:52 am
Shopping Singapore, everybody knows that Singapore is a heaven in South East Asia for a shopaholic.
According to some of the socio-biologists, women are linked to shopping in the same way that men are linked to sports and other activities such as hunting or fishing.  Often women's behaviour is explained by something like the "shopping gene": men are the "hunters"
My name is Tina, a legal assistant from Melbourne, Australia, and last month I took the trip of a lifetime. My boyfriend, Chris, and I spent five days holiday in spectacular Singapore, with a side trip to nearby Sentosa Island.
We are both hard-working with full-time jobs, and this was a perfect opportunity to enjoy some time off. The city has so much to offer and I would undoubtedly come back for the amazing dining, shopping, and beaches.
We flew out of Melbourne early Friday morning and made it to our hotel easily from the Changi airport. We arrived at our hotel, Pan Pacific Singapore, before check-in time and they offered us a free room upgrade!
The hotel was stylish, comfortable, and had all of the amenities we wanted. Additionally, our suite had a romantic atmosphere along with amazing views of the city.
Why Shopping Singapore?
We wanted to get a feel for the city and stretch our legs after the long flight, so we went out for a walk along the water.
 I was
immediately impressed by the cleanliness and energy of the city.
We came across Sim Lim Square shopping complex, which had any and all electronics imaginable to offer.
We picked up a valuable camera for a deal.
It was perfect to use for our time there to capture holiday memories as well Shopping In Singapore
Between the travel and the walking, we started to get hungry, so we returned to the hotel to clean up for dinner.
The hotel staff had some great restaurant recommendations, and the concierge even snapped Chris and me in the lobby with our new camera before we left.
We wanted a special dining experience to celebrate our first night in Singapore, so we went out to NOX – Dine in the Dark, one of the top-rated restaurants in the city.
The food and service were all wonderful, and the experience of dining in the dark was truly unique.

 
 We stored phones and the camera in a locker, and the staff guided us to our table.  The whole meal was spent with wonderful conversation, great service from our waiter, and delicious food – all in the dark! The Prix Fixe Dinner enabled us to try a variety of speciality food items and I opted for the wine-pairing menu. It was worth every penny for this truly multi-sensory dining experience.
Our city walk, shopping, and dining experiences were a great start to our holiday.
I was already enthralled by Singapore. We planned to spend a couple days on Sentosa Island at the beginning of our holiday to relax. So, after our first night, we packed up our swimsuits and bags for our side trip to the island.
Saturday morning we left shortly after breakfast for Sentosa Island! I chose Sofitel Singapore Sentosa Resort and Spa, a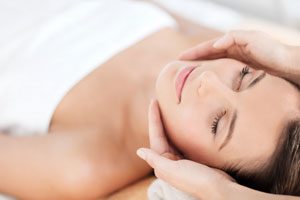 lovely hotel near the beach with a great pool and fitness centre. We had close access to the beach and many activities on the island.
We spent most the first day relaxing at the beach and hotel. The sunset views from our hotel were spectacular. Our night was complete with a delicious dinner of various Pan-Asian cuisine at the hotel's Kwee Zeen restaurant, followed by a night swim in their outdoor pool.
The next day, I had a morning spa appointment and Chris went to the golf course.  We had a lovely afternoon tea at the hotel's bar, and I was treated to some savoury pastries.
It was a truly luxurious morning. Afterwards, we went to the S.E.A. Aquarium, a place I would recommend for everyone at all ages.
It was a big, beautiful aquarium and definitely worth a visit!  We wanted a dinner on the water, so we headed to Coast, a highly rated restaurant along the Siloso Beach Walk.
It was a great dining experience, and we enjoyed a nice romantic, walk along the water after dinner.  We loved the island atmosphere, relaxation, and luxury resort experience on Sentosa Island.
It was back to the city, however, for us busy travellers! We returned to the city that evening. We checked back into a suite at Pan Pacific Singapore for the remainder of our stay. We were very happy with this luxurious hotel for our stay in Singapore.
On Monday we went to ION Orchard, one of the most glamorous and complete shopping centres I've been too.  I loved the décor of the building and the centre was complete with many designer shops.
My first stop was Sephora, where I splurged on some new lipstick and foundation. We walked through most of the mall, exploring the shoes and clothing.  After checking out the L'Occotaine scents and bath products, we went to Basement 4, their incredible dining hall.
ION also boasts a special top floor restaurant, Salt Grill & Sky Bar. We decided to skip to save our pocketbooks.
The options in the main dining hall were classy and varied, and we found a great spot called Province for a little something to tide us over.
I loved my shopping experience at ION Orchard and found some great shoes and clothing.  We ended up spending hours there! It can't be denied that Chris had been patient and even found some great leather shoes at Clarks. However, that this wasn't exactly Chris' ideal shopping experience as it had been for me.
So on the way back, we stopped by Sim Lim tower, a huge electronics complex where Chris did some bargaining. He was able to pick up some electronics for his flat, and we both went back to the hotel happy with our shopping day.
 We took a taxi to another part of the city, took a lovely walk along the water, and dined at a great place called Little Island
Brewing Co. It is located in a great spot, overlooking the sea and was great for food and brews.
I loved my short rib burger, served with cheese and a side salad. It's a true place for foodies who love food and beer, of course. Chris enjoyed their speciality – a smoked beef brisket that was tender and cooked to perfection, served with a side of fries. It was an awesome dinner.
The next day we took a beautiful walk along the marina then went to the Marina Bay Sands Casino to escape the heat and test our luck! We enjoyed some great cocktails and tried our hand at Roulette and Blackjack.
It was a fun environment and it turned out to be my lucky day. After a solid round of blackjack, we decided to quit while we were ahead and went to dinner. We enjoyed a great Japanese restaurant near our hotel and had fancy cocktails to celebrate our winnings!
On Wednesday we took a bus an easy 30-minute ride to explore Little India. Little India has an exciting, bustling environment. We walked Serangoon Road, the main commercial road as well as the Tekka Market. The area had all sorts of wonderful multicultural products, produce, and more.
We had typical Tamil Cuisine at a nice local restaurant. Afterwards, we checked out the Mustafa Centre, a 24-hour budget-friendly shopping mall, where I found a great pair of shoes on sale.
I would recommend a trip to Little India to anyone travelling to Singapore, as it is a great way to get to know the city and culture, and there are endless shopping opportunities.
Our main evening activity was a trip to the Singapore zoo for the night safari! This was such an incredible experience, seeing the animals up close at night. Our trip included dinner at the Chinese buffet, a walk around the exhibits, a zoo tour, and then a fire show!  
The exhibits highlighted the conservation efforts of many of the endangered species featured in the zoo. It was a good idea to walk the exhibits first, as the line had shrunk by the time we got to the tram. The zoo tour was so much fun! I loved seeing the tigers up close.
It took about 40 minutes and was my favourite part of the experience. We stayed for the fire show, which was truly enthralling. This last wild adventure turned out to be one of our favourite nights of the trip. I would mark the Singapore zoo as a must-see.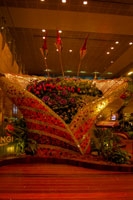 Thursday morning we had our return flight from Singapore to Melbourne. We arrived at the airport with plenty of time to check out the Changi duty-free shop. It was a perfect opportunity to grab a bite to eat and pick up some of my favourite cosmetics and perfume.
The shops have a huge selection and so many of the best brand names. What a wonderful end to such a fantastic trip! Singapore, I hope to be back soon.
More Travel Blog Here 
Written By Tina R Cline