Little India in Singapore, Also known as Tekka in the Tamil culture, Little India is part of the Rochor district, just east of the Singapore River. It should be noted that many Tamil immigrants originally lived in a segregated area during colonial Singapore, known as the Chulia Kampong area, which no longer exists.
Ethnic Singaporean Tamils Domination 
As Chulia Kampong became overcrowded, many ethnic Tamils moved into what is known as Little India. Well, today, Chinese Singaporeans are running out of this area, and more migrants from the sub-continent are moving in. So, Little India is not a large neighborhood. Still, you will know you have arrived once you start to smell the scintillating aromas escaping from local Indian restaurants, the vibrant colors of buildings and jewelry shops, and the orderly chaos of street merchants.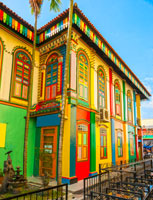 Serangoon Road
Serangoon Road is the main commercial road in Little India. Also, where you can also find some of Singapore's diverse religious culture, which includes an array of historic churches, mosques, and temples.
Best Landmark in Littel India in Singapore
 A tourist favorite is the Sri Veerama Kaliamman Temple, which is one of the oldest Hindu temples in Singapore and served as a vital center for social and cultural preservation in the heart of Little India. In addition to the Sri Veerama Kaliamman Temple, there is the Sri Srinivasa Perumal Temple, which is another gorgeous Hindu temple built-in 1885.
Mustafa Center is Well Known Singapore Shopping Mall
The Mustafa Center is a 24-hour department store on Serangoon Road, known throughout Singapore for its bargain value. If you are looking for a more distinct, fresh market, Tekka Market can be found on Buffalo Road.
Traditional Tekka Market
This market is well-known for its eclectic variety of stalls, fresh foods, spices, and flowers. 
If it is possible, try to visit Little India during one of the yearly festivals, such as Thaipusam in late January, Deepavali festivals beginning in late September, and Theemithi or fire walking festivals taking place in mid-October.
Little India is home to a few of Singapore Red Light District. Well, Due to a large number of migrants and they need sex providers. So, many ladies from Southeast Asia to Singapore and working as hookers in the area. Sex prices cheap here.