Medellin Travel info guide 
The city is called the everlasting spring because of its cool temperature, around 24° all year long.
Medellin was once famous for being the headquarter of Pablo Escobar's drug cartel, and therefore a dangerous place.
Nowadays, it is no longer an area to avoid. Indeed, the city has so much to offer in terms of attractions and things to do/see that it would be a shame to miss it.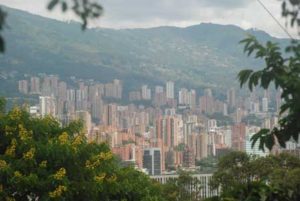 WHAT TO DO IN MEDELLIN 
Botanical garden : a huge garden exhibiting some 600 species of trees and plants, and include a lake, a herbarium and a butterfly enclosure.
It's a nice way to flee the bustle of the city for a few hours. If you like flowers and art and you get the chance to be there during the "Feria de las Flores" (flower festival) in late July/early August, don't miss the opportunity to visit the place.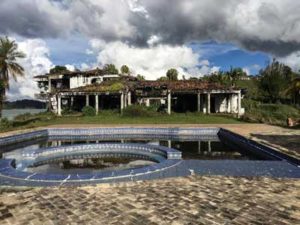 Explore park : an interactive centre featuring science and technology. You can also visit a planetarium and an aquarium in which there are nearly 4,000 fish of 400 saltwater and freshwater species that live in Colombia. It's a good option to keep children busy on a rainy day or just for fun.
Pueblito Paisa : replica of a typical "Paisa" (Paisa refers to Antioquian) village, at the top of the Nutibara hill,Pueblito paisa has the quaint charm of an old-fashioned village but is a tourist attraction with restaurants and handicraft shops. The view over the city from the platforms is really nice…
Plaza Botero : right in front of the Museo de Antioquia, is a busy place where numerous statues of the Antioquian artist, Fernando Botero, are displayed.
Museo de antioquia (Antioquia museum) : The museum showcase several collections including pre-Columbian, colonial and modern art works. The highlight is the 3rd floor, where there are many works by Fernando Botero and its unique style.
Arvi Park : It's an eco-reserve with trails for walking and biking.If you want to do some walking, you should get there early as some trails are quite long. Don't forget to bring rainproof-clothing and a light jacket as it can be chilly up there.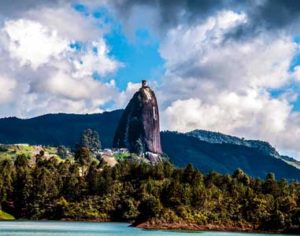 A farmers' market where you can buy fruits, veggies and handicrafts, is held there on Sundays.  you can reach the place with the cable car, part of the metro system. While in the cable car, enjoy a stunning view of the city.
Guatape : A charming village famous for its "peñon" and the breathtaking view that it offers (once you climbed the hundreds of stairs to reach the top… See Guatape Lake for more information.
HOW TO GET THERE
By plane : easily accessible by plane as flights from various destinations are connecting the city to other American countries (Peru, Panama, Venezuela, Mexico, America, etc.).
Many domestic flights are also available through Bogota, Cartagena, Cali, , Barranquilla, Bucaramanga, San Andrés, Santa Marta etc.
By bus :  there are 2 bus terminals in Medellin. It's true that it's a much cheaper option but also a much longer one.
Therefore, if you are limited in time, choose wisely your itinerary to avoid wasting to much time on the road… this being said :
The North terminal is much larger and it is connected with the Metro station Caribe and the rail system.
The buses serve cities North and East of Medellín (Cartagena, Santa Marta and Bogotá for example).
The South terminal is near the domestic airport Olaya Herrera (closest Metro station El Poblado but not within walking distance).
Serves towns South (Armenia, Manizales, Pereira, Cali).