Tibiao Antique, Tibiao is in Antique Province, Panay Island, Visayas, there are lots of things that you can do in this place. You can do trekking at Bugtong Bato Waterfalls, it has a powerful and stunning aura that will make the travelers attracted to it.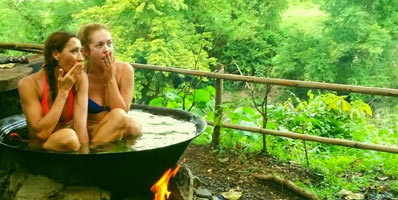 This falls has a jump off point which is good for the beginners, the local guide's fee that will lead your tour is just Php 100.
Another activity in Tibiao Antique the River Kayaking, where you will enjoy because you will be the one to navigate from the start to finish, the session costs Php 600 plus another Php 250 for the local guide.
This place was also blessed with metric tons of clay for brick and pottery, it is a good experience, discover the hand made art and learn a new skill by making pots and that is not all, almost all kinds of Native products are also available here.
Never experience to walk around in a hanging bridge? Now is your chance, try the Malakagat and Tigbaboy Bridge, the first hanging bridge in town. After the trekking experience, you may love to be relaxed. Try the Fish spa, it is not an ordinary spa because fishes are using to massage your feet.
And one of the ultimate attraction was the Kawa Hot Bath, it is a unique kind of relaxation experience because instead of taking a bath on a bathtub, you will be taking a bath in a large hot kawa or a large frying pan.
It is a very unique innovation, a tool used for cooking becomes a tool used for bathing. The fee is Php 100, you can stay as long as you want to stay. Enjoy your adventure.
Enjoy traditional relaxation massage in Philistine island nation
Book Tibiao Antique  best hotel Deals here