Write travel blogs to a visible organic search engine, like Google makes it even harder day by day. Well, As we all know that Google is the world leading search engine so far. Moreover, there no questions to be asked. I have seen many travel blogs were written beautifully; grammar, contents, topics, and literature have been used magnificently. However, those travel blogs not even on the 5th google page. It is crystal clear that no matter how good your language skills, still you need technical writing skills to optimize on the search engine.
So, My Write Travel Blogs information article focuses on how to write travel blogs to search engines optimization to get high readability on organic search.
Organic Search Challenges
The most significant information search provider, Google is changing it is search algorithm almost every year. Unfortunately, we have to keep up our Write Travel Blogs strategies up to date. Secondly, Many, like SEO's overwriting your organic web traffics.
Why is Search Engine Optimization the Importance?
However, you can't keep your Blog under your Bed. If you have talents and skills, you may want to earn money on it, when it comes to the level of making money on your talent works. In the end, you are facing a cost average US $ 1000.00 a year. Costs have occurred, such as website basic, SEO, web hosting, tools, and packages. How to make money Writing Travel Blogs.
Do you Need a Mater Degree to Write Travel Blogs?
Absolutely no. Be honest with you. I do use the English language as my second language. There so many reliable software could use nowadays you to minimize your English language weakens like grammar and others. What do you need to write a blog about any topics? All you need, information searching and research skills, pay attention to day to day social behavior, converting information into your writing topics, Social science, geopolitical & hydro political factors, Modern & current affairs, statistics & Bureaucratic solutions and extract relevant data into your blogs.
How to Write Travel Blogs Get an Impression and to Click?
I have checked my Google analytical recently. It well impressed me because there have no much gap between impression and click rate.
Technically, You only have 3 – 4 seconds to convert that search to click on your Blog and read it.
Second Stage of writing Travel Blogs Below Here!
I'm happy to provide you some of the basic techniques on this Blog as your beginners.
Key Words Selections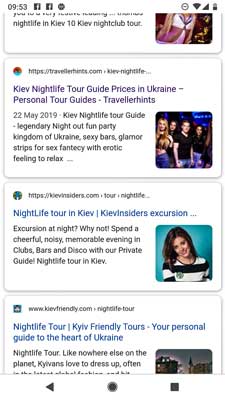 Google much on about keywords of your blogs. Since the Panda Algorithm rolled out, The search results only showing up accordingly. An example, If you search Kiev Nightlife Tour Guide? Travellerhints.com or Kievfun.com is showing the first page of google. So, I always happy to advise focus on one keyword other than many. Also, Use the Keyword to target your audiences. An example, "How Should New Immigrants Successfully Integrate Into a New Society."
Very First Paragraph of the Blog
Make sure to use the essential search keyword on your first paragraph when you write travel blogs because search engine focuses on those keywords.
Keyphrase Slug – Make sure no stop words on your Keyword. An example, Luxury Hotels-Sri Lanka. Those 3 keywords I have chosen has no stop word such as in, are, at, or there are many stop keywords to be avoided.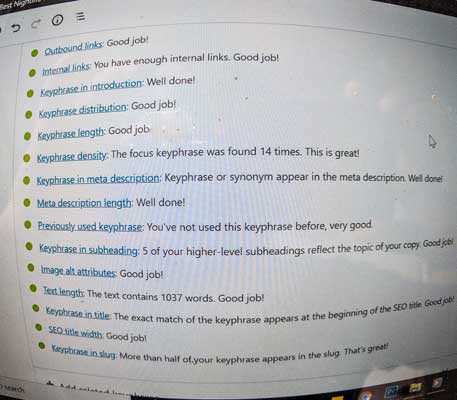 Keep Right Level of Keywords Density
Keywords density has profoundly impact on organic search visibility. An example, If your competitor has 5 keywords on its Blog If you use more than 5 keywords on your Blog? There possibility to show up your blog top of google search result.
Keywords Camouflaging
June 2019 google core algorithm rolled out completed recently. Google is only showing two search result from one website for one keyword search result.
Language Setting on Page Level
It is a better way to write travel blogs in the same language what you have sat on your website. An example, Under technical SEO, there language setting category to set focus language of the website like American English, British English, or Australian English.
The Body Part of the Blog
Make sure write Travel Blogs with Solid contents, no plagiarism, and over 300 words in the body part of the Blog.
Headline and Subheadings – If you don't have a compelling headline, then there is a perfect chance that your blog post may not be read or shared.
H1 – You're the very first headline. The very first headline has to be matched with your entire Blog.
Subheading – Subheadings are playing vital points when it comes to optimize and write travel blogs for online purpose. Subheading categories are H1, H2, H3, H4, and H5 are the most important.
H2 to H4 Headlines with your main keyphrase and synonym must appear.
Write Travel Blogs with Enhancing Readability.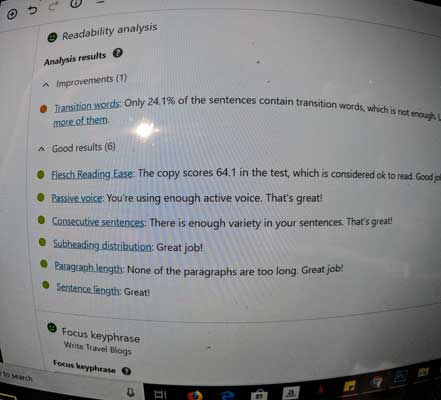 Google sat benchmarks of easy understanding of the contents. Google always make sure to high indexability for accessible readability blogs.
How You Enhance the Readability of Your Writing?
Well, The best way to explain it. Many people are using online reading nowadays. Most of the audiences are coming from Non-English spoken background.
So, What, We have to keep our writing elementary less complexity.
An example, Many transition words, overall Flesch reading score,
less passive voice, keep consecutive sentences, make sure subheading evenly distributed, make shorter paragraphs length, and short sentence length.
Matching Images
Naturally, Our Human brain processes high contrast visual content a lot faster than written text-based information. So, make sure to match your images focus on audiences as well as your subheadings.
Summarised of Optimization For SEO
I always recommended you to write your Blog for SEO because If you want to attract people on your Blog, You need to have a delivery method of your works. So, SEO is the method of delivery online without paying to anyone.
Below Are Some of the Essential SEO Tips That You Should Be Followed
Add proper SEO Tittle
Add proper Meta Description
Optimize for Focus Keyword
Use related keyword variation
Add an image alt attribute
Interlink my content
Outbound links
Keywords in the introduction
Travel Blog advance Optimization Helps and hints with our online freelancer Guide Here.
We can help your online consultations with the best possible comparative hourly rate.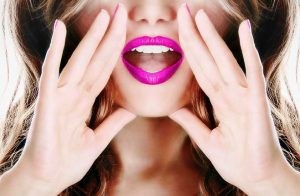 +61497822189

Australia, Perth - Melbourne