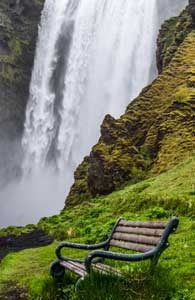 Skogar, or literally "forests" in Icelandic, is located near the southern tip of Iceland.
The village only has a population of around 25 people, but it is a major tourist attraction for visitors to Iceland.  
The town site sits roughly 25 kilometres south of the famous Eyjafjallajökull and Myrdasljökull glaciers.  It is also a stone's throw away from the ocean cliffs of Dyrhólaey, which is a perfect location for bird watching.
 However, the main attraction to Skogar is the impressive Skógafoss waterfall, which falls over 60 metres from the top of an eroded cliff.
The Most Beautiful Skógafoss Waterfall in South of Iceland is the Legend of the Treasure in Iceland.
The waterfall has been travellers all time favourite waterfall in Iceland. Skógafoss is one of the biggest and most beautiful waterfalls in Iceland, with a drop of 60 meters, width over 25 meters, and travellers can walk right up to very top of it, but be prepared to be drenched.
It is just overwhelming standing next to the fall.  Also, at the base of the waterfall offers beautiful flat field as well as  most beautiful campsites with unimaginable views, where you can enjoy the stunning waterfall for the duration of your stay in Skogar.   
Skogar also boasts the very interesting Skogar Folk Museum.  
The original founder of the museum (also the man responsible for settling Skógar) back in 1949 still works as the curator of the museum and serves as a very amiable host.  
There is also a campground behind the museum. The town and around  is the perfect base for those looking to hike the many trails in Iceland's Southern Highlands.  
The area also has a wonderful hotel, a pub, a café, a restaurant, and even an isolated area for nude sunbathing, for those who are particularly immune to the cold!