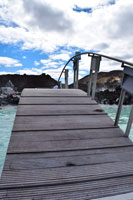 The Blue Lagoon is one of the most popular destinations in Iceland.  Whether you are looking for just a dip in the therapeutic blue water, or a full scale, luxurious spa weekend, the Blue Lagoon is a must see for anyone visiting Iceland.
Options range from the base fare (€35-50), which provides basic access to the lagoon, the Blue Cafe, and the Lagoon Bar to the Luxury Pass (€165-195), which affords you with entrance, a bathrobe, a towel, a complimentary drink,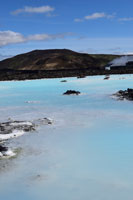 a set of Blue Lagoon spa products, a pre-drink and dinner reservation and in house gourmet restaurant LAVA, and access to the Exclusive Lounge.
 If that isn't enough, order one of the variety of in water massages offered, and if you still can't leave, spend the night at the luxurious Blue Lagoon Clinic Hotel, with access to a private bathing pool.
Truly the ultimate relaxation spot to unwind and take in the breathtaking Icelandic scenery.  
SPA –  in – water massages 
Travellers are floating in the soothing warmth of a wonder of Iceland. Your massage – deep, sensational relaxing, and conducted with Lagoon mineral sand  or massage oil – is a wonder unto itself.
This in the water experience, the Relaxing Massage, is the foundation of all other the Lagoon massages and treatments are below.
RELAXING MASSAGE
+ Optional Extras
You choose the duration and the areas to focus on during your treatment.
– from 30 min
– from ISK 10200
Lagoon entry not included.
Blue Lagoon – SIGNATURE TREATMENT
Scrub, Wrap, and Massage
Two hours of rejuvenating wonder: A cleansing, nourishing, strengthening, revitalizing experience.
– from 120 min
– from ISK 31200
Lagoon entry not included.

According to the website "
This extraordinary, 2-hour treatment cleanses and strengthens your skin and entire body, leaving you energised and nourished.
It begins with a salt glow: your skin is scrubbed and polished with an invigorating combination of Blue Lagoon natural minerals and oils.
The salt glow is followed by a silica or algae wrap: your body is swathed in the element of your choosing and you float on a mattress while your face and scalp are gently massaged. The final stage of the treatment is a 50-minute, full body, in-water, relaxing massage.