Lyon has won the award of the best European destination for weekend getaways.
The city is divided into several districts. Each one of them is different and has something to offer to travelers.
Opportunities and leisure activities are diversified: sport and outdoor activities, festivals and events, culture and heritage, architecture, gastronomy and wine, shopping, nature and landscapes.
Lyon tends to be trendy over last couple of years especially among students and the "hipster" community.
The original and unconventional atmosphere of the city will seduce you as much as its traditions and intemporality.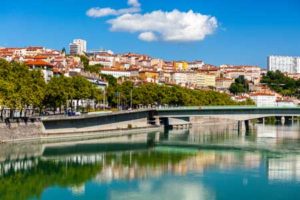 Sites and Historic monuments
Lyon is a top destination for style and architecture lovers. The city has changed and evolved over past 2000 years and is still under constant evolution process nowadays.
Every period of history is well represented in Lyon and that's why Lyon is now part of the UNESCO World Heritage list.
The best architecture and art masters have worked on the city buildings and monuments.
Here is a sample of the most valuable, emblematic must-do places and things in Lyon.
This list is not complete but it's probably useful for short stays in Lyon. If you only stay for a weekend or a few days, those sites and monuments are the absolute representation of Lyon and its inhabitants:
Basilique de Fourvière
This Basilique overlooks the city of Lyon and offers a spectacular panorama and scenery views. It was built in 1896 and is maybe the most signature building of Lyon City. Discovery, Insolite and thematic guided tours are available.
Opéra de Lyon
Located on the Place de la Comédie, opposite of the Hôtel de Ville, the Opera is also known as the Opera Nouvel. If you wish to visit the inside of the Opera, guided tours are available within the Tourist Office.
Théâtres romains de Fourvière
It's a foundation site of Lugdunum in 43 BC by Munatius Plancus. The site counts the Big Theatre, the Odeon, the underground of a Cybèle temple and the remains of an old artisanal district.
Le théâtre des Célestins
From 1424 until now, this building has changed a lot: religious building and theatre, it's now a place for relax and it creates a beautiful element in Lyon landscapes.
UNESCO World Heritage – Lyon
In 1998, 10% of the city has been registered as a UNESCO World Heritage. 427 hectares of Lyon is considered beautiful and unique enough to be represented worldwide through this classification.
The Old Lyon, the Fourvière Hill,the Croix Rousse Hill, the City Centre and the péninsule are part of this Heritage.
Hôtel de Ville
Built in initially 1646, and then re-built in 1700 after a fire, this building is a very exceptional place: the paintings and sculptures are sumptuous.
Le quartier de la Croix-rousse
The Croix Rousse is constituted by a hill, a peninsula, the slopes and the "Village".
Les traboules du Vieux Lyon
The "traboules" are small shortcuts inside walls. They allow people to go from a street to another by taking small indoors paths (inside buildings, courtyards…).
They are unique and have many architecturales insolit elements such as galleries, spiral staircases, wall designs.
La fontaine Bartholdi
This fountain is a huge piece of artwork: 360 tons including 21 of plumb. In 2016 the fountain was removed from its original place to be restored and placed back after. Probably by the end of 2017.
Primatiale Cathédrale St Jean Baptiste
This cathedral was built in 1480 and has evolved tremendously ever since. Some elements are even older. The visits are free.
Basilique-Abbaye St Martin d'Ainay
It is the only Roman church in Lyon coming from the 11th century. It was built on the original spot of an old carolingian church from the 9th century.
Insolite Lyon
If you have more time to visit Lyon there are also some more insolite and original sites to visit
Flower tree
The bouquet "Flower Tree" counts 85 flowers designed by the Korean Artist Jeong Hwa Choi, it was exposed Place Antonin Poncet during a contemporanean art meeting in 2003.
L'usine des eaux
Fresque à la rencontre des Lyonnais célèbres
This is a painting wall that covers about 800m² representing 2000 years of History and 25 famous characters from Lyon.
6 characters are still alive. Some influential people are also represented. It was created in 1994/95 by La Cité de la Création.
Parking des Célestins
Open 24/7, this place is much more than a parking place with car bays.
This building is exceptional and unique. This artwork is called "sens dessus dessous" referring to its corny and unconventional architecture. This place is worth the detour.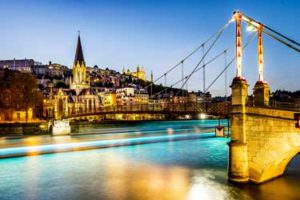 La maison aux 365 fenêtres – Maison du temps
This mansion is delimited by the Place Rouville and the streets of Flesselles, Rivet and Prunelle. It was built by M.Brunet in around 1810.
The 365 windows represent the days in the year, 4 doors for the four seasons, 2 times 6 floors for the months, 52 flats with chimney for the weeks, and 2 stairways of 164 steps to represent when the sun goes up and down.
Chapelle expiatoire – "La croix glorieuse"
Erected in 1898, this chapel has a crypt where  the bones of the victims of the Revolution of 1793 and 1794 were placed. Guided tours are available.
La cité des étoiles
This architectural and urban ensemble called Etoiles de Renaudie, built between 1974 and 1981, has received the label 20th century Heritage in 2003.
This district is composed by social lodgements, public services and shops. Its architecture in star shape allows many lodgements to have terraced-gardens. Guided tours with the Tourist Office are available
Religious Heritage
From Middle-age to the Renaissance the Christianism had a huge place in society in Lyon.
The city has a big representation of christian churches through times, but of different religions as well such as Islam with the mosque, temples and synagogue.
 Some buildings are definitely worth a visit. As there is so many inside and around the city, the best option is to ask the Tourism Office. They'll tell you what to visit considering what you'd like to see:
Romanian churches, Gothic styles, old abbayes –  also depending whether you have a vehicle or not. Note that usually you're free to visit religious buildings, especially churches.
But some of them are now turned into museums or cultural places and you may need to book a guided tour.
Bridges and Art buildings
Lyon is a city crossed by the Saône River and the Rhône River. It has more than 29 bridges and catwalks. Each of them has a style, history, its own function and its architect. Here is a list of the most interesting ones:
Passerelle du Palais de Justice
This bridge crosses the Saône River, between the quai Romain Rolland, the quai St Antoine and the quay of Céléstins. This little bridge is 126 meters long.
Passerelle du Collège
This bridge has been made under the pressure of the inhabitants of the left side of the river in order to go to high school.
Before, they had to cross further and the path wasn't safe. This bridge use to guarantee the access to school. It was damaged during the WWII but fixed and has commemoratives inscriptions on the stones.
It is located on the Rhône River, between the quai Jean Moulin and the quai of the General Sarrail.
Pont de l'Ile Barbe
This bridge is the oldest in Lyon, still used till nowadays. It hasn't been damaged during the wars. Built in 1827 by Marc Seguin, an architect from Lyon, this bridge is suspended.
It crosses the Saône, between the quai Paul Sédaillan and the quai Raoul Carrié.
Pont de la Mulatière
This old bridge has been destroyed and rebuilt many times since 1776. It is located at the Confluent.
Centenary Pyramid
This pyramid, on the border of the highway A7 is a project of the artist Kate Blacker in1988.
The Croix-Rousse tunnel – le tube modes doux
Dedicated to ecologic transports, this tunnel is made for pedestrians, bicycles and buses.
This very original place is animated by video projections and a sound system on the wall. This cultural and ludic path has different programs. It's a very unique experience in the city.
Military Heritage
Lyon is a city surrounded by military fortresses, mostly constructed during Napoleon III.
Most of them are not available for visits, but some open their door, converted into memorial or religious places, museum.
The military heritage in Lyon is still strong nowadays. Most of these historic sites are located outside of the city. They constituted a military belt all around the city.
Fort de Fron
Built during the 1870's, this fort is probably one of the most interesting and well preserved around Lyon. This important place in the city of Lyon has today a leisure purpose but remains a historic site.
The website of the tourist information office of Lyon has a long list of forts and military heritage places for the passionate visitors. Ask the office if visits are available.
Culture and leisures : Museums
Museums, living spaces for discovery, conservation and culture are improving with their time and tend to be accessible for public.
Enjoy expositions, guided tours, workshops, seminaries, reading sessions, living arts…
Technology is now a part of the experience: audio guides, interactive tours and mobile apps.
From the romanian civilizations, the adventure of silk and fabrics, the Puppets of the world, the printing house, the invention of the cinematography, the history of the Resistance to the Beaux-Arts, museums will show you the history and the heritage of Lyon.
The main museums are free with the Lyon City Card.
Lyon Districts
A new district, a new atmosphere ! The quais are good for markets and it's charming. The peninsula is a strategic place for shopping at the Carré d'or, good restaurants and terraces.
The Vieux-Lyon will please your for strolling. The Croix-Rousse slopes for the nightlife and artists.
The Part-Dieu is the central business district. The confluence is really trendy. However you're a hipster or a fashionista, you'll find the right place for you in Lyon.
Where to sleep
Just like every other city, the closer to the city centre you stay, the more expensive your accommodation will be. Lyon has wonderful hotels for those who have an estimated budget for accommodation.
Look well and compare rates online to find the best offers for you. Lyon is a big city and you'll always find a place to stay.
But be careful during the main events like "La Fête des Lumières". Prices are inflating and availabilities are hard to find.
Youth hostels are available in town from 15€ per night and per bed.
If you're looking for an outdoor accommodation such as campings, mobile-homes or insolite place to sleep, you may need to find your way outside of the city itself.
Even though the city is the main destination in the area and is well organised in terms of public transports, you'll probably need a vehicle.
Otherwise your travel to the city and back to your place might be a bit long, expensive and a waste of time.
For the travelers in need of human contact, couchsurfers are easy to find in Lyon. As much as room to rent directly with particulars.
French Gastronomy
France is probably one of the top destination for gastronomy: rich, diversified, high qualit.
 Each region has specialties and they're all good! But Lyon has something very frenchy and very popular among foreigners and inhabitants themselves.
The most popular and appreciated food is the "Bouchon Lyonnais".
Tose typical restaurants are usually very cosy and offer warm and familial dishes,usually made of cheese, good meats with savoury sauce and so much more.
Price ranges are very large. Some of those Bouchons Lyonnais can be very fancy or cheap but not so traditional.
Wines are well represented in Lyon. Always ask servers how to match your food and your wine. They'll give you good advice.
Lyon is a very rich city in terms of lifestyle, arts, culture and heritage. The atmosphere is typical one of a french city with its architect from old times. Lyon is must-do while travelling in France.
Written By Solo traveller 

Margaux Ot from France.
Get your travel direction on GOOGLE map here!