Bordeaux is also the City of Wine, with incredible wine culture. Stroll around the quais of the left side of the river and contemplate this wonderful urban heritage from the 18th century.
Explore the vineyards of this region, famous for probably the best wines in the world.
La cité du vin, un monde de culture
This cultural centre located in Bordeaux, is a place which has been dedicated to the Wine Heritage throughout ages and civilisations.
It offers interactive tours for everyone daily and it is accessible for every kind of public.
The visit usually takes 2 hours to discover wine and its culture through your own senses.
To visit this extraordinary place you need to book online through the official website of the venue.
Miroir d'eau
The water mirror is not even ten years old but it became, very quickly, one of the most attractive places in Bordeaux.
This pool designed by a landscape artist is a real attraction in the city. Water comes out of pipes with different rhythm every two minutes for the joy of children and visitors.
This place is especially appreciated during summer – when you can refresh yourself in the cold water. The mirror effect makes it a very scenic place.
It is now a contemporary world Heritage by UNESCO and the most photographed place in Bordeaux.
Strolling in the Bordeaux, UNESCO World Heritage
To visit this remarkable area of Bordeaux, you can do it by yourself or you can book a guided tour (2 hours long) with the Tourist Office of Bordeaux.
Maps are available at the office so you can identify which area is recognized as UNESCO World Heritage. This huge determinate area is interesting for its architecture, buildings…
The Grand Theâtre
The Opera House is a wonderful monument full of architectural and decorating details. This building stands on a former temple but it's now the most well-known and appreciated building in Bordeaux.
It was inaugurated in 1780 by a play of the famous Jean Racine. The Grand Thêatre is one of the oldest theatres in Europe.
CAPC, the contemporanean art museum
Bordeaux has a very rich selection of contemporary Art in France. The art museum organizes reading sessions, meetings and exhibitions besides the permanent collections.
The Pey Berland tour and the St André Cathedral
This royal cathedral is a marvellous building with a unique style. The bell tower is separate from the building due to construction restrictions. You can visit the Pey Berland belltower every day except monday for 5.50€.
The public garden
This relaxing and colourful garden is the perfect place to relax with friends or family during the day. This public garden was  labelled as "Jardin remarquables de France" (Remarkables French gardens).
This complex is composed by the public garden, a botanic garden, the Natural History Museum and a bar-restaurant. Surrounded by typical and lovely town houses, the public garden of Bordeaux is a well appreciated place of life.
Scenery Roads of Bordeaux Wines
The sumptuous Bordeaux Vineyards are 112,000 hectares long and distributed in 6 different wine roads.
These rich and wonderful scenic itineraries are: The Médoc, the Graves, The Sauternes, Saint Emilion, Blaye & Bourg. A huge range of offers is available at the Tourist Office or at tour operators – for every budget.
Those roads are famous all over the world for their wine but also for their Chateaux, small villages, scenic roads.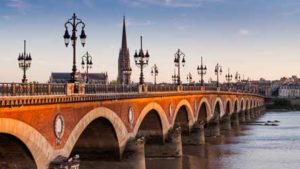 Culture & Heritage
Bordeaux counts hundreds of places to visit including museums and cultural centres: art, architecture, science, customs, civilisations, châteaux or even archeolog.
 Everyone is able to find the right place to visit. The cultural Heritage of Bordeaux also includes streets, esplanades, districts such as:
Place de la Victoire, Place de la Bourse, Saint-Pierre district, Tourny streets… There is a very complete and helpful list of 66 cultural things to do and see in Bordeaux on the Tourist Office website. Follow this link for specific information:
Hanging out & Shopping
The city is a vibrant French city. And just like every important city in France the shopaholic inside you will be pleased.
From luxury brands to typical handcraft workshop Bordeaux knows how to make a city full of life.
The best place for shopping is the Triangle (formed by Cours de l'Intendance, Cours Clemenceau, and the Allées de Tourny), the Old Bordeaux and the Quai des Marques Outlet Center.
Besides those iconic places for shopping, every part and street of the city has something to offer. Don't forget to visit art galleries and antiques shops.
Leisures – Bordeaux
Cruises, boat tours, zoologic park, adventure parks, kayak, segway, Aqualand, ludic farms… The amazing diversity of leisure activities available in Bordeaux and its surrounding is a strong advantage:
you don't need to go too far to find something to do. You can stay for weeks in Bordeaux without being bored. From traditional attractions such as zoo, sunbathing by the lake to innovative concept like Ghost tours or Escape Games, Bordeaux will always surprise you.
Where to stay
No matter if you want to stay in an elegant 5 stars hotel in the countryside,in a full furnished apartment in the suburb or in a youth hostel in town, Bordeaux has it all.
For substantial budget, staying in a Châteaux nearby vineyards could be an amazing and charming experience. Numerous romantic places are available, usually outside of the city.
Contact qualified agencies to rent a furnished apartment.
Those offers are available for both short or long stays. Plenty of them are on the market, always ask several quotes from different agencies. Don't forget to have a look to travelers recommendations.
For experimented travelers or the most adventurous or small budget, youth hostels, Airbnb or couchsurfing is a perfect option.
For family or people with a car, there are campsite in the suburb of Bordeaux
As Bordeaux is one of the stops within the Santiago de Compostella Pilgrimage route, there is a place called the Pilgrim House which able to provide accommodation in religious places.
You need to contact associations so they can help you. If you're not a pilgrim and want to try an experience, please refer to those associations before booking.
Bordeaux, this magnificent city is vibrant, very much alive and always surprising.
Find your perfect way to travel: leisure activities, Culture, Religious Heritage, Shopping.
Or a mix of all of them.  Either way, you will not want to leave Bordeaux any soon.
Get your  travel direction on GOOGLE map here!