Located in the south-east of France, Avignon is a top destination for the culture lovers. This city, surrounded by medieval ramparts, has a very charming atmosphere.
Famous for its Festival in July and August, the city celebrates theatre and arts in general. Each year, the city welcomes people from all around the world. It's the best period in the year: streets are vibrant, full of people, decorated to promote shows, cabaret and artistic representations…
But its Festival isn't the only reason to visit Avignon. Let's discover why you should go to Avignon next summer!
What to do in Avignon?
During Middle Age, Avignon was the capital of Christendom. That's why the city is so rich in history and culture. Many monuments and places in town are listed as UNESCO  World Heritage.
In 2000, Avignon has been elected European City of Culture.
For your holidays in Avignon, book a seat for a cultural event such as opera, permanent theatres, and dance performances.  During the festival, you'll find a catalogue with all the listed events inside and outside ramparts, "in and off". 
During this period, all the streets are full of performers, dancers, singers and you'll love strolling, eating an ice cream or the famous French crêpes.
Inside the ramparts is the heart of the city.  This is where all the secrets of Avignon are hidden. The Doms rock and the Palais des Papes (Popes Palace)
The Doms rock is an ensemble of different sites classified at UNESCO as World Heritage: Pont Saint-Bénezet (Bridge), the ramparts, the little palace, the Doms Cathedral, and the medieval architecture.
Build in 1335, the Palais des Papes is the biggest gothic building in occident. It's the 10th most visited monument in France. And considering how France is popular, it really means something!
From the Doms rock, the panorama is wonderful: the city, the Rhône which flows below. A unique and genuine mix between urban, architectural and natural landscapes. Guided tours are available or discover the Palace by yourself.
Don't miss the Saint-Bénezet bridge called "le Pont d'Avignon", known world-wild with the famous song for kids "Sur le pont d'Avignon". Learn with a guide, how this bridge has been destroyed and all its history.
Strolling in the tiny and cute streets will enchant you. In a magical atmosphere, discover hundred of shops: handcraft, local food and many more.
By night, discover Avignon through a different angle. Have a drink into one of the numerous bar, clubs or restaurant in the city. It's not sassy or really fancy, but you'll find the right place for the night.
Surroundings are as interesting as Avignon itself : mediterranean landscapes, vineyards, hiking, sport, culture, architecture and so much more.
What to visit – Avignon
Roussillon
This little town is classified as one of the most beautiful in France. Roussillon is flamboyant by its colours. Indeed, red, yellow and orange ochers are everywhere from the floors to the walls. This town is a very unique place to make wonderful pictures.
L'abbaye de Sénanque and Gordes
This abbaye is located in the magnificent village of Gordes. Built in 1148, this religious building is a testimony of another age. The place is still occupied by monks nowadays. Surrounded by lavender fields, the abbaye is a must-do in the area. Gordes is very special as well. The castle, the caves, the mill,and the "bories" (shelters made of rocks) will occupy you for at least an entire day.
Fontaine de Vaucluse
South of France is very famous for its traditional villages and once again, Fontaine de Vaucluse is enchanting. Between cliffs and water, this town is popular for its gulf. Even Cousteau has been interested by this mysterious source of water. Visit the paper mill, the glassware, the old castle…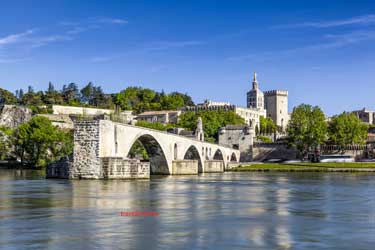 L'isle sur Sorgues
This last and not the least town is a pure gem for the antiquities lovers. Very pleasant to visit in summer, this town is refreshed by the same waters as Fontaine de Vaucluse. L'isle sur Sorgues is a very picturesque southern city and very appreciated even by locals.
Where to stay?
Avignon has a multitude of hotels, bed and breakfast, apartments to rent, camping. Everyone is able to find an accommodation for his budget.
If you plan to visit the city during summer, consider that prices will increase. Cheap options such as couch surfing or youth hostels might be a good way to save money.
Staying in Avignon could be expensive so I would recommend to look for accommodations in nearby cities.
Avignon and its neighbouring towns are very typical of South of France and a good representation of it. Architecture, food, art, life style are very specific to the Province.