Newfoundland and Labrador remain the most easterly province of Canada, situated in the Atlantic Region. Although the mainland is almost double the size of the island, 95 % of the population inhabit on the Island of Newfoundland, with a large portion of this living in St John's, Canada's oldest City in North America.
Newfoundland was the last addition to Canadian confederation, as it was its own independent country up until 1949.
The spectacular surroundings and abundance of space inhabits a variation of seasonal activities for the outdoor adventurer.
With over 29,000km of magnificent coastlines Newfoundland and Labrador uphold a plethora of coastal activities, whilst remaining one of the best places in the world to view icebergs.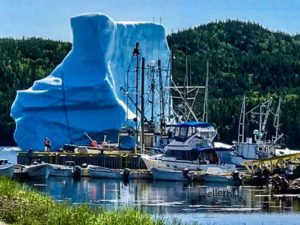 With 80 local and rural campgrounds throughout the province, and more than 200 hiking and walking trails, including the Historic National Site L'Anse aux Meadows where Vikings first landed at the tip of the province.  
Where land meets sea, there is a  multitude of coastal walking/ hiking trails, amongst the opportunity to kayak, canoe, dive, fish, bike or even hop on a boat, Terra Nova National Park, located in Newfoundland is 400 km of beauty and adventure.
With an abundance of wildlife, in particular birds and whales, there is a notable 22 species of whales inhabiting in the area including blue whales, humpbacks, sperm whales and orcas.  With Shipwreck sites of Bell Island, caves and waterfalls to explore, the coastline of Newfoundland and Labrador is definitely not a dull one.
With an impressive snowfall through winter months, The west coast of Newfoundland and Labrador have plenty of winter sport activities, such as snowboarding and skiing at slopes such as Marble Mountain in Newfoundland and Smokey Mountain in Labrador, snowshoeing, dogsledding, cross country skiing and snowmobiling. With an amplitude of activities available in the provincial or National Parks, notably in the World Heritage site; Gros Morne National Park.
Whilst there is much to be desired for the outdoor enthusiast Newfoundland and Labrador uphold a number of cultural activities, food and dining experiences and festivities for everyone.
With an elaborate Irish, English, French and Aboriginal influence in the province and Labrador, there is many cultural experiences to be had.
From visiting Torngat Mountain where Inuit inhabit and travel to the Irish Loop at Ferryland Lighthouse. With festivals celebrating the culture such as; Trails, Tales and Tales Festival and  Gros Morne Theatre festival, both located in the Gros Morne National Park.
Newfoundland and Labrador Folk Festival in St John's North West River Festival in Labrador. With museums, historic sites or just soaking up the pub culture there is much to be seen and done in the picturesque province of Newfoundland and Labrador.
Written by Solo Traveller 

Emily Matthews