Barry Island is a peninsula of land located just off the South Wales coastal town of Barry. Its name is misleading as it is no longer an island as it is now joined to the mainland however it used to be an island just off the South Wales coast. Barry Island has been inhabited for thousands of years and has featured Roman and Viking settlements.
History of Barry Island
In the 6th century St. Baruc gave Barry its name after he died in the seas around Barry while travelling in a small boat during a storm. A church was made over his grave after he was buried on the island and its ruins still exist on Friars Road.
In recent years Barry Island has seen an increase in tourism after many years of decline. In 1896 a direct railway line to Barry Island made Barry Island's beaches a popular destination for holidays. In 1966 a Butlins holiday centre was made on the island but since its closure in 1996, Barry Island became less popular as a tourist destination.
In recent years this has changed and there has been an increase in tourism. This increase in tourism is partly because of Barry Island featured frequently on the successful television series "Gavin and Stacey" and also partly due to government funding to improve its facilities.
Why Visit Barry Island?
There are many good reasons to visit Barry Island: It has beautiful scenery, pristine beaches, great traditional seaside food and exciting attractions all contained in an authentic British seaside resort.
Beautiful Scenery and Pristine Beaches
There are three main beaches on Barry Island that are all with excellent water quality so are good for swimming. These beaches are: the rugged Old Harbour, the popular Whitmore Bay and the quiet and secluded Jackson's Bay.
Old Harbour Beach
The Old Harbour is located to the West of Barry Island and has a harbour wall to act as a shelter for boats during storms. There are still a few wrecked boats in the harbour although it is not really used these days to store boats. The harbour wall is good to walk along to take photos and is located to the south of the Old Harbour. The Old Harbour features a beach where you can sunbathe during summer months.
Whitmore Bay Beach
Whitmore Bay is located to the South of Barry Island. This is the most popular beach for tourists and is large enough not to be too crowded even during busy days. At the top of this beach is a promenade that leads to the local shops, cafes and attractions. There are some notable features that are interesting to visit along Whitmore Bay's promenade.
There are some holiday huts to rent for day trips located along the promenade. These can be useful to keep belongings in during busy summer days. The promenade also features some giant Victorian era shelters. These can act to shield tourists from the weather and are also interesting to take photos of.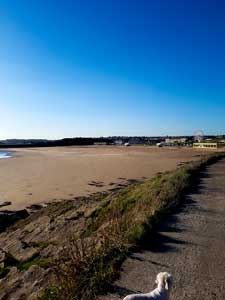 Jackson's Bay Beach
Further east of Barry Island is Jackson's Bay. This is a secluded and small beach that only really locals go to for some peace and quiet and it is popular with early morning swimmers.
Friars Point
For beautiful scenery take a walk along Friars Point located to the South West of Barry Island. Friars Point is a peninsula of land that stretches out to sea. There is a footpath that leads along the peninsula to its point. At its point you are almost surrounded by the sea of the Bristol Channel except for a thin strip of land. At the end of Friars Point you also get great views of Whitmore Bay and The Old Harbour, perfect for photographs.
Great Traditional British Seaside Food
There are three types of traditional British seaside food you can get on Barry Island: Fish and chips, seaside cafes and seafood. Amongst the best Fish and Chips is located in the Victorian era shelter at the far end of Whitmore Bay's promenade. If you want an authentic seaside cafe then try one of the several cafes along Friars Road, offering stunning views of the Bristol Channel. The traditional local seafood is seasonal and is located in a pop-up trailer along the Whitmore Bay's promenade.
Exciting Attractions
There are several main attractions on Barry Island that are a must do for potential visitors.
Barry Tourist Railway
On Barry Island there is the unique Barry Tourist Railway. This railway offers the opportunity to travel on vintage trains for reasonable prices. The tours will offer some views of Barry Island and the town of Barry.
Fairground and Slot Machine Arcades
Any traditional British seaside resort would not be complete if it did not have a fairground and a slot machine arcade. At the centre of Barry Island is a fairground with many exciting rides such as dodgems and a merry-go-round. Also scattered around in various and easy to find locations are the slot machine arcades.
Climbing wall
Towards the eastern side of Whitmore Bay's promenade is a substantial climbing wall that is free to use and of varying difficulty. No equipment is required to use this wall and it is open to the public all year.
Swimming
Barry Island offers all year swimming opportunities in the pristine beaches. A popular attraction is the Barry Island New Year's Day Swim that attracts many people who wish to start their New Year with a cool swim.
Walking
The best walking route on Barry Island is from Friars' Point and along Whitmore Bay's promenade. On both Friars' Point and the far end of Whitmore Bay's promenade you will find old gun placements and look outs that date from World War 2 that you can explore.
How to get to Barry
Barry Island is easy to travel to with easy access from private and public transport. If you are arriving by car there is a large car park that is easily accessible. Frequent train connections to Barry Island are available from the nearby Cardiff Central Train Station.
The same is true for bus connections to Barry Island from Cardiff Bus Station. Cardiff airport is only a short distance from Barry Island and is easily accessible by taxi, train and bus.
Book the best hotel deals here 
Written by Solo Traveller 

Liam 

Murphy & Images