Located near Salento, in the Central Cordillera of the Andean mountains, the Cocora valley is part of Los Nevados National Natural Park (Parque Nacional Natural de Los Nevados).
it is a very popular tourist destination in Colombia and part of the "coffee region". The Cocora valley is composed of a lush green cloud forest and a valley filled with giant palm tree which makes it a quite unique sight.
This palm tree, the Quindío wax palm can reach up to 60 meters high (world tallest palm tree) and is a symbol of the country.
Located in altitude (between 1800 et 2600m above sea level), the weather is wet and often cloudy so be ready to get muddy and if you can, bring rain boots or at least good hiking shoes.
WHAT TO DO – COCORA VALLY
You can either do like most visitors, a day-trip from Salento or you can enjoy extensive camping and hiking opportunities in the valley and the national park (the entrance of the Cocora Valley being free, if you go to Los Nevados from there, you won't have to pay the entrance fee of the park…).
If you choose the day trip, the loop is done in approximately 6 hours. If you decide to enter Los Nevados from Cocora, you'll have to follow the sign board pointing to Estrella de agua.
While in Cocora, you can visit Acaime, a hummingbird sanctuary. The place also has a coffeeshop and even a few beds for those who wish to stop before entering Los Nevados. Entrance fee in the sanctuary (approx. COP5,000) includes a drink.
For those who think that hiking is not the best way of transportation, horse riding could be a good option to discover the valley.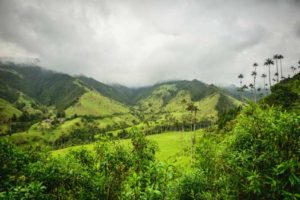 You can rent horses at the entrance of Cocora, near where the jeeps drop their passengers. The area is also famous for bird watching, especially for the now endangered  yellow-eared parrot which was on the brink of extinction not that long ago. Those parrots lives nestled in the palm trees.
And after all the walking, why not treating yourself with a nice meal. The speciality of the area is locally farmed freshwater trout, which can be cooked in several ways, mainly baked and served in a variety of sauces with patacones (plantain fritters).
WHERE TO STAY
Campground at the entrance, Acaime or hostel Estrella de agua
HOW TO GET THERE
You can catch a jeep in Salento "central plaza" in the morning (they usually start departing around 7.30am and leave when they're full). The way back would be the same procedure, at 5pm.